Tresillian Village News 2023
Check Out Special Offers on Our Local Business Page
---
A30 Closure 8pm Nov 17 – 6am Nov 20 – Public Service Notice
The A30 will be closed between Scorrier and Boxheater from 8pm on Friday, November 17, to 6am on Monday, November 20.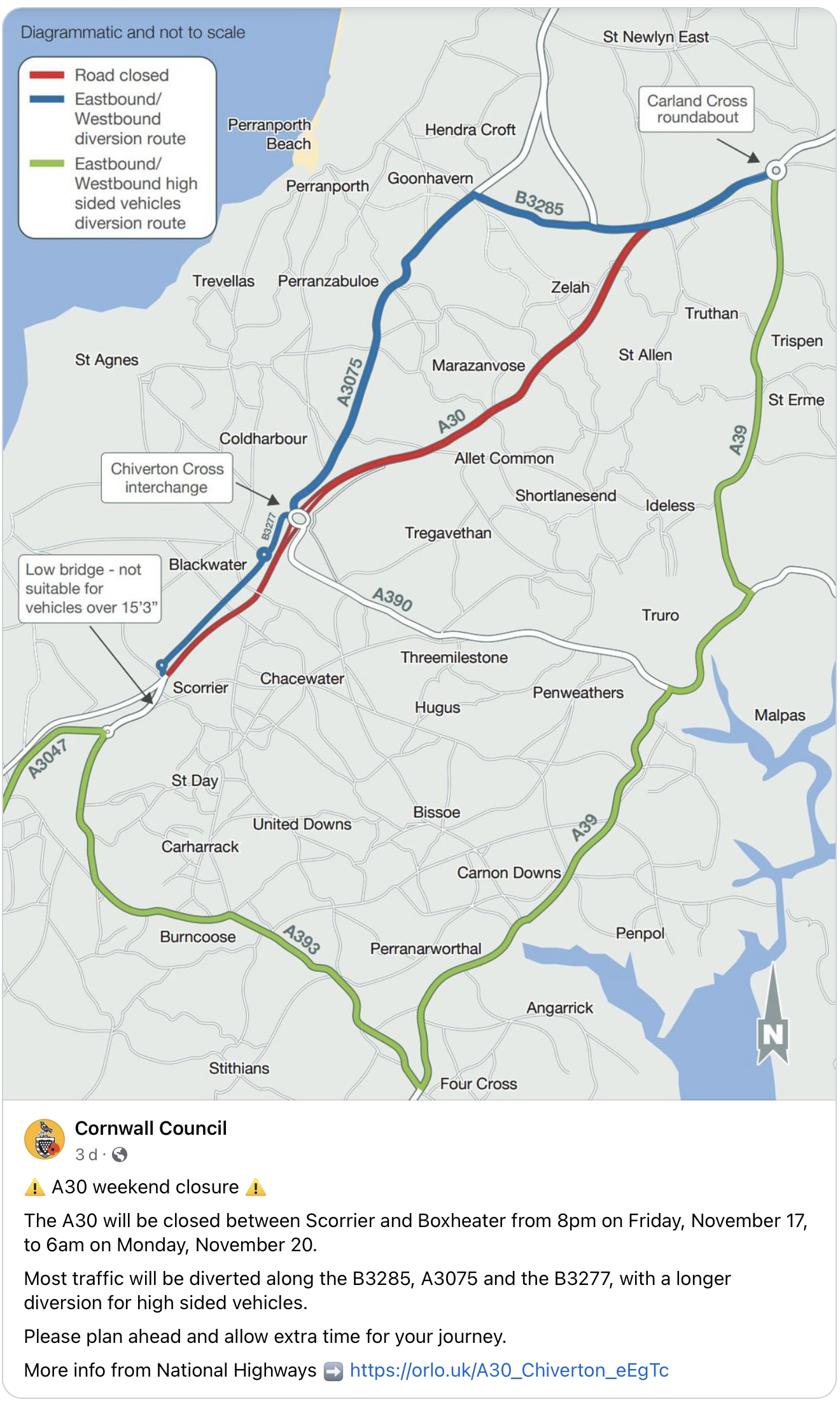 ---
Tresillian Village, Report on Remembrance Day Service, 12th November, 2023
The annual service of Remembrance was held at Tresillian War Memorial on 12th November in the Playing Field. Thankfully, the highly destructive forces of Storm Ciarán of just a few days ago had by now abated, leaving just wet but relatively mild conditions which brought a good turnout of people.
All Photos are Copyright © Keith Littlejohns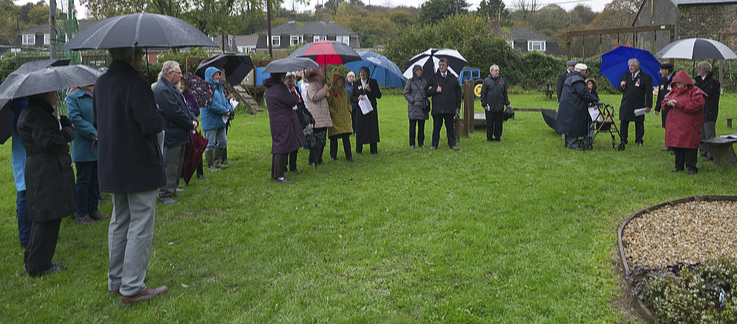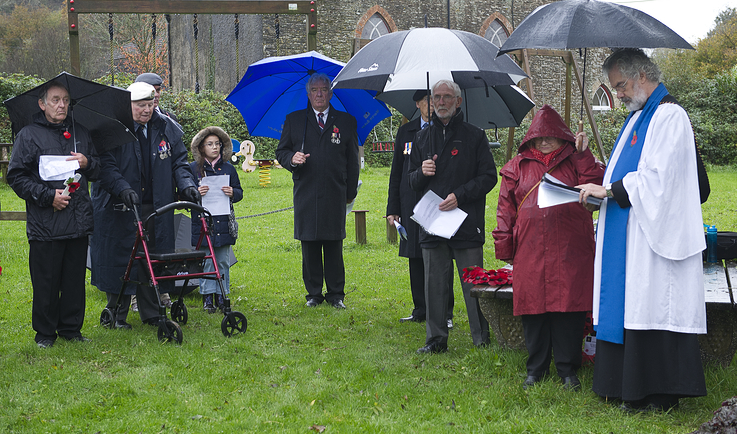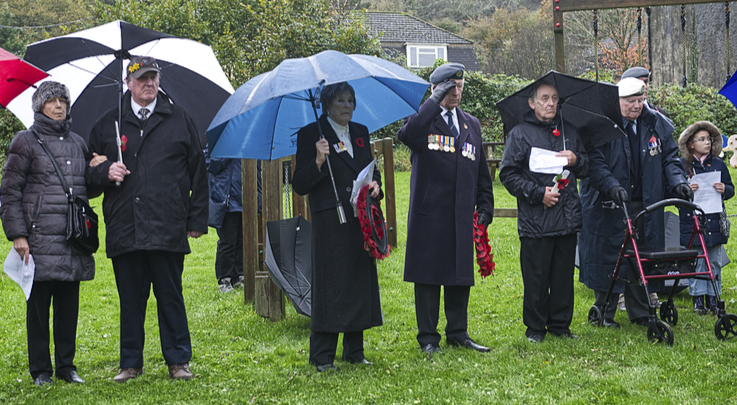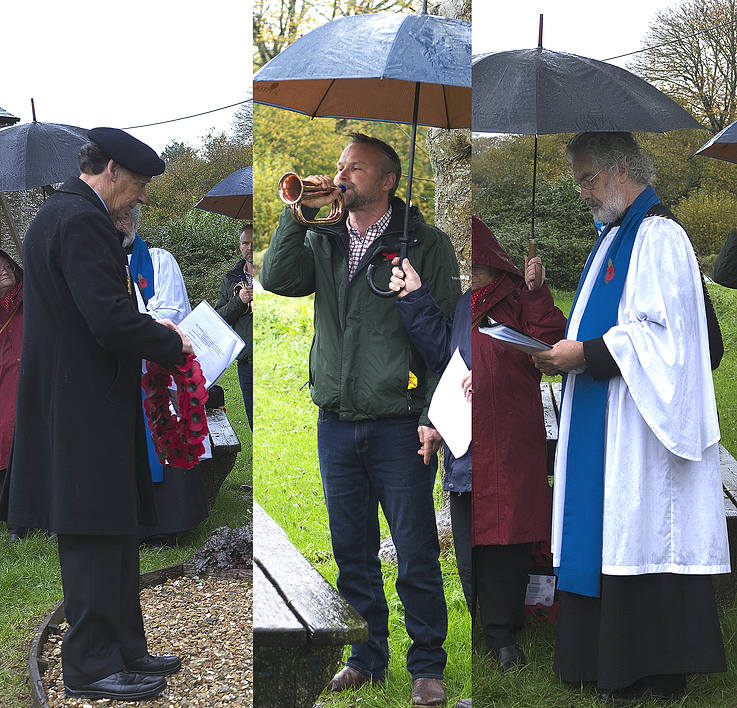 Photos Above Left to Right: Leslie (Les) Sutton, who earlier read out the names of WWI fallen as commemorated on the war memorial, who were part of our local community. Les also read out names of members of our armed forces lost in any military conflict since WWI and who's relatives are resident in our village community today. Dan Beacham, Buglar, preceded the two minutes silence by sounding Last Post, after which he sounded Reveille to bring the customary period of respectful silence to a conclusion. Anthony Le Fevre, Reader& LLM, Church of England conducted the service and prayers.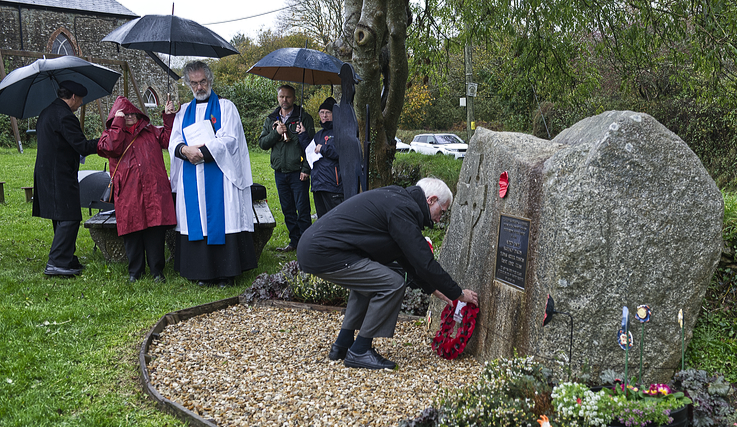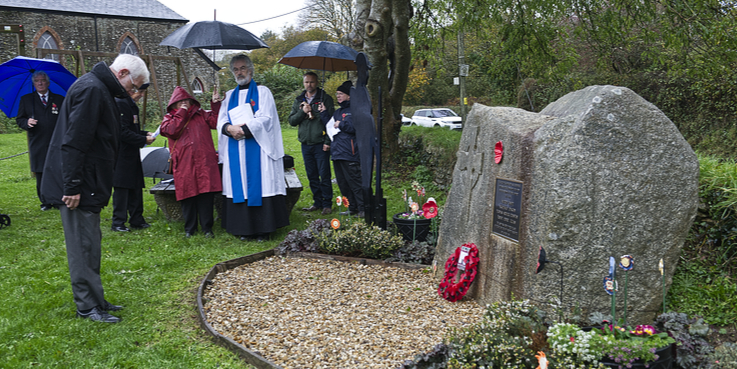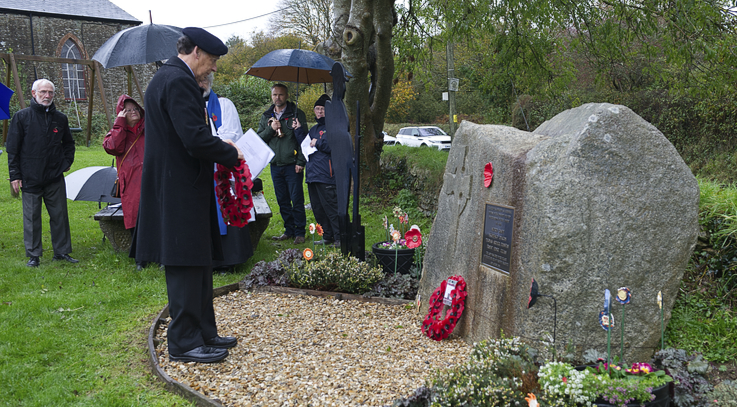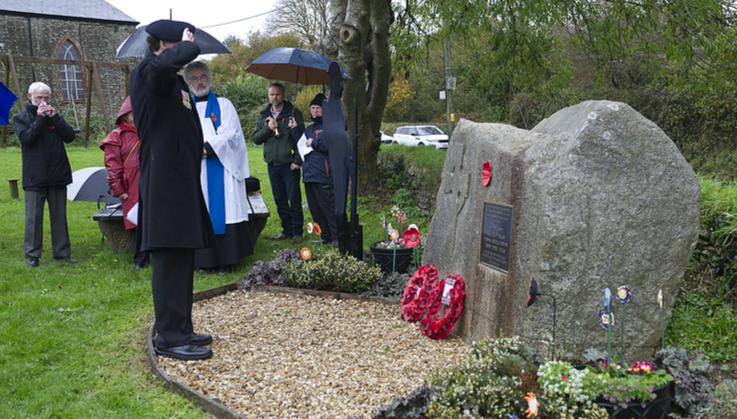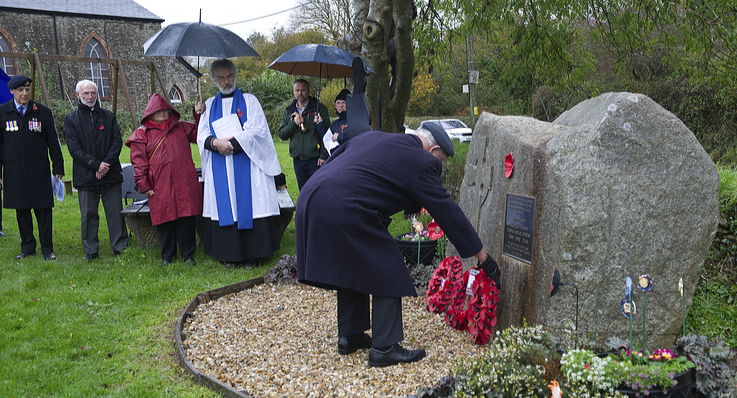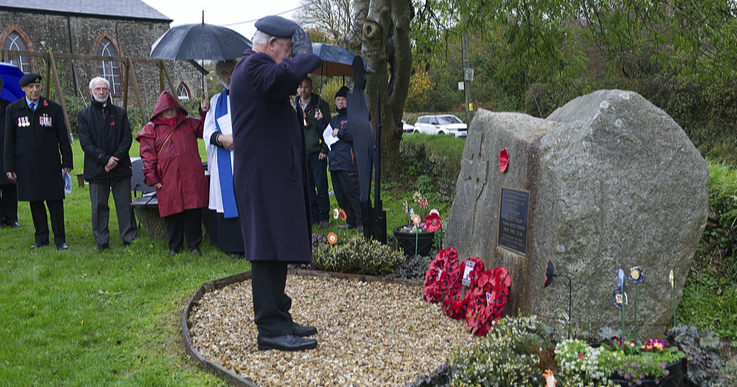 Both Photos Above: Bob Scott, who prior to the two minutes silence had read aloud the familiar 4th stanza from Laurence Binyon's 'The Fallen' as adopted by the Royal British Legion as an Exhortation for ceremonies of Remembrance to commemorate fallen Servicemen and women:
"They shall grow not old, as we that are left grow old:
Age shall not weary them, nor the years condemn.
At the going down of the sun and in the morning
We will remember them."
Following the two minutes silence, Bob then read aloud the words immortalised on the Kohima Memorial inscription:
"When you go home, Tell them of us and say, For your tomorrow, We gave our today".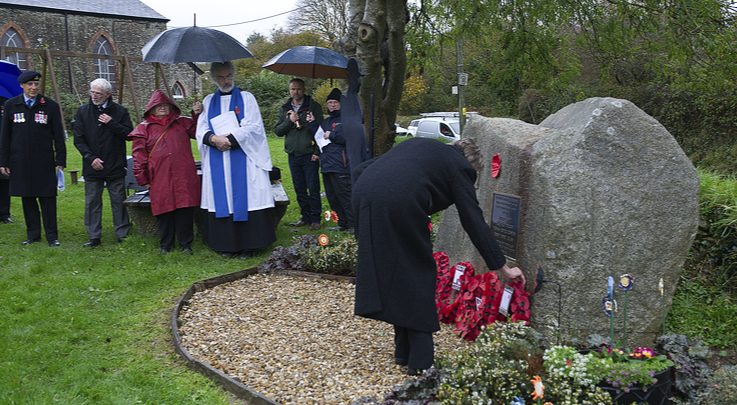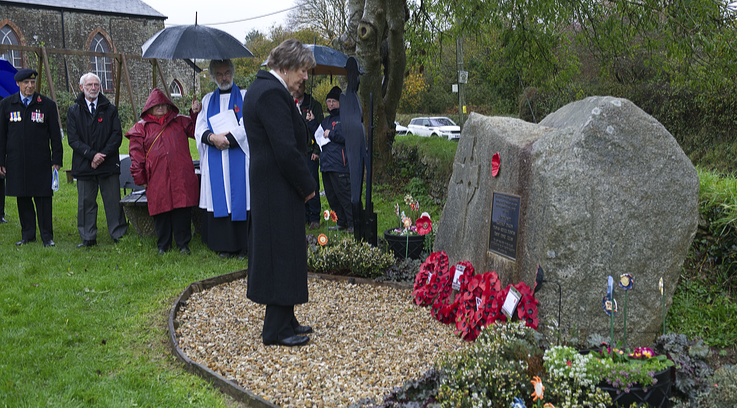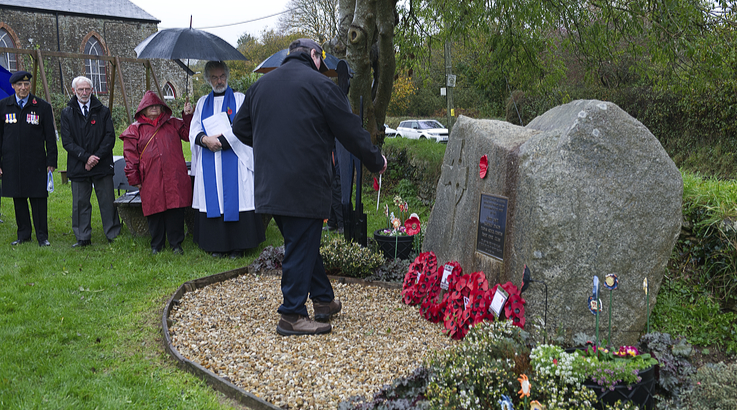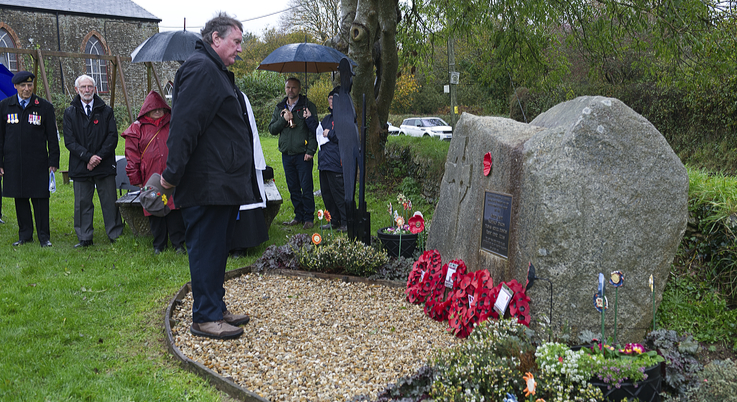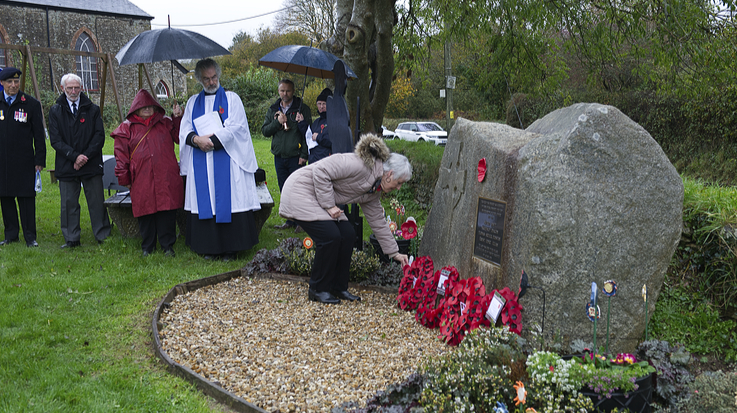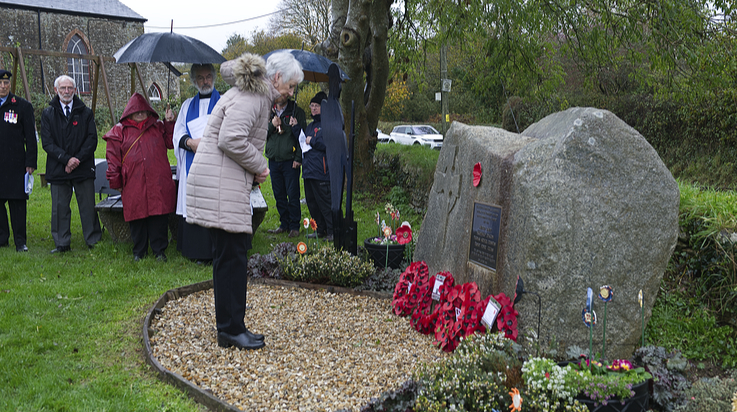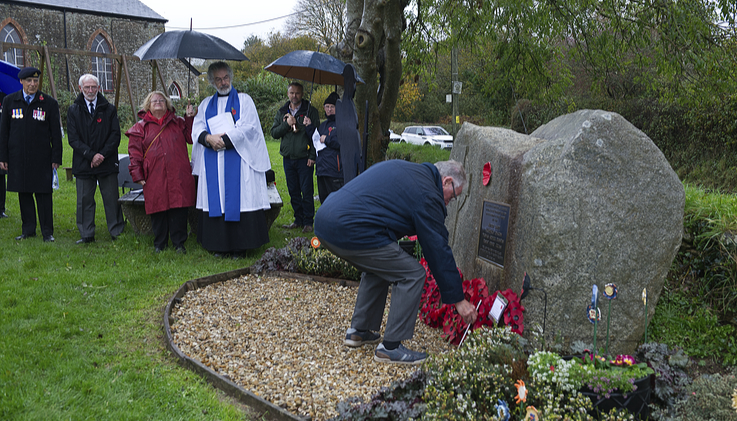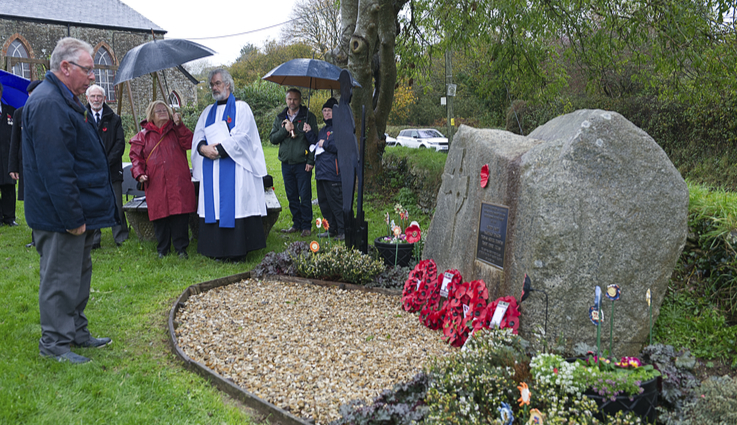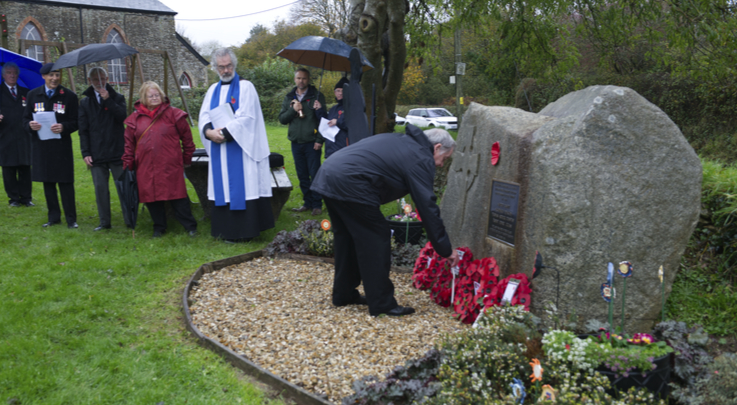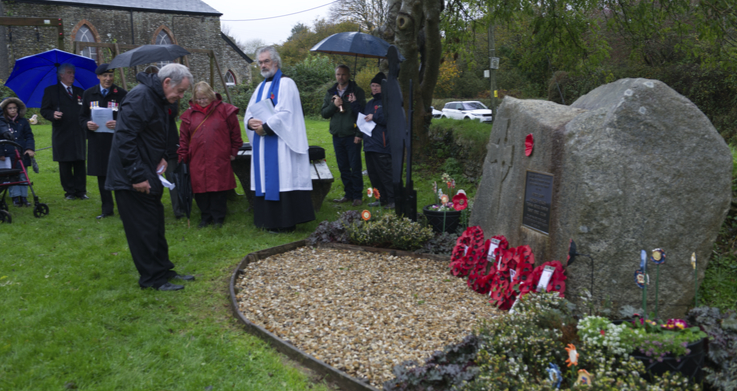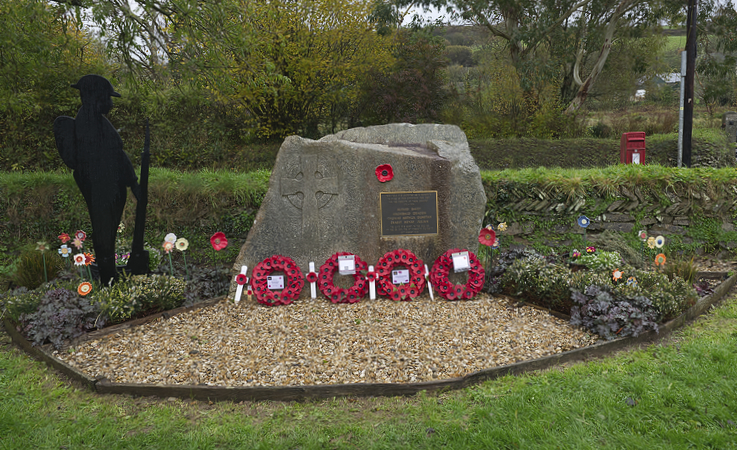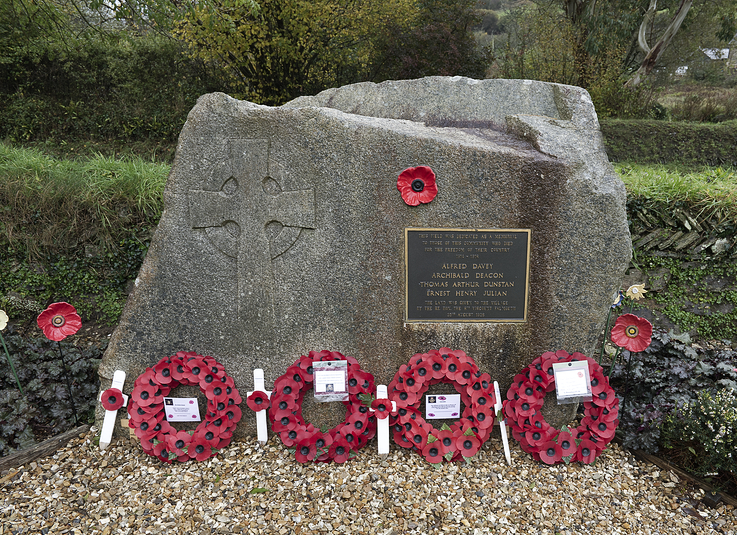 All Photos are Copyright © Keith Littlejohns
---
Tresillian Village, Remembrance Day Service, 10.40am, 12th November 2023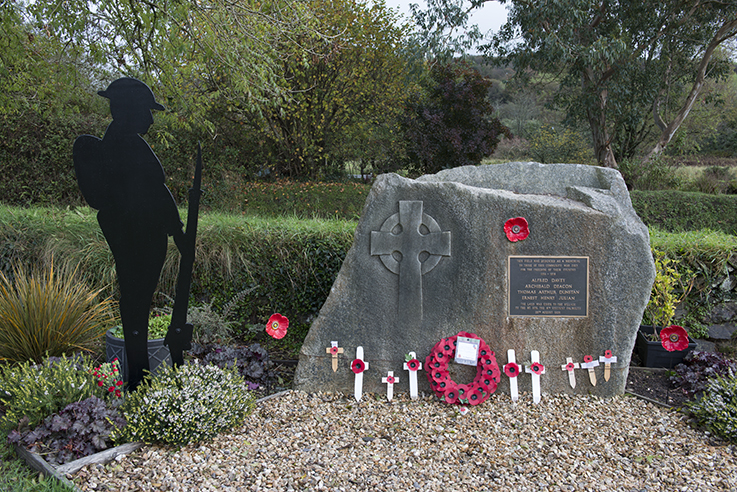 A service of Remembrance is to be held at Tresillian War Memorial on 12th November at 10.40 am in the Playing Field. All are welcome, it will be a short service of remembrance.
Photo is Copyright © Keith Littlejohns
---
Air Ambulance Lands in Tresillian Village – October 9th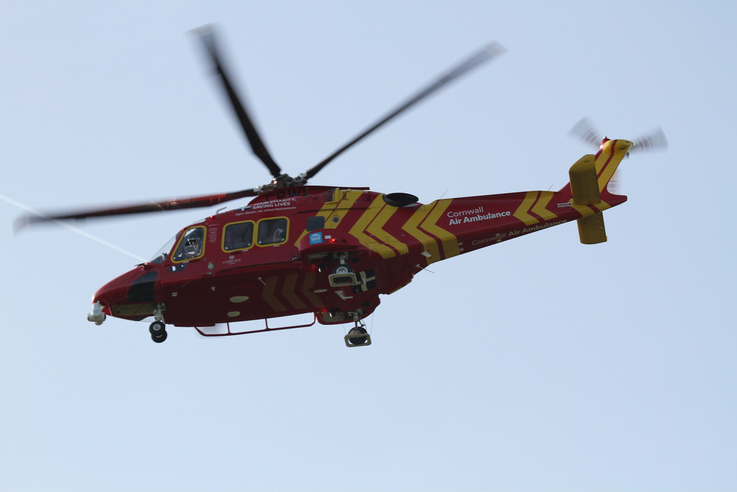 On Saturday 9th October a Cornwall Air Ambulance set down in the Playing Field to attend an emergency call for a patient in the village. Currently there are no details available about the patient.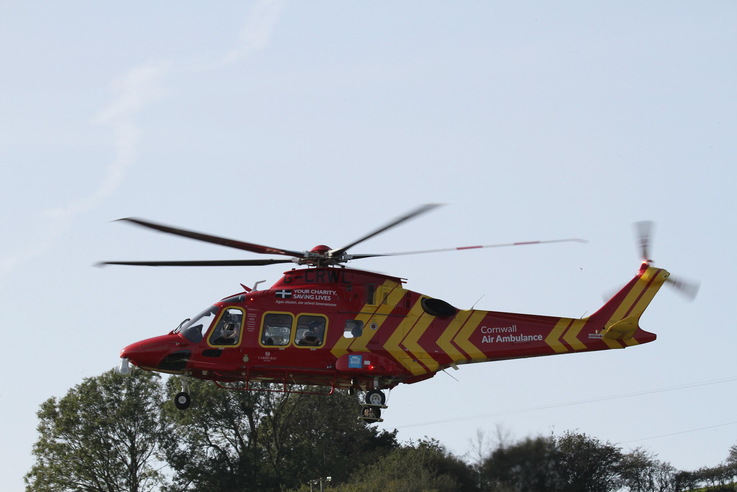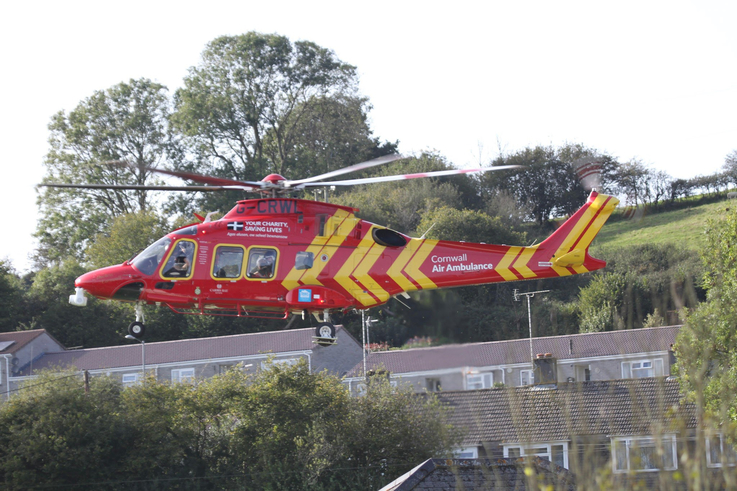 All Photos © Copyright Fred Taylor
---
Tresillian Village Hall 50th Anniversary Celebration – 19th August 2023 – Photos and Report of the Event – Plus a Little History
THE START OF IT ALL
"In the early years of the 1939-45 war, when the men of the village were coming home on leave we thought it would be a good idea to start a small fund to provide friendly, social evenings to welcome them home."
Extract from TRAM, August 1973, written by Mrs. V. Brabyn and Mrs. D. Jewell.
Back then events took place at the Church Hall, as there was no village hall as such. However, as time went on it was realised that as events became more popular and larger the hall was no longer big enough to cope with all the interest created. Therefore, a larger venue was deemed necessary and a Village Hall Committee was formed in August 1949.
Between 1949 and the day the hall finally opened there were many setbacks and disappointments as well as positive moves forward.
Eventually, after many years spent finding land and funding for the building of a dedicated Village Hall, it was finally opened on Saturday, 18th August 1973.
To read the full story behind the extensive efforts made to achieve the construction of a village hall for Tresillian that we all enjoy today, please click on this link Tresillian Village Hall, the full story to see extracts from the 'Village Hall Souvenir Edition' of TRAM, published in August 1973.
MOVING FORWARD TO 2023…
On Saturday 19th August 2023, Tresillian's villagers celebrated the 50th Anniversary of the opening of our village hall.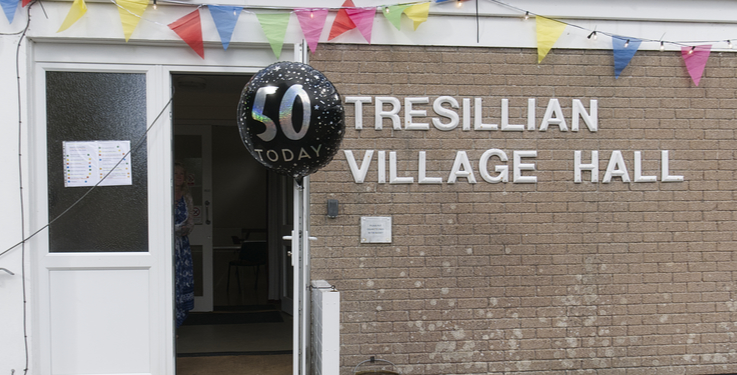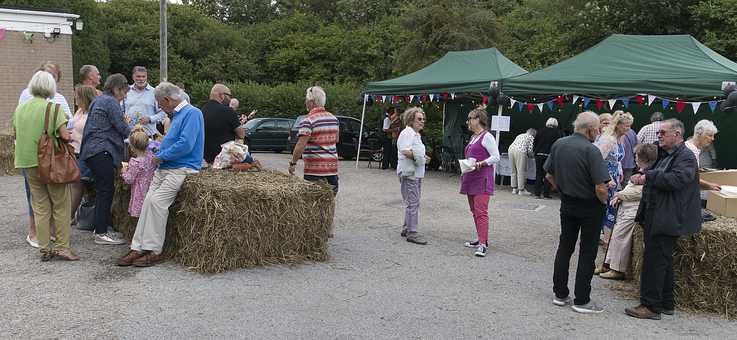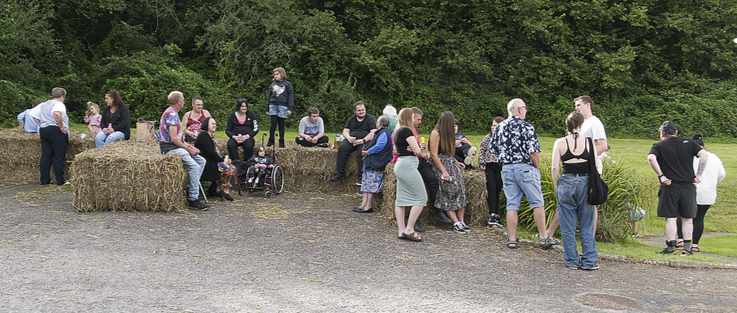 Despite inclement weather leading up to the event, happily the weather was fine on the day and there was a good turnout of people from all parts of the village. Attendees enjoyed a variety of cakes, tea and coffee as well as pasties, a disco and a raffle.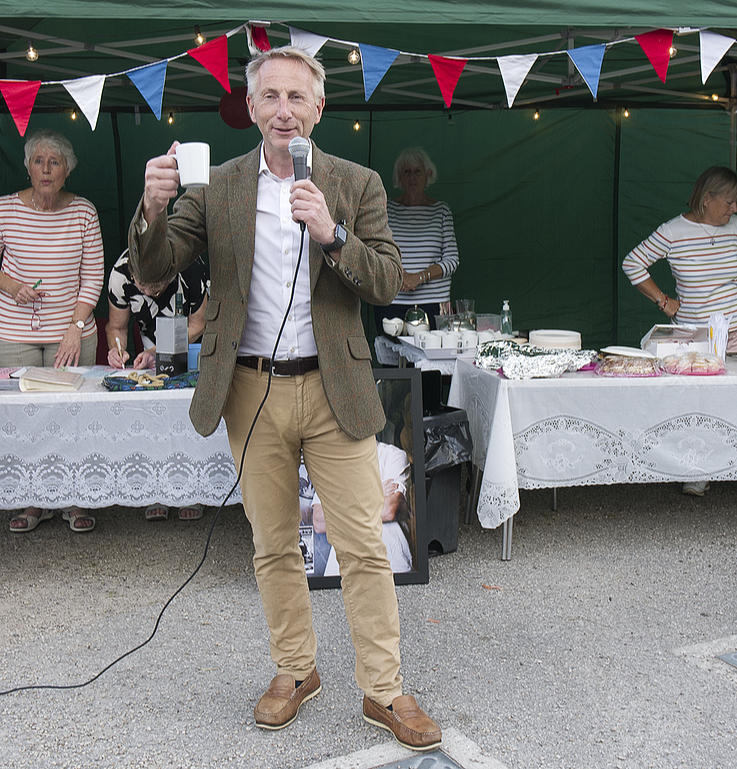 Jonathan Jones OBE, Managing Director of local Tregothnan Estate's English tea plantation and founder, CEO of tremap, the first ever smartphone tree mapping system, counting and locating trees everywhere on a global database, gave the formal opening address to the event.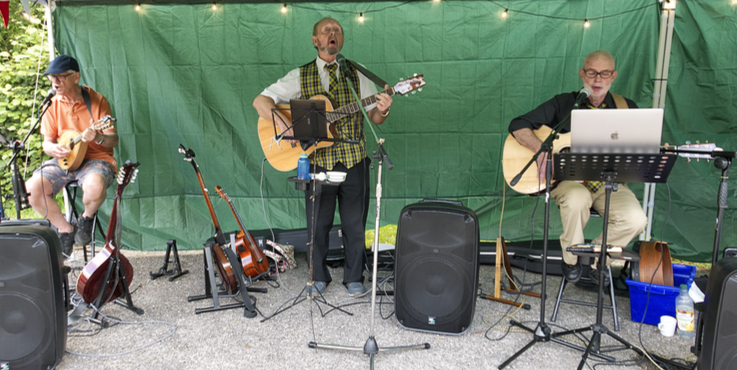 Popular musicians, Highly Strung made a return visit following their previous successful appearance at our 'Right Royal Knees Up' event last May.
A ceremony also took place to honour George Doherty, long time village resident; many years spent as an active member of the Tresillian Residents Association (Village Hall Committee, Secretary 1970-1973), joining TRAM (Tresillian Residents Association Magazine) as a Secretarial Staff member initially with responsibility for articles, followed by a long period as Editor; local parish councillor and Chairman are just some of the roles George played in our community. His son, Ian unveiled a plaque in his father's memory to show appreciation for his service to The Community including his participation as Village Hall Committee member during the important pre-build development phase.
All photos © Copyright Keith Littlejohns
---
Tresillian Village Hall 50th Anniversary – 5pm, 19th August 2023
On Saturday 19th August 2023, 5pm 'till late. FREE. Folk Band – Raffle – Cakes – Pasties £3 – Bring your own booze.
Tresillian Village Hall, Fairfax Road, Tresillian, TRURO TR2 4AZ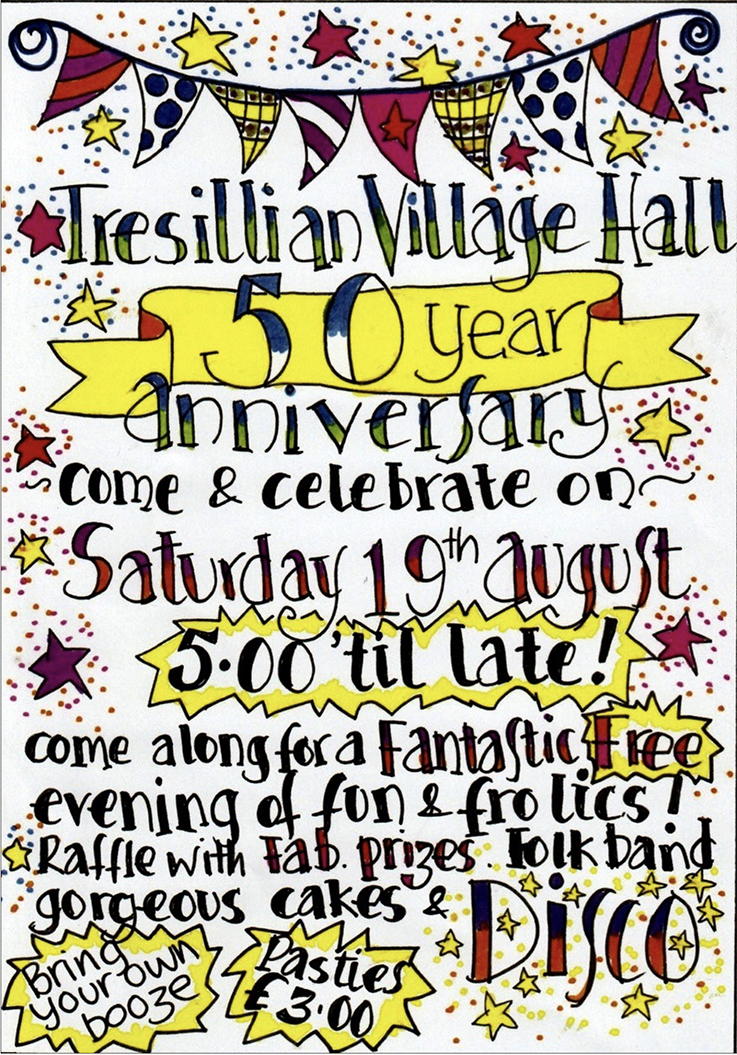 ---
A Right Royal Knees Up! Tresillian Playing Field
On Sunday 7th May 2023, villagers gathered in the Playing Field attending a community celebration for the coronation of King Charles III.
There were a number of stalls and activities, music from Highly Strung and plenty of large hay bales for people to sit on and pass the time of day in the lovely warm and sunny weather.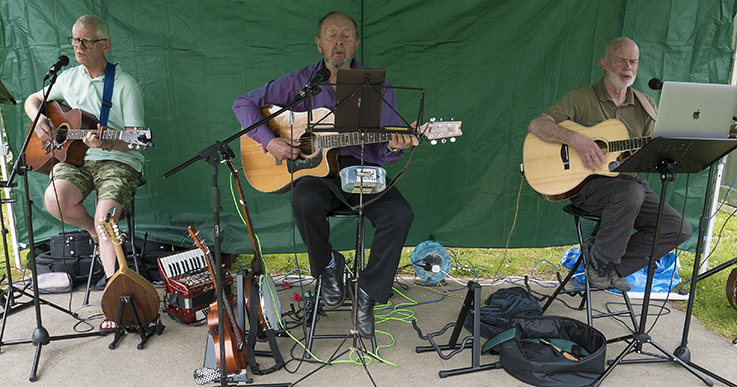 Folk music band 'Highly Strung' provided the music.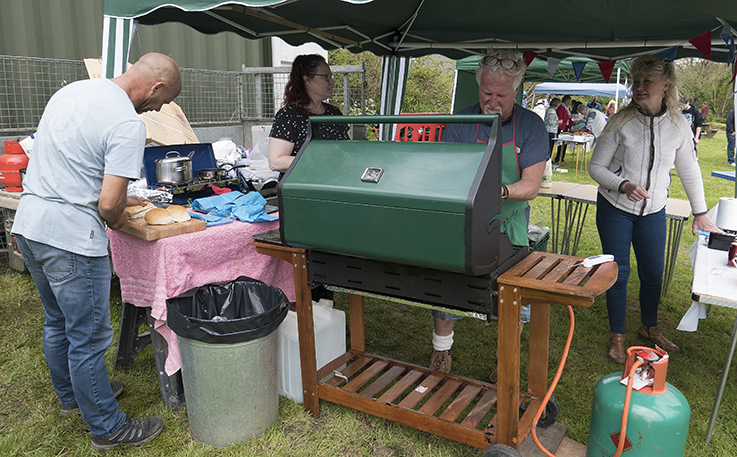 The BBQ stall was kept busy.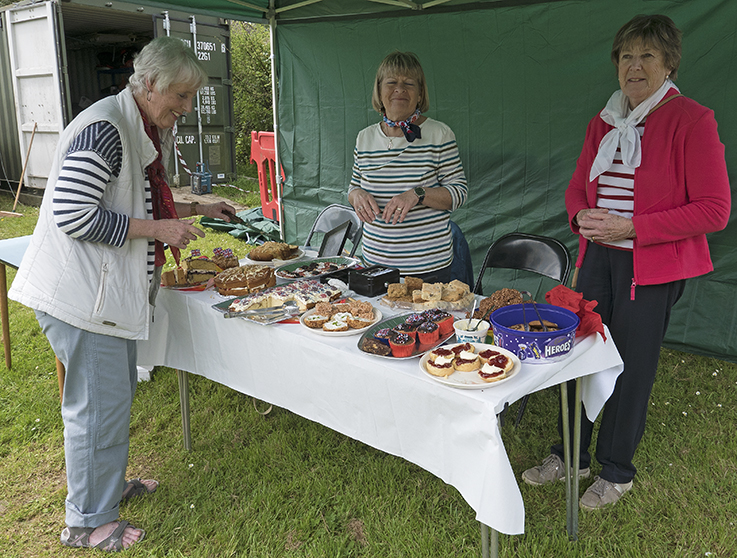 Likewise, the cake stall had many customers.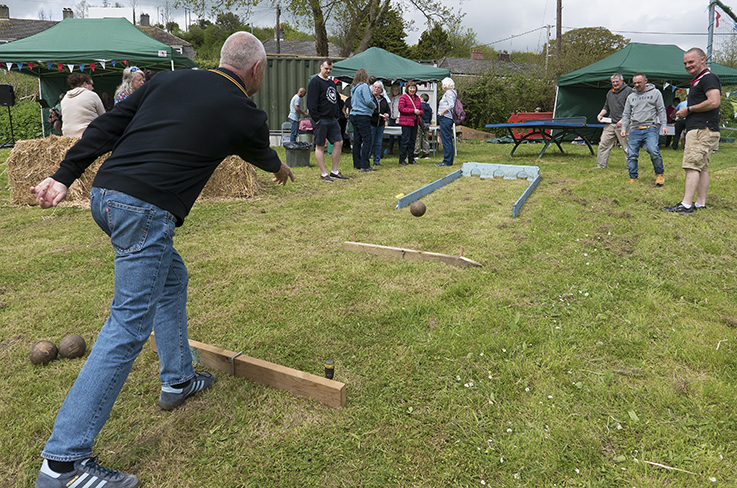 Trying to get the wooden ball through one of the three holes in the plank is not as easy as it would seem. However, several people did actually manage it. Well done to them.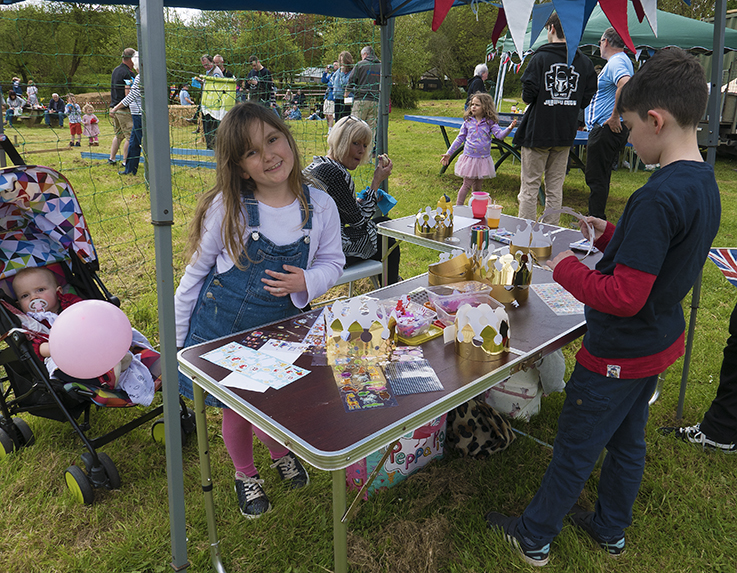 The Kids Crown stall showed off just how creative our village youngsters are.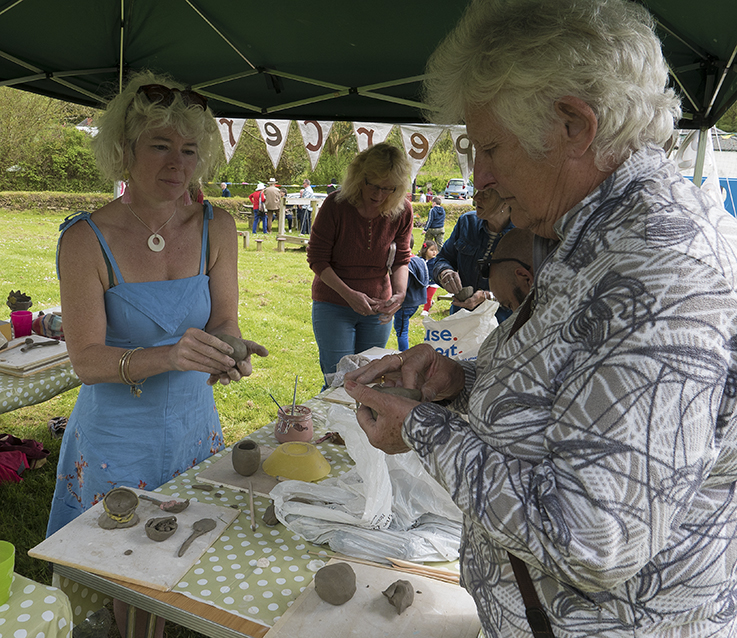 Amy Cooper [Left], gave a free ceramic workshop. This was well attended with people eager to see if they can master the art of turning clay into something beautiful…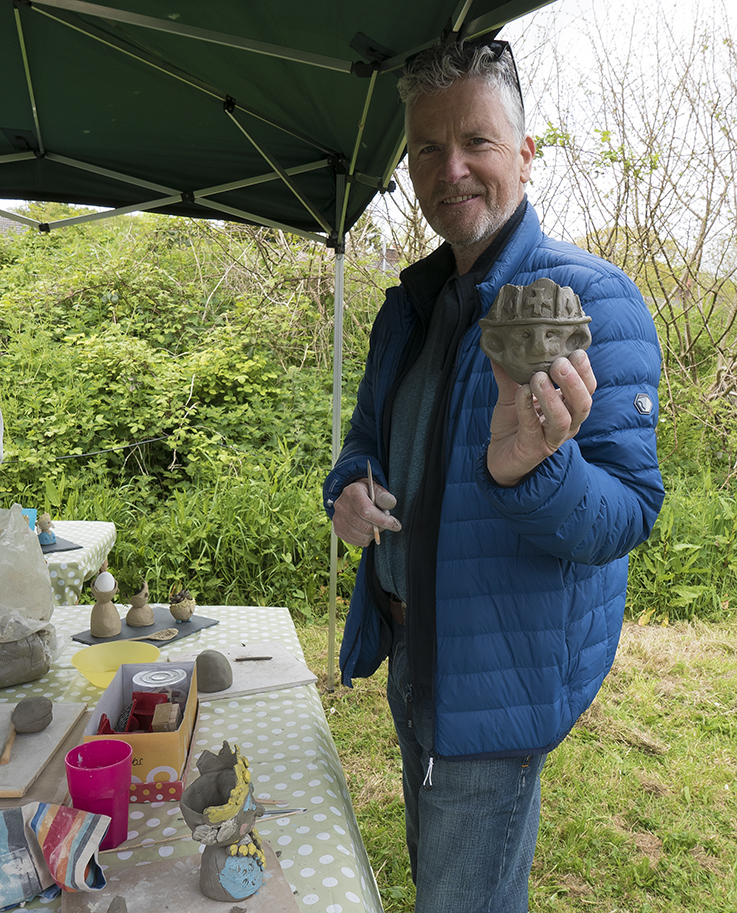 …and here we have a successful finished result, if not exactly beautiful.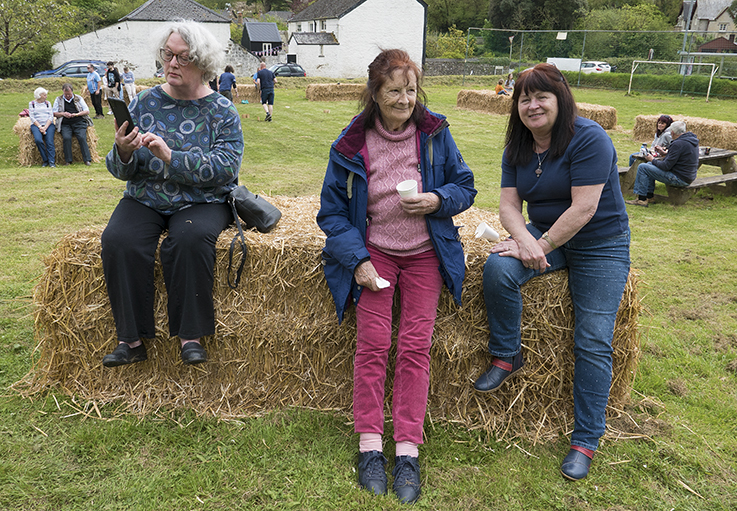 For those just happy to take the day at there own pace there were plenty of straw bales to relax on with friends.
All photos are copyright © Keith Littlejohns
---
Road Traffic Accident A390 Tresillian – Vehicle Overturns
A speeding vehicle crashed through a substantial wooden fence, demolished a lamp post and ended up turned over as it tumbled into the ditch. This happened at around 11.30 pm on Sunday 16th April, 2023. There was only one vehicle involved in the incident. There are no reports of serious injury – a very lucky escape given the intensity of the crash.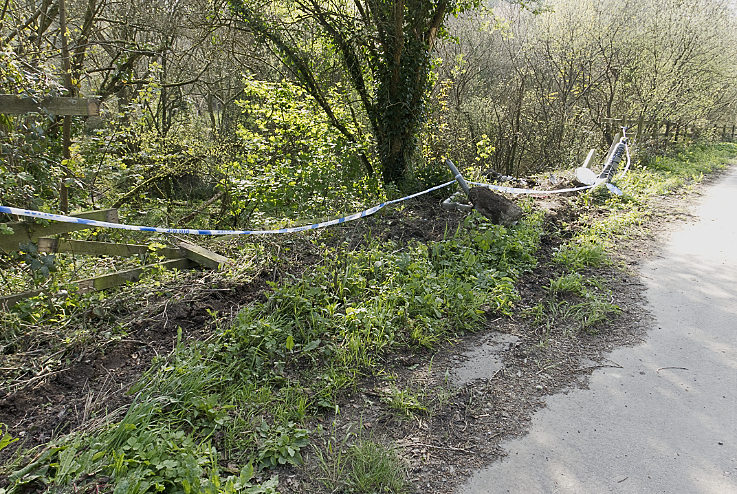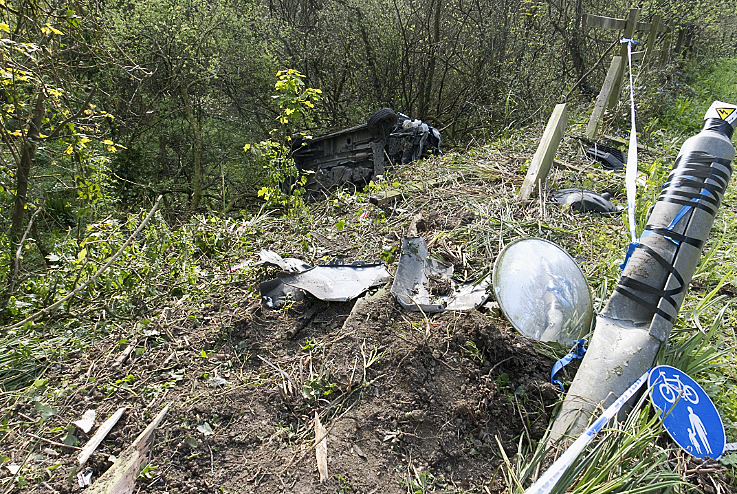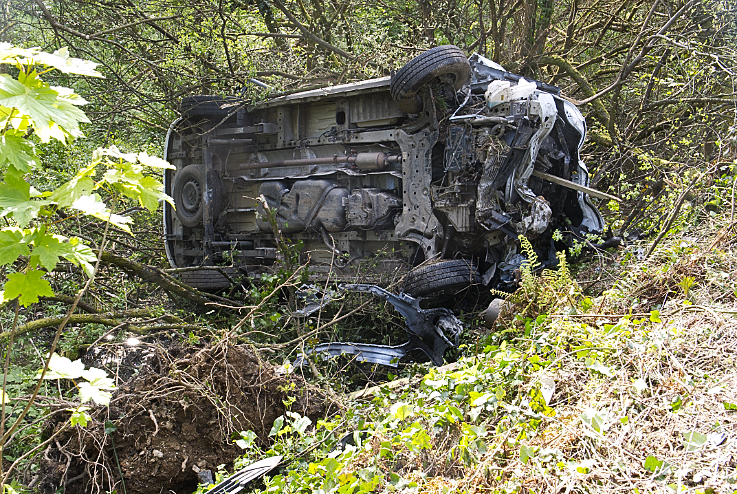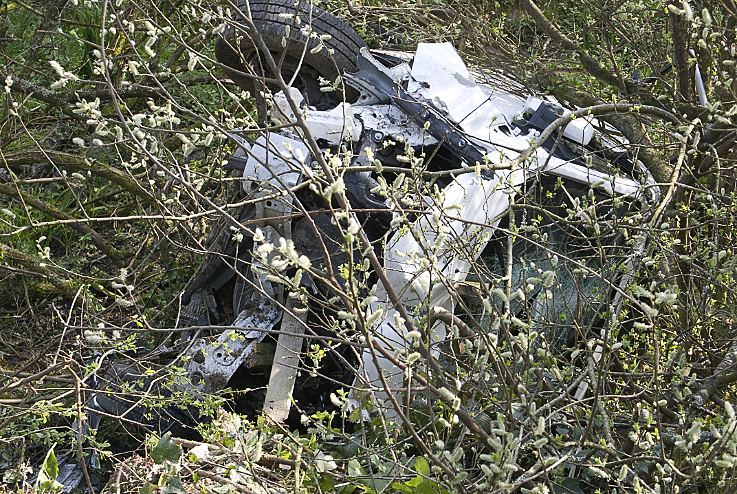 All photos: © Keith Littlejohns
---
Open Garden – St Clement – Ends 16th May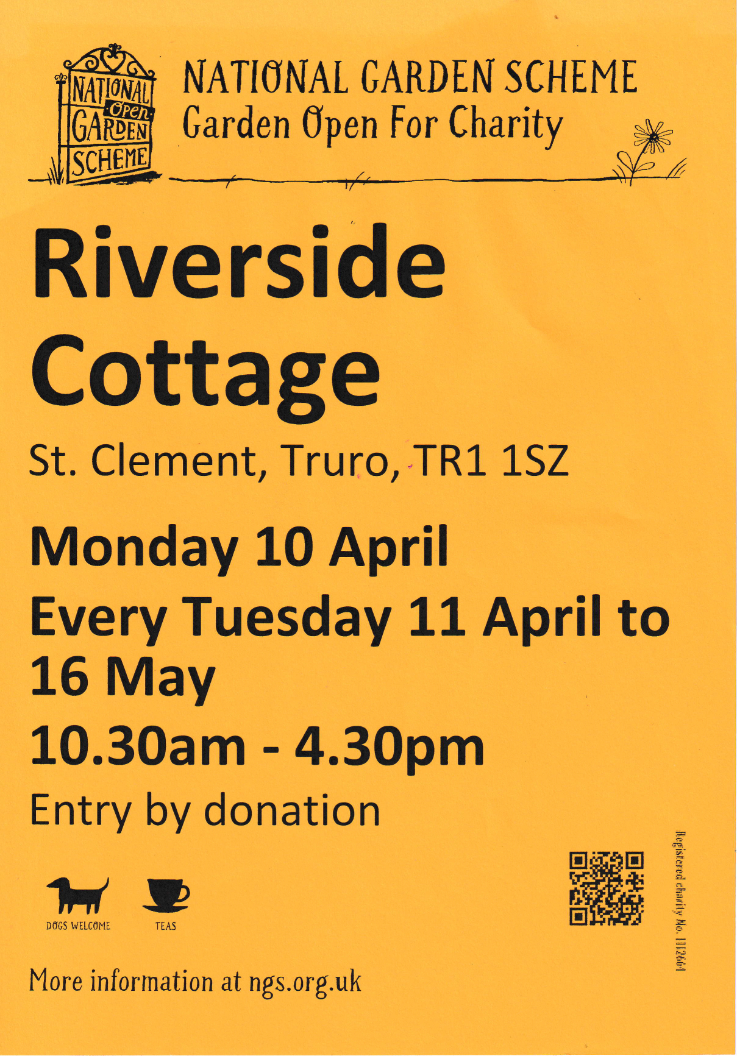 ---
A Right Royal Knees Up! – Playing Field – 7th May 2023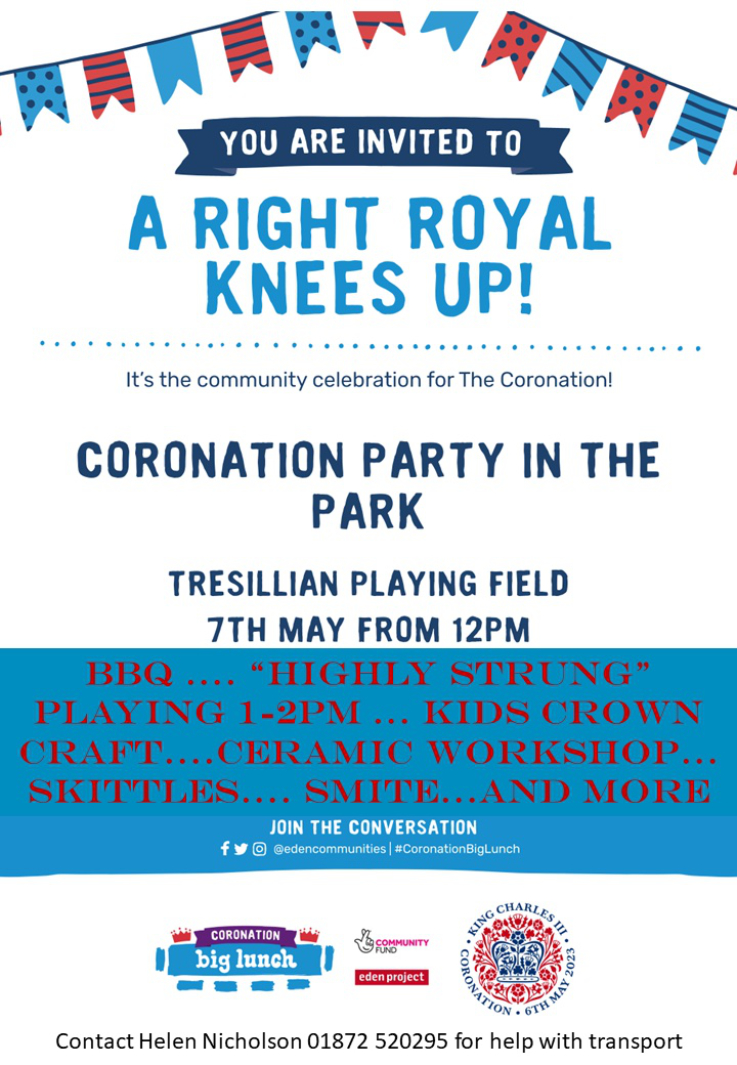 ---
Funeral of George Doherty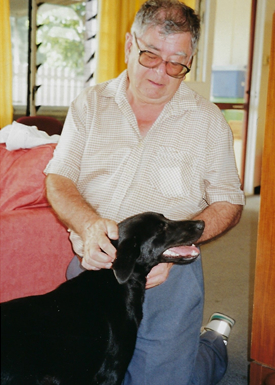 The life of one of Tresillian's best known community minded residents, who peacefully passed away at home on the 7th March after a short illness, is to be celebrated at Holy Trinity Church on Friday, 24th March, at 1.30pm.
Followed by a private family committal, at Penmount Crematorium. Donations in memory of George, in lieu of flowers to benefit Tresillian Village Hall Management Committee in aid of the village hall. c/o: www.memorygiving.com
George eagerly involved himself in a number of important projects that have enhanced life in our village. As Hon. Secretary of the then recently formed Tresillian Residents Association the early 1970s saw him play a leading role in the launch of a residents magazine, the name of which is made up of the words Tresillian Residents Association Magazine – TRAM for short. The magazine came under his editorship early on and he remained editor until the winter issue in 2019, after which Lesley Jones took on the role of editor.
George was also involved with the project to build the Tresillian village hall, he also served as a committee member for the village hall and as a local parish councillor for St Clement, serving as chairman during his term with both organisation.
A more detailed account of George's life in our village will be published in the next, Easter, digital issue of TRAM on this website. All subscribers to the website will be notified of the publication date and links.
---
Village Hall AGM 2023
Notice of Tresillian Village Hall AGM.
The Tresillian Village Hall Committee announce that the AGM will take place on 23rd February 2023, starting at 7pm, and that the general public are hereby invited to attend.
---
Philip Buddell. b.18th June 1943, d. 27th January 2023
It is with great sadness Tresillian Website News has to report that Philip Buddell, a well respected senior member of our community died recently at his home Millcot, Tresillian. Philip had a known heart condition and succumbed to a fatal heart attack despite the best efforts of paramedics to revive him, having arrived by air ambulance due to the A390 being blocked by a road traffic accident.
A public funeral service will take place at Truro Cathedral, 23rd February at 11.15. A family only, private service will be held afterwards at Penmount Crematorium.
Those wishing to make a donation in Philip's memory are requested to consider Marie Curie as a suitable charity. A website address will be made available for making donations.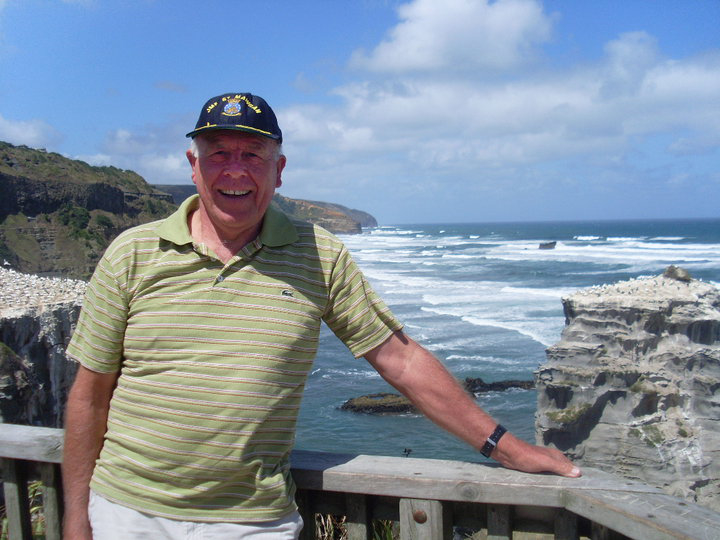 Seventy nine year old Philip was well known for his various charitable works. Among them he was a long time member of The Lions Club of Truro, ordinary people who do extraordinary things to help others and support good causes throughout the British Isles and globally. Philip was responsible for negotiating a substantial donation from Truro Lions Club towards the installation of both defibrillators in our village. He continued supporting efforts to raise money to cover the cost of on-going maintenance, most recently by making a written appeal to the parish council.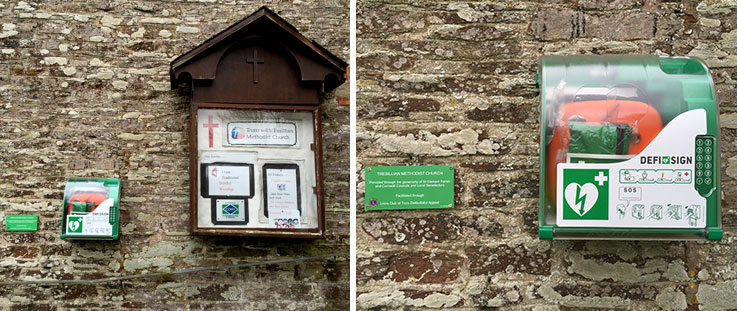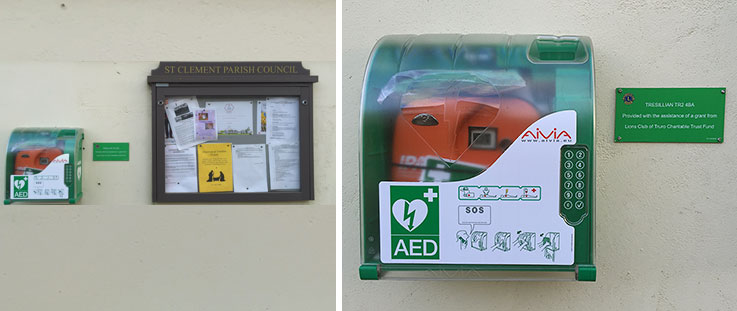 He, along with his wife Linda, were most visibly well known in our village by their regular street sales of home-made jams and pickles outside their home. The proceeds of which are donated to Marie Curie.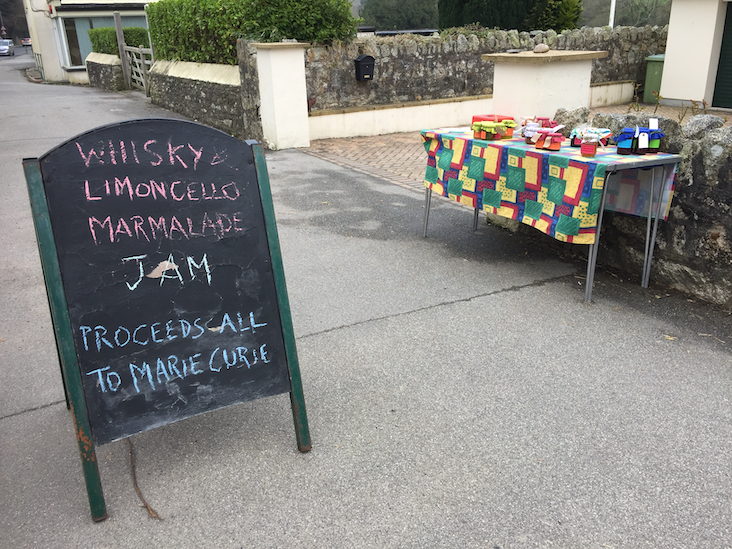 Philip was also an enthusiastic contributor to the Tresillian Village Website's wildlife pages. In particular he took a keen interest in the welfare of swans that set up nesting sites close to his home by the Tresillian River. For a number of years he constructed tethered floating rafts that allowed parent swans to build their nest safe from being engulfed by rising tides.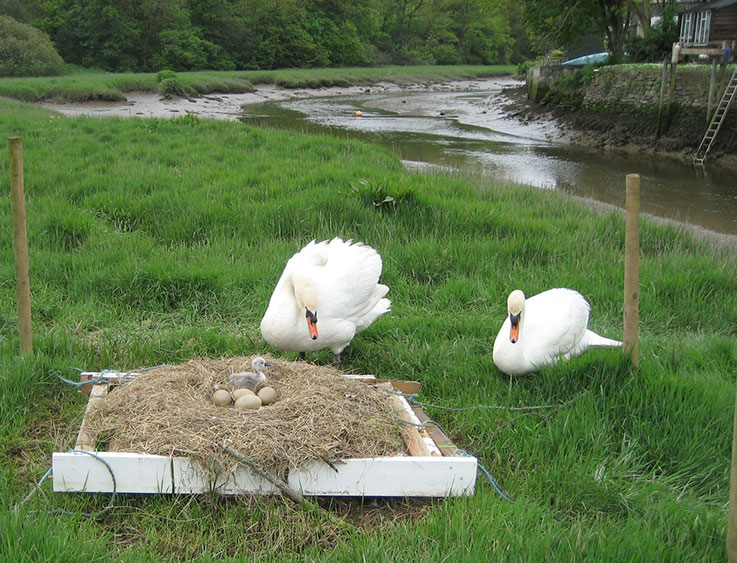 Swans nesting by Tresillian River. Photo © Philip Buddell 2016
---
Tresillian Allotments Association – Available Plots February 2023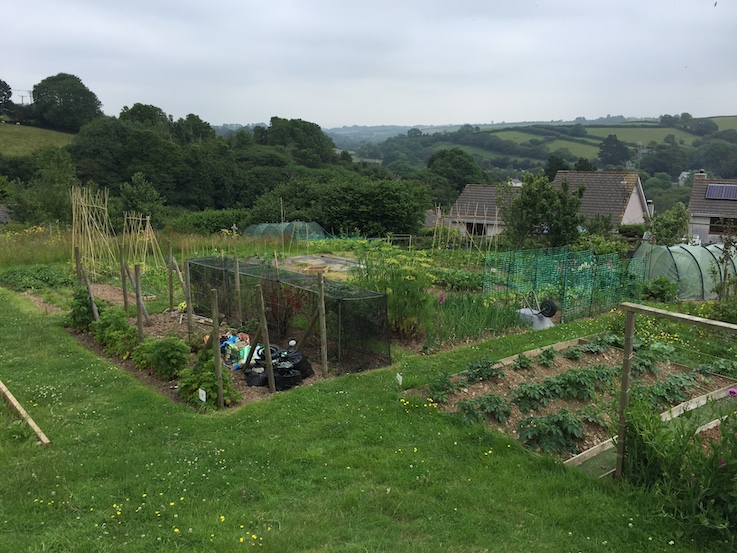 The Tresillian Allotment Association site consists of 31 plots of varying sizes.
A full size plot generally measures 33ft x 25ft (10m x 7.5m), the cost for which per annum is £37.50 and includes use of water supply and membership of the National Allotment Society.
Some half plots are also available. Shared tenancy for a plot is allowed, but all parties must sign the tenancy agreement.
Dedicated allotment holder parking is available next to the site.
Anyone who is interested in taking tenancy of an allotment, or would like further details please contact:
Lorraine Sutton Tel: 01872 520 609 or Lesley Jones Tel: 01872 520 568.
---
Tresillian Wildlife Articles (Steady on! Not that kind of wild life) – Various Contributors – Check out latest items added by following the Wildlife & Natural History Page link below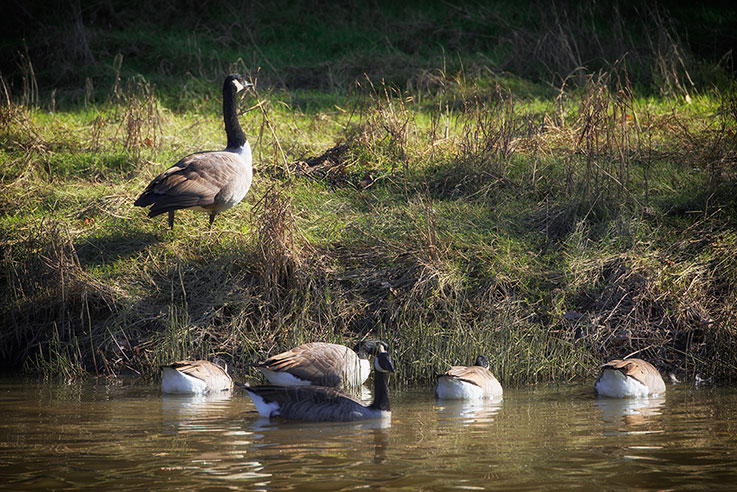 Photo: © Keith Littlejohns
Wildlife articles can be accessed by visiting the Wildlife & Natural History Page and selecting the relevant year link at the bottom of the page. The Tresillian website welcomes any stories or photos of your wildlife/Natural History observations in Tresillian and its close environs. Hedgehog, bird or any other wild animal sighting or naturalised flowers or plants of interest that catch your attention. We would love to hear from you. Just get in contact via our Contact page and we will be back in touch with you about your story/photos.
---
Tresillian Photographic Archive Project – Keith Littlejohns
I am proposing setting up an organised collection of photographic images for our village that, hopefully, will remain as a permanent unified digital archive of life in Tresillian through the decades for future generations to have available.
Building this archive relies heavily on source material being forthcoming. To that end I am asking residents of Tresillian (or known past residents that have moved away but may have some suitable images) to make contact with me regarding the loan of images so that I can make professional scans and return the original prints or negatives to the owner.
This could turn out to be a quite substantial task and as a result I am expecting the building of the archive to be split into phases. For the initial phase I will be concentrating solely on gathering together a collection of older images from very early days up to and including 1979.
If you think you may have some suitable photographs I can be contacted via the village website by emailing me using this website's Contact page. There is no need to go into great detail at first as I will make contact to talk about any images you consider may be of interest. I'm really only looking to archive images that have recorded village life and how it has evolved through time. Eventually, as time allows, I will add more modern images from 1980 onwards to take the story forward.
If possible, it would be very useful if you have information such as dates (roughly will do), names of people or locations or any other details you think may be of interest. If you don't yet use email, please do ask a friend or neighbour to make contact on your behalf as old images are of particular interest for this first phase.
Cllr Keith Littlejohns
---
Tresillian's Missing Milestone – An Ongoing Story
As a person fascinated by local history I could not resist picking up from Chris Clarke's excellent article published in the spring 2017 edition of TRAM Magazine regarding Tresillian's missing milestone. His article stimulated me into taking up the challenge of conducting further research myself.
Using additional information kindly supplied to me by village resident Lewis Mitchell, which he found on an old 1960 edition Ordnance Survey map, a distinct reference point has now been established. The Tresillian milestone's position is marked on the OS map by the usual very small black dot accompanied by the letters MS, albeit slightly masked by a black circular graphic. Using my own copy of the same map, OS SW 84 Truro 1:25,000, I was also able to confirm the exact location.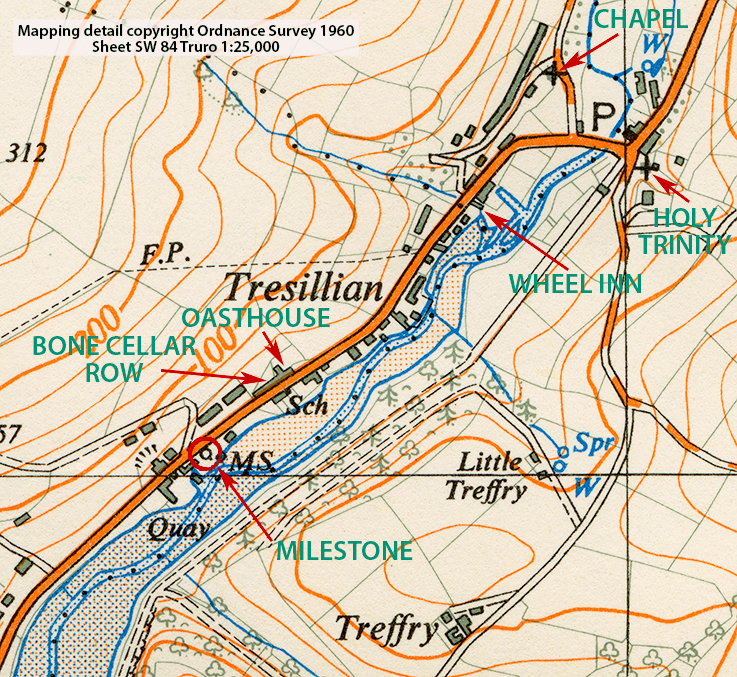 By cross referencing this data with Cornwall Council's excellent online Interactive Map website I was able to double check the exact position where the milestone once stood, or at least close enough given the disruption created by the 1960s A390 road widening/levelling scheme and adjacent change of land-use. Both the 1960 OS map and CC's Interactive Map show the location as being on the south side of the A390 where the current Audi dealership is situated.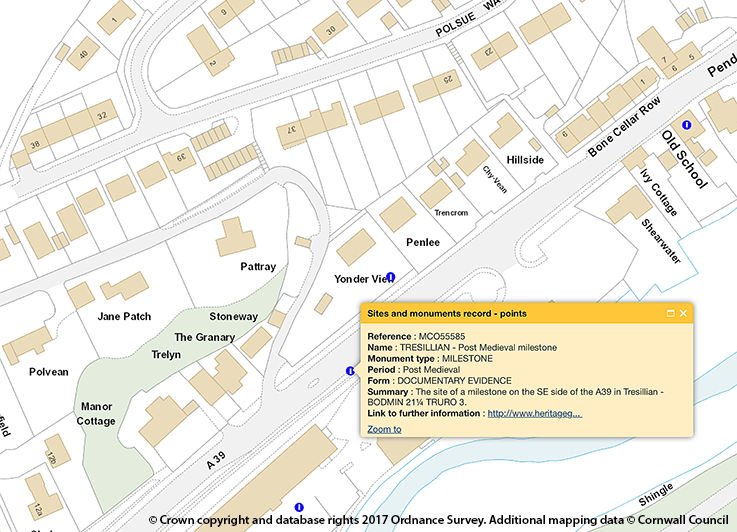 Thanks to information also gleaned from the CC Interactive Map a detailed Cornwall & Scilly Historic Environment Record (HER) reference reads as follows:
HER Number:
MCO55585
Name:
TRESILLIAN – Post Medieval milestone
Summary
The site of a milestone on the SE side of the A39 in Tresillian – BODMIN 21¼ TRURO 3.
Grid Reference:
SW 8635 4604
Parish:
St Clement, Carrick, Cornwall
Protected Status: None recorded
Other Statuses/Codes: none recorded
Monument Types
Milestone (Post Medieval – 1540 AD to 1900 AD)
Full description
A milestone is recored on the SE side of the A39 in Tresillian, on both the 1st Edition 1:2500 OS map, annotated TRURO 3 BODMIN 20, and on the 2nd Edition 1:2500 OS map c1907 annotated BODMIN 21¼ TRURO 3. The milestone is not recorded on the modern OS Mastermap 2010, suggesting it has been lost, possibly due to road alignment alterations in the C20.
Associated Finds: none recorded
Associated Events: none recorded
Related records: none recorded
So, a milestone clearly did exist inside the village at a point along its main highway outside the current Audi dealership. Interestingly, the CC Interactive map has the A390 labeled as A39 at that point (note, must make CC aware of the error).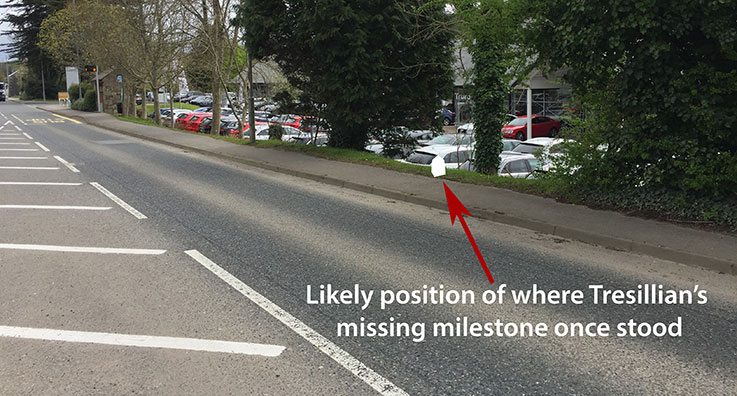 Photo: © Keith Littlejohns
I have recently placed a request with our local parish council asking if, in the light of information now currently available, the possibility of the missing milestone being reinstated could be raised at a parish council meeting and that it could be pursued using the offices of the parish council.
Let's hope that Tresillian's missing milestone can either be found languishing in a council yard somewhere and reinstated, or that a replica can be produced using information recorded by C&S's HER database so that our village's milestone is no longer the only one missing in the chain of 12 historical milestones that run from Truro to Braddon.
If anyone has any more information or knowledge they think would be helpful or interesting regarding the missing milestone then please do contact me using the contact form on this site and I will publish it online as part of this continuing fascinating story. If you wish to receive emailed alerts as soon newsworthy items about village life are published online you can subscribe to the website for free using the box provided at the bottom right of most pages on the site.
Incidentally, most milestones you'll see date from the 1700s or later, when new Turnpike roads were legally required to have milestone markers. It meant passengers and goods carried on the stagecoaches could be charged standardised rates for the distance they travelled. You'll also see plenty of milestones along canals, also used to calculate how much people would be charged for moving their goods by barge.
Further news about the missing milestone will be added as soon as it becomes available.
Keith Littlejohns
---
A Sample of Website Testimonials Received
"What an amazing memory of the afternoon [Cream Tea for The Queen 2016]. Well done to Keith for producing it. Very well put together and excellent music choice."
Aileen Bratton
"Thank you, Keith.  Looks very good [swans] on the website along with all the other information you have published – well done!"
Phillip Buddell
"Just seen this new site. Lovely photos of Tresillian and interesting facts. Wish you well with it. Hope you get lots of comments and participation"
Tina Earley
"Website is great – thank you.  Just a quick note to say 'Thank You' for getting a Tresillian website up and running well."
Desiree Tillgren
"Thank you for your beautiful pictures and website design for the village."
Ann McCormick
"Great to meet you, and much thanks for including church activities on the village website, it really is the way forward!"
Billa Jeans
"After getting the leaflet delivered by 'Keith' this week and having a quick chat in the garden at time of delivery. I thought I would check the website out. Absolutely fantastic, beautiful photo's and puts the village in the here and now. Well done to you and I really hope the site goes from strength to strength. I am going to give the details to some family members to check it out. Well done and thank you so much for all the effort you have put into it, to make it so professional and enjoyable."
Geraldine Rawbone
"A friend of ours in Sussex, who used to live in the village, is thrilled with the site as it will keep her up to date on what is happening here."
Lesley Dobel
"Fantastic website, well done to all who was involved."
Kirsten Lean
"What a wonderful community website for our village with lots of information and history. Well done and very impressed. Keep up the good work."
Karl Russell, Treglyn, Tresillian
"I've had a look round – its very easy to use!"
Helen Nicholson
"I enjoyed looking at the site and thank you for the lovely photo of the Tresillian road sign for which I designed the emblem of the Roundhead and Cavalier at the invitation of the Highways dept. of course a reference to the civil war battle nearby. I wonder if there are any rusting cannon balls in the river."
Janet Bailey.
………. There are no further news bulletin items at present. Please visit again on a regular basis to check for updates ……….