Fairfax Road, Tresillian, Truro, Cornwall, TR2 4AZ
Letting Secretary: Tel: 07494 924 559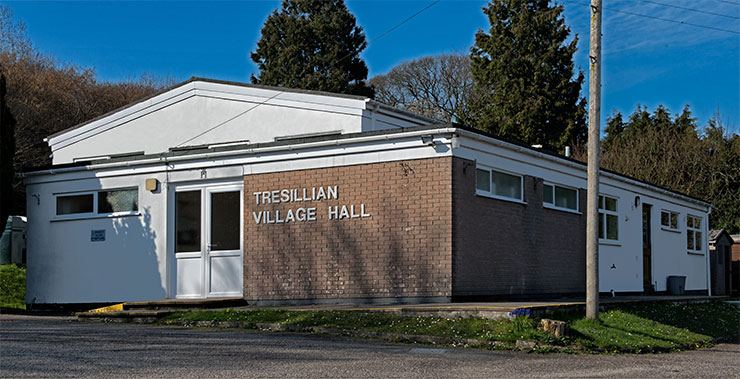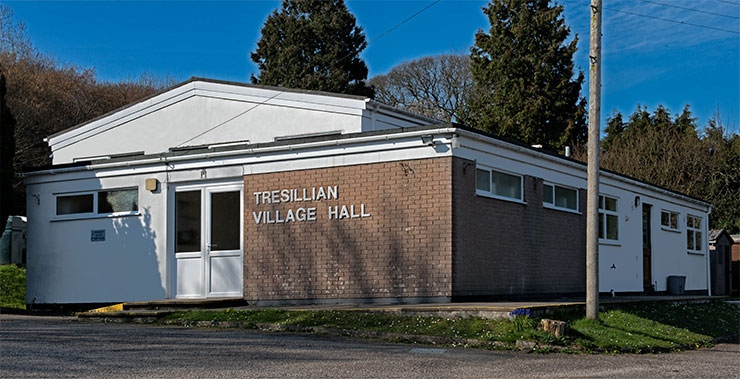 Tresillian Village Hall. Photo © Keith Littlejohns
The village hall provides excellent facilities for clubs, groups, business conferences and is ideal for private parties.
The large hall is licensed to hold 120 people, and an additional smaller meeting room is also available.
The Hall is let on a reasonable hourly rate which includes heating and use of the following facilities:
• a large bright modern kitchen, with an electric cooker, microwave, fridge, kettle, a large catering-size water urn and crockery and cutlery
• there is a serving hatch and generous work-top space
• there are ladies' and gentlemen's cloakrooms and a separate cloakroom for disabled use
• 14 large and 10 small light folding Gopak tables
• 85 matching upholstered chairs
Outside there is an ample parking area and a large grassed space

If you are interested in hiring the hall for your activity please contact the Letting Secretary on 07494 924 559 who will be happy to discuss your requirements. (Please note that this is a new telephone contact number for village hall lettings, the previous number is no longer available for taking calls).
Activities
Beading Group
Second Tuesdays 1.00 – 4.00pm
Contact: 01872 580 763
Cornwall Dolls House & Miniatures Group
Third Sundays – 1.00pm to 4.00pm
Contact: 01208 269 686
Duchy Opera Company
Sunday Evening Rehearsals – 7.00pm to 9.00pm
Contact: 01326  290 754
Evening Dances
Saturday, once a month: Dates vary (call for details)  – 7.30pm to 10.30pm
Contact: 01726 73100
Friendship Quilters
First Thursdays – 7.00pm to 9.00pm
Contact: 01872 279 063
Michael's Dance School
Wednesday – 7.00pm to 10.00pm
Contact: 01872 223 187
Pilates Class
Monday evenings 6.15 – 7.15pm
Contact: 07720 274 345
Quilters Dreckly
Wednesday – 10.00am to 2.00pm
Contact: 01872 520 558
Slimming World
Friday mornings 9.30 – 11.00am
Contact: 07789 880 206
South West Quilters
Occasional Saturday workshops and meetings: 9.30am to 4.30pm
Contact: 01637 875 550
Tresillian Dance Club (Modern sequence)
Friday evenings – 7.30pm to 10.00pm
Contact: 07813 892 644
Tresillian Garden Club
Second Thursdays – 7.30pm to 9.30pm
Contact: 01872 520 609
Tresillian Singers
Tuesday evenings – 7.30pm to 9.00pm
Contact: 01326 270 382
Tresillian Village Hall is a community asset held on a charitable trust and managed by a committee of volunteers.
Registered Charity Number: 1091184.
The aims and objectives of the Tresillian Village Hall Committee is to provide facilities for recreation and leisure, and to maintain the village hall for the residents of Tresillian and those who live in the surrounding area.