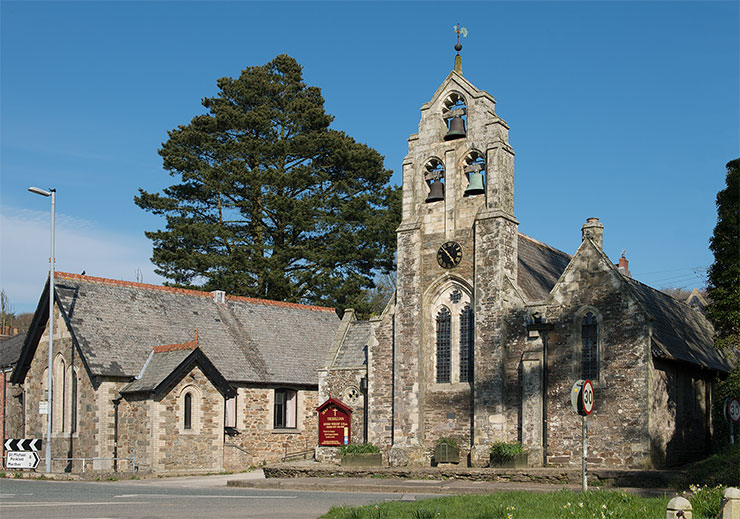 Holy Trinity Church and church hall, Tresillian. Photo: © Keith Littlejohns
A Message of Thanks from the Vicar upon her forthcoming retirement on 30th April 2020
Dear Church Friends,
None of us know what the future holds and this Coronavirus Pandemic has brought that into sharp focus.  As I move into retirement I wish each and every one of you God's blessing and peace for the future whatever it holds for each one of us.  I want to THANK you too for all your care and support over the past 8 years or so. I have truly enjoyed sharing and being with you, celebrating the joys and embracing the challenges that have come our way.
Chris joins me in sending his best wishes and appreciation of all the Christian support you have extended. I shall miss the Lent & Advent groups, the Community Lunches and the Coffee Mornings, and hope they can continue in time. They are such great places to meet up across the village and we are missing them just now. The church is the people and it will be good to be back in our church and chapel buildings, but even better to be able to greet each other properly again.
In the coming months, Revd Elly Sheard and Revd Linda Whetter will be looking after church and they can be contacted via Claire and Billa, the churchwardens. Whilst we are not able to gather together they have all kindly agreed to offer weekly "Thoughts" to inform our prayers. I have attached a reminder of the Midday Prayer sheet to use alongside these and last week I included a monthly Prayer Cycle to help us pray for each other and the village going forward.
With God we are never alone.  I was reading in my Midday Prayers some wonderful verses in the Old Testament where God tells Joshua to stay close to him as he sets out with God's people to continue their journey to the promised land:
"Be strong and courageous; do not be frightened or dismayed, for the Lord your God is with you wherever you go."
So Godspeed and until we meet again,  "May God hold you in the palm of his hand".
Love and prayers,
Lynda
Revd Canon Dr Lynda Barley
Canon Pastor Truro Cathedral, Rural Dean Powder Deanery, Priest-in-charge Tresillian and St Michael Penkivel
Church website, Holy Trinity Tresillian
Cathedral website, Truro Cathedral
Worship Calendar
Regular Sunday worship 11.15am. Please check the calendar on this website for variations including additional events.
COVID-19
The Church continues to be alive and active, but our buildings must close.
Our Church website contains details of how to join others online for prayer, worship, study, and community life.
Holy Trinity Church Tresillian have their own website here where you can find more in-depth information about the church and its activities.
The Gothic Revival styled church situated at Tresillian Bridge was first built as the Chapel of Ease in 1878, but has since been rebuilt and the current structure dates from 1904. The font, bells, statue of St Anthony and pulpit were all taken from the, by then, virtually abandoned church of St Anthony's at nearby Merther that continued to be used for funerals until the mid 20th century.
There is a link here to the Church of England's website A Church Near You listing some 16,000 churches. A Church Near You contains information about parish churches and the services and events that take place there, which newcomers and visitors to a particular location may find useful. You may also find information about specific facilities available to handle weddings, baptisms and funerals as well as general churchgoing.