Tresillian Village News Bulletins
•Check Out Special Offers on the Business Page•
•Public Service Notice – A30 Closure 17th-20th November•
•Remembrance Service – Playing Field War Memorial 12th November Report•
•Tresillian Allotment Site – Plots Available•
Click on this link to see the most recent Tresillian Village News Bulletins in Full
Tresillian Village
Tresillian (Cornish: Tresulyan) is a creekside village in mid Cornwall (Cornish: Kernow), England, and is located at the tidal head of the Tresillian River mostly in the parish of St Clement some three miles (5km) to the east of the city of Truro, Cornwall's capital.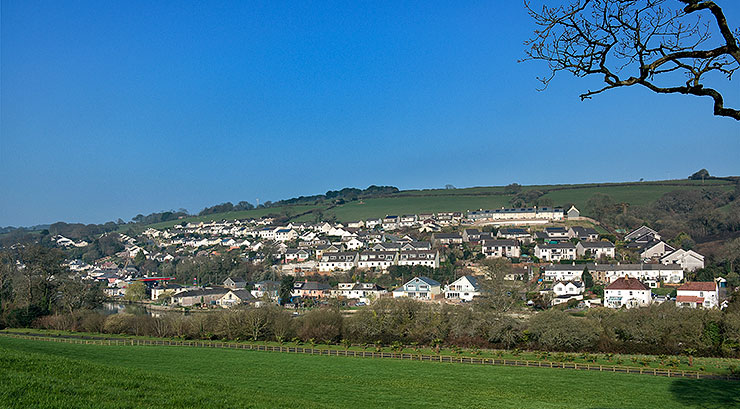 View of the greater part of Tresillian Village, from south side of Tresillian River. Photo: © Keith Littlejohns
Although the village's history stretches back several centuries the majority of its current layout of domestic dwellings and commercial properties are of 20th century origin, but there is a small number of much older buildings including a Grade II listed (possibly 14th century) thatched Inn.
The name Tresillian is reputed to translate from the Cornish language as "a place of eels", according to a 19th-century writer. However, modern toponymists generally agree that the name in fact, translates as "farm/settlement of a man called Sulyen" (a Celtic personal name from British: sulo-genos, "sun-born")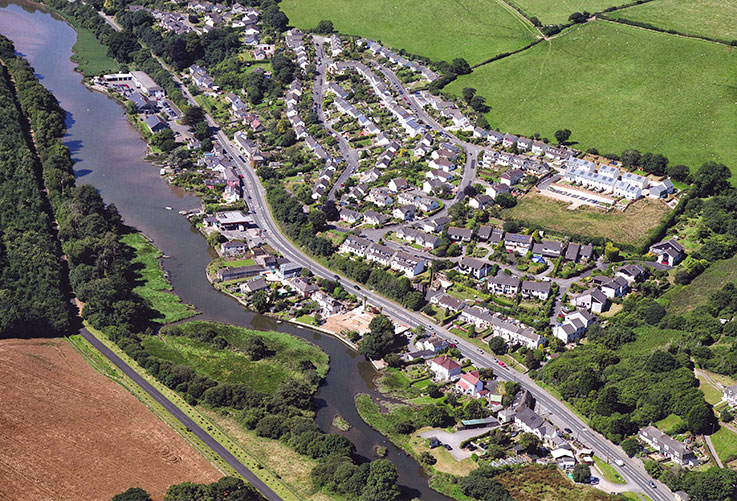 The greater part of Tresillian Village from the air c2012. Photo: © Author unknown
Set in beautiful Cornish countryside, Tresillian has managed to retain its largely rural character but with the advantage of being not too distant from Truro, Cornwall's main administrative and retail centre, which is easily reached using the main A390 road that runs through the village.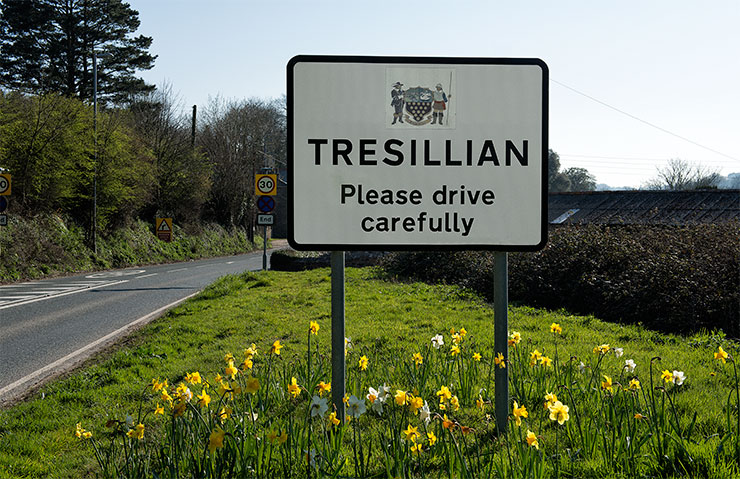 Approaching Village from the east. Local resident Janet Bailey designed the village sign's emblem of the Roundhead and Cavalier at the invitation of the Highways dept. Photo: © Keith Littlejohns
To the south of the village lies the large, privately owned Tregothnan Estate and house, historic seat of the Boscawen family, Viscounts Falmouth, that is still managed by the family.
Farming in the surrounding area is a mixture of pastoral, mainly dairy and sheep, and arable crops for both human and animal consumption.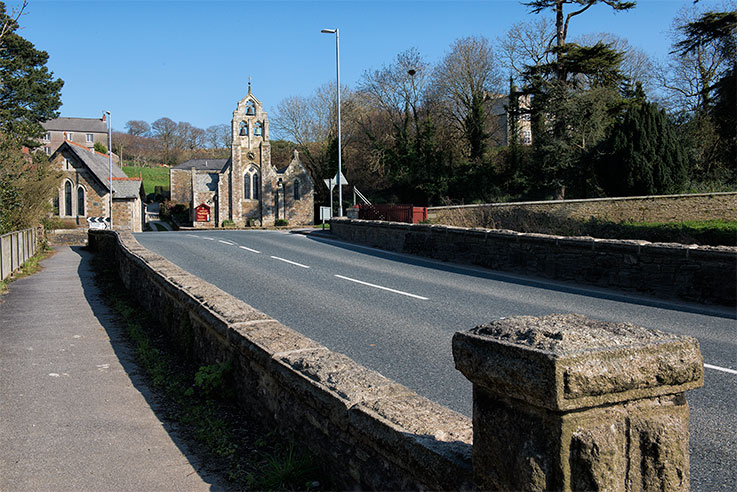 The current Tresillian Bridge where the A390 road traverses the river. Photo: © Keith Littlejohns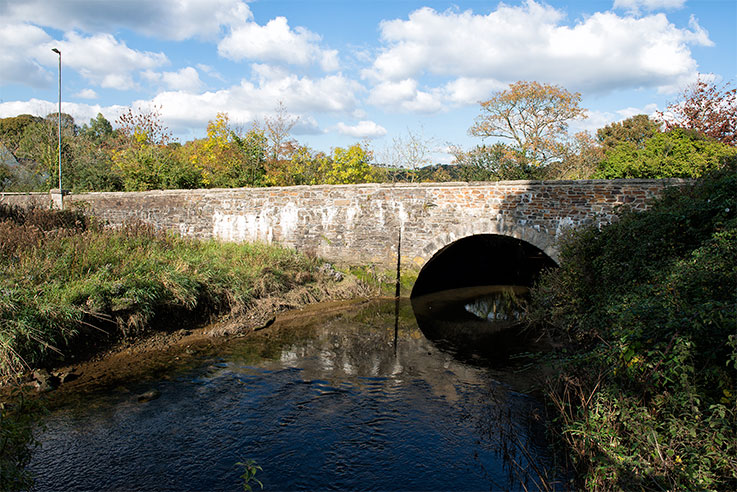 Tresillian Bridge is positioned at the point where the river narrows substantially. Photo: © Keith Littlejohns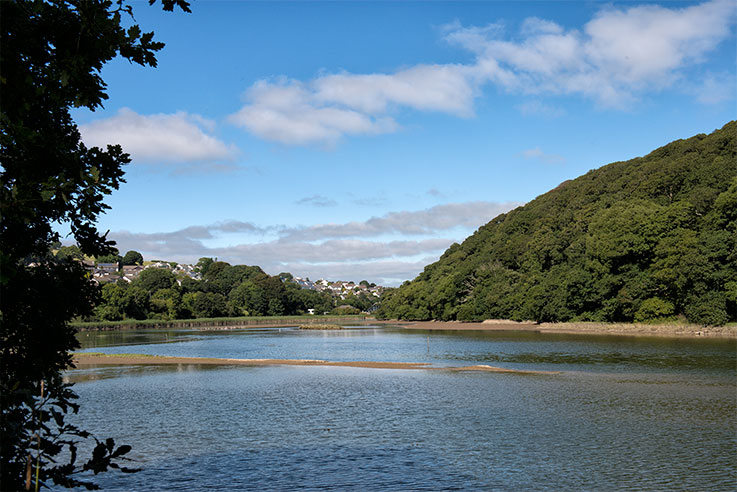 Tresillian River looking upstream towards Tresillian Village. Photo: © Keith Littlejohns
Tresillian was once the lowest bridging point on the Truro River, and the highest navigable point from the sea, however substantial silting up over the centuries has made navigation difficult for all but the smallest of craft.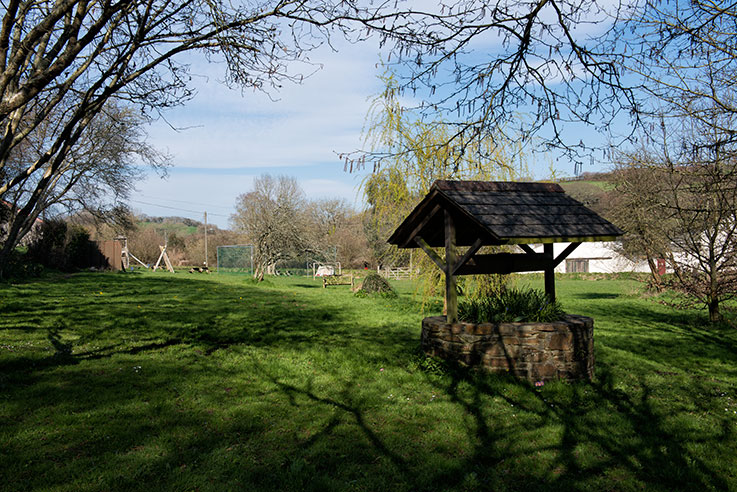 Tresillian Village recreation ground. 'Playing Field' Photo: © Keith Littlejohns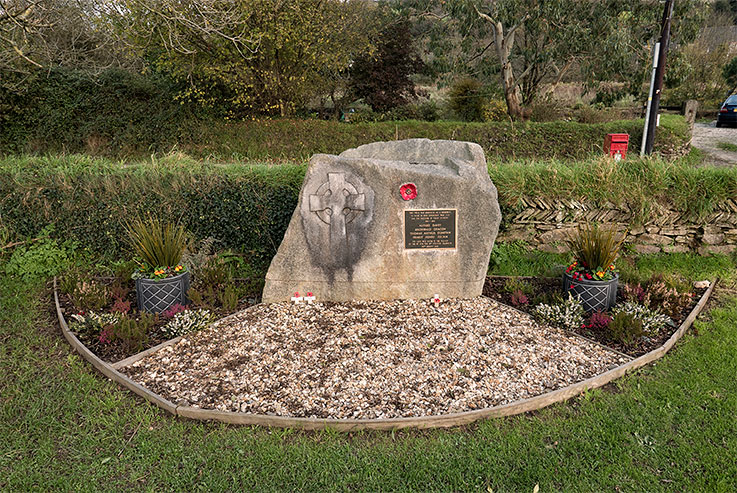 Tresillian Village recreation ground war memorial. Photo: © Keith Littlejohns
The text on the memorial's plaque reads:
This field was dedicated as a memorial to those of this community
who died for the freedom of their country.
1914 – 1918
Alfred Davey
Archibald Deacon
Thomas Arthur Dunstan
Ernest Henry Julian
The land was given, in trust, to the village by
The Rt. Hon. The 8th Viscount Falmouth
28th August 1928