Check Out Special Offers on Our Local Business Page
---
Bus Crashes into Side of A390 a Short Distance from Tresillian Bridge – Afternoon of 27th January 2020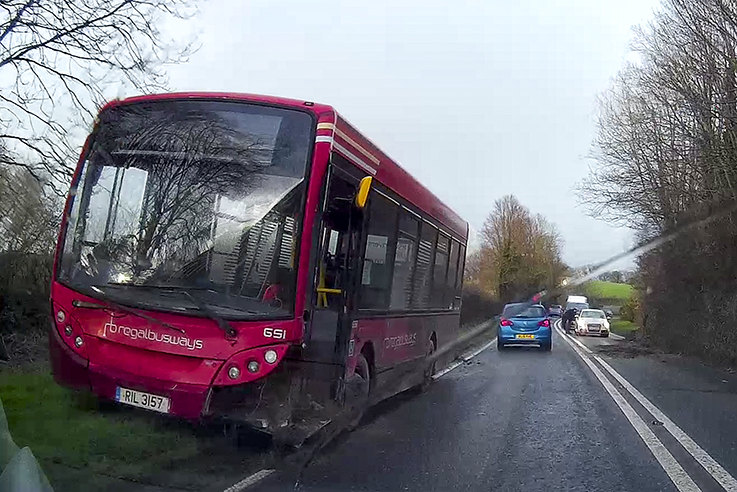 Photo © Keith Littlejohns.
During the afternoon of Monday 27th January, a bus collided with a roadside tree lined earth bank whilst entering the village of Tresillian on the A390 close to Holy Trinity Church. No injuries were reported. The bus sustained substantial damage to its nearside front and side, having gouged out earth from the embankment leaving soil and debris in the road. The vehicle ended up on a grass verge on the other side of the road.
Soon after, there were severe traffic hold ups in both directions between Probus and Tresillian backing up all the way into Truro that lasted for several hours. This was accentuated by the regular heavy rush hour commuter traffic using this increasingly busy, congested section of the A390 through Tresillian.
The cause of the accident is yet to be determined.
---
Latest on Out of Service Defibrillators in Village, 28th January 2020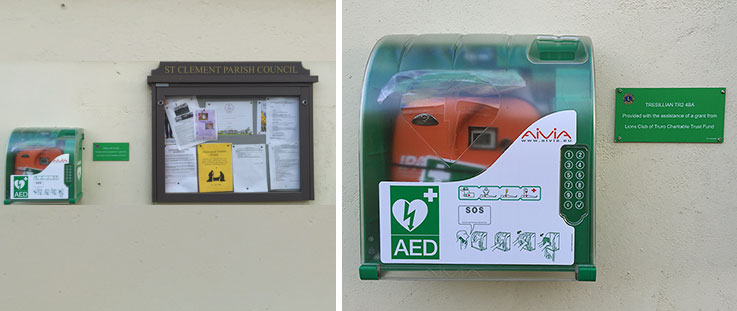 The Parish Council has been approached to see if they are able to offer support for urgently needed replacement parts for the two defibrillator units currently out of commission. Before they can be brought back to use they will need new batteries and pads to conform to the standard required. The cost of new parts is just under £450. However, the total balance left over from the original donations is only about £330.
The original suppliers, Ronnie Richards Memorial Charity, have been approached but nothing has so far come out of that contact.
The three public spirited people responsible for administering the original fund are Shirley Anderson, Gerald Bennetts and Philip Buddell. They admit they are getting on in years and feel that going forward it would be a better solution if the Parish Council were to play the leading role in administration and management of the defibrillators.
An item is on this month's Parish Council Agenda to be discussed on Wednesday 29th January, St Clement Parish Council website.
---
Woman Driver Captures Speeding Driver on Her Dashcam Overtaking Her Whilst Driving on A390 Through Tresillian – 03 December 8.05pm 
Tuesday, December 3rd at 8.05pm. A woman driver was constantly, closely tailgated with headlights reflecting in her rearview mirror after she had slowed down when entering the Truro end of Tresillian village to abide by the 30mph speed limit. Her dashcam captured the driver overtaking her vehicle and speeding away very fast into the distance just a few seconds later passing Manor Cottage.
---
Road Traffic Accident in Tresillian 03 December 2019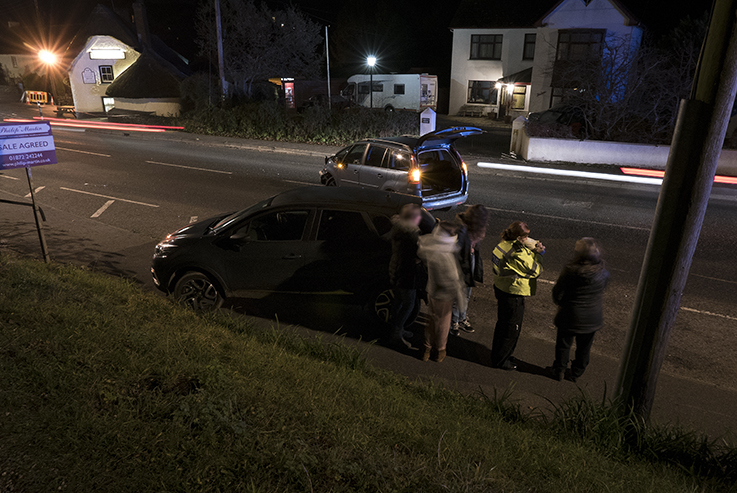 Photo © Keith Littlejohns.
At around 4.45pm this evening there was a RTA between a number of vehicles on the busy A390 outside Primrose Cottages, not far from the Wheel Inn public house. Police and ambulance services attended the incident, but there are no reports of any serious injuries. Traffic in both directions along this regularly busy stretch of the A390 slowed to a snails pace as commuter and local traffic backed up for several miles in both directions.
A member of the local community who was one of the first on the scene assisted in managing traffic past the damaged vehicles that were blocking the road.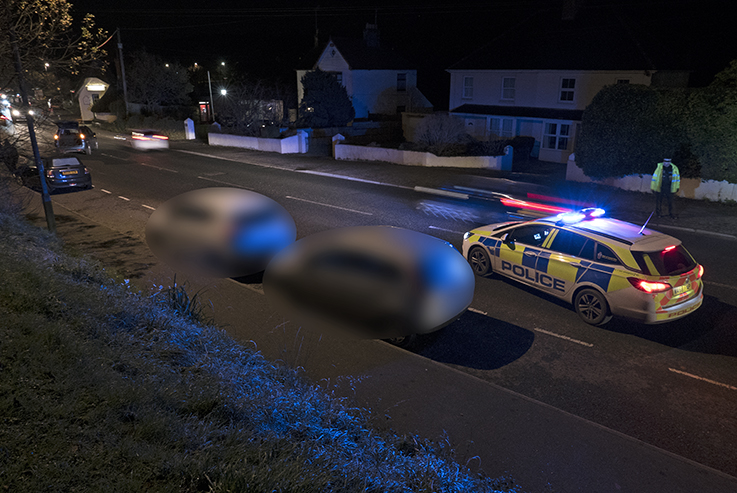 Photo © Keith Littlejohns.
Police who questioned drivers say they are trying to ascertain how the accident happened.
---
BT Public Telephone Box Consultation – Consideration of Removal
BT are currently engaged in public consultation regarding their intention to consider removing the public telephone box in Tresillian village beside the A390, opposite Millcot and Watersmeet. The consultation period will end on 09 February 2020.
BT records show that within the previous 12 months just one call was made from this telephone box.
Any objections from members of the local community can be sent to the Parish Clerk, St Clement Parish Council (contact details are on the St Clement Parish Council page under the Community tab).
Any objections to the removal of the telephone box require an explanation as to why it should not be removed.
---
Polsue Way Road Undermining Relating to Planning Application PA12/11833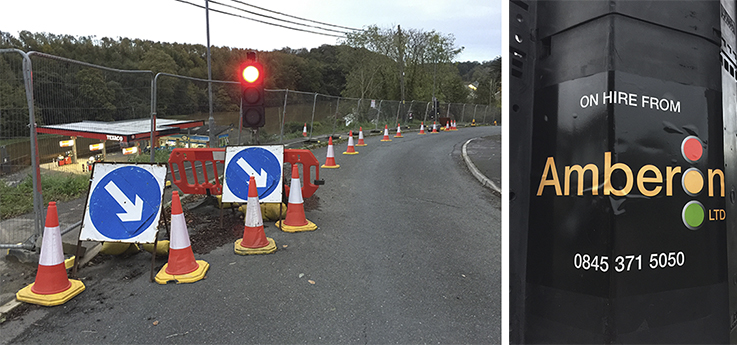 The Heron Close/Polsue Way embankment debacle continues month after month without any idea of when the situation is likely to be suitably resolved which is making a number of local residents understandably very concerned.
Reading through planning application PA12/11833 and other public domain associated documentation published on the Cornwall Council website brings up some interesting threads.
The owner of a property which adjoins the land where the proposed new development is to be built included an item in their comment relating to the development which directly relates to potential road embankment damage under the title of 'Geotechnical appraisal & Excavation Risks'. The commenter asks if a geotechnical appraisal has been made regarding safety and viability of proposed construction methods stated. The commenter also requested written confirmation that a visual inspection of the proposed site was undertaken. A full transcript of the document along with many other documents and plans is available to view in the public domain on the Cornwall Council Planning section of their website.
Potential road undermining was also raised among other issues by St Clement Parish Council in their assessment submitted.
There does not seem to be any official documentation to confirm that any visual inspection was undertaken. However, there is a document from Messer's Stephen Payne Planning acting on behalf of the planning applicant, that can be viewed as item 4 under Documents. This document does reference positive assurance of land stability as a result of proposed construction under 'Effect of excavation'.
There is other subsequent documentation threads from The Planning Inspectorate and Messer's Stephen Payne Planning relating to a financial claim made against Cornwall Council by the applicant for initial refusal of an application appeal.
All of this written documentation was circulating in 2013/14. The most recent information, not on the CC Planning pages, relates to the developer's 3m undermining of the pavement/road. It would seem that there is a stand-off between the developer and Cormac regarding the appropriate method to be used to stabilise the undermining, which is what is causing the delay.
None of this makes local residents any the less concerned, especially should the current undermining escalate through environmental erosion to such an extent that a larger section of the road  would have to be closed completely for safety reasons. Every household in the part of Tresillian affected could then be stranded without vehicular access onto any external road. This would also be true for emergency, general service and commercial vehicles needing access to affected households. Services such as water, electricity, gas, sewage and telecoms could also be compromised leaving households without vital service for heating, lighting, cooking, personal hygiene etc.
Just pause for a moment and think what would happen if the very worst happened just before Christmas and residents holiday festivities were ruined as a result. This would surely energise residents to take out a class action to recoup all of their expenses.
Nobody want's to see a repeat of the tragic circumstances that surrounded the serious road collapse caused by land erosion due to heavy rainfall which blighted a community in Looe during March 2013 for several weeks. It emerged after the event that a 60 page document concerning safety had been handed by residents to Cornwall Council some two months before the landslip occurred.
Useful contacts and information sources:
Cornwall Council Website – Planning Applications
http://planning.cornwall.gov.uk/online-applications and enter PA12/11833 in the search box.
Cornwall Council Website – Report/Track an issue
Not as easy to locate as it used to be. First go to website home page, click on 'Report something' rectangle and search links for 'Road Surfaces', then 'track an issue' giving Works Ref UF999HEDH/HERON/GP. However, this only returns a message 'No problem found…', so is pretty useless.
A little bit better solution is to follow the CC website links through 'Home / Transport and streets / Roadworks' and give a location for a map, them move around the map until you find the spot marked on Heron Close/Polsue way. However, again, although it does at least give an explanation the information provided is pretty scant.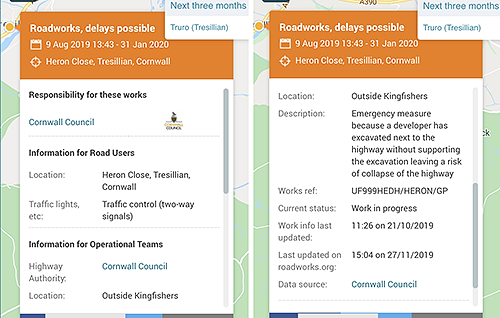 Finally, you cold try contacting Cormac directly but you will likely be bounced back to Cornwall Council as the provider of this information.
If you don't already have it to hand, the number to call if you notice the traffic lights are not working is 0845 371 5050.
---
Road Traffic Accident A390 Tresillian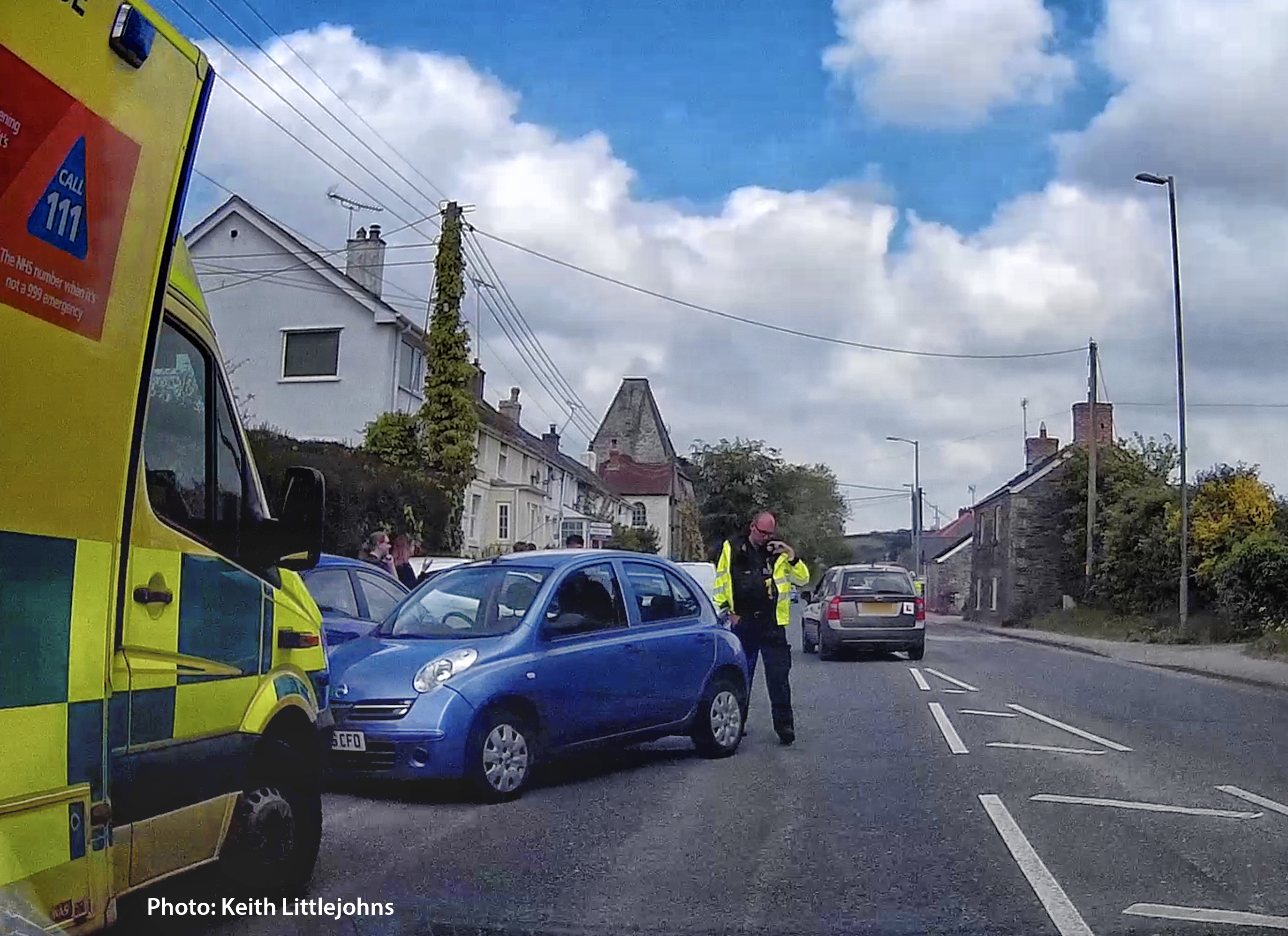 Three vehicles were involved in a road traffic accident sometime after 1pm on Sunday, 19th May 2019 on the A390 close to Bonecellars Row, Tresillian. Emergency service vehicles in attendance were an ambulance, a fire appliance and a police van. Traffic flow through the village was restricted for a period of time with traffic backing up in both directions. Injuries and cause of the accident is not known at this time.
---
Tresillian Wildlife Articles (Steady on! Not that kind of wild life) – Various Contributors – Check out latest items added by following the Wildlife & Natural History Page link below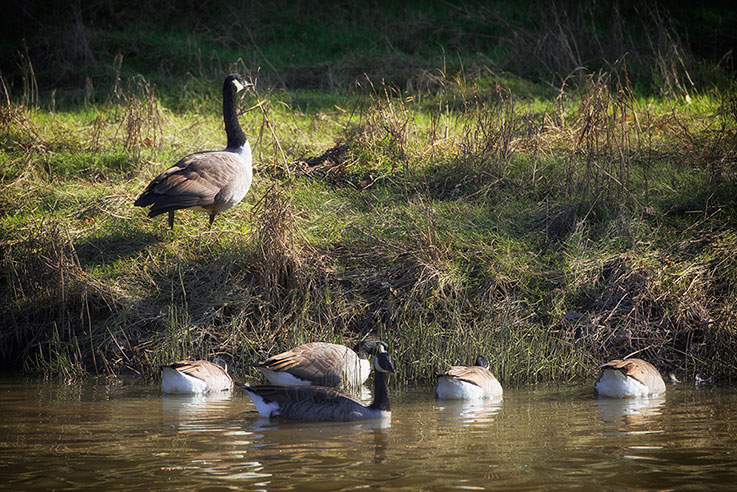 Wildlife articles can be accessed by visiting the Wildlife & Natural History Page and selecting the relevant year link at the bottom of the page. The Tresillian website welcomes any stories or photos of your wildlife/Natural History observations in Tresillian and its close environs. Hedgehog, bird or any other wild animal sighting or naturalised flowers or plants of interest that catch your attention. We would love to hear from you. Just get in contact via our Contact page and we will be back in touch with you about your story/photos.
---
Tresillian Photographic Archive Project – Keith Littlejohns
I am proposing setting up an organised collection of photographic images for our village that, hopefully, will remain as a permanent unified digital archive of life in Tresillian through the decades for future generations to have available.
Building this archive relies heavily on source material being forthcoming. To that end I am asking residents of Tresillian (or known past residents that have moved away but may have some suitable images) to make contact with me regarding the loan of images so that I can make professional scans and return the original prints or negatives to the owner.
This could turn out to be a quite substantial task and as a result I am expecting the building of the archive to be split into phases. For the initial phase I will be concentrating solely on gathering together a collection of older images from very early days up to and including 1979.
If you think you may have some suitable photographs I can be contacted via the village website by emailing me using this website's Contact page. There is no need to go into great detail at first as I will make contact to talk about any images you consider may be of interest. I'm really only looking to archive images that have recorded village life and how it has evolved through time. Eventually, as time allows, I will add more modern images from 1980 onwards to take the story forward.
If possible, it would be very useful if you have information such as dates (roughly will do), names of people or locations or any other details you think may be of interest. If you don't yet use email, please do ask a friend or neighbour to make contact on your behalf as old images are of particular interest for this first phase.
Cllr Keith Littlejohns
---
Tresillian's Missing Milestone – An Ongoing Story
As a person fascinated by local history I could not resist picking up from Chris Clarke's excellent article published in the spring 2017 edition of TRAM Magazine regarding Tresillian's missing milestone. His article stimulated me into taking up the challenge of conducting further research myself.
Using additional information kindly supplied to me by village resident Lewis Mitchell, which he found on an old 1960 edition Ordnance Survey map, a distinct reference point has now been established. The Tresillian milestone's position is marked on the OS map by the usual very small black dot accompanied by the letters MS, albeit slightly masked by a black circular graphic. Using my own copy of the same map, OS SW 84 Truro 1:25,000, I was also able to confirm the exact location.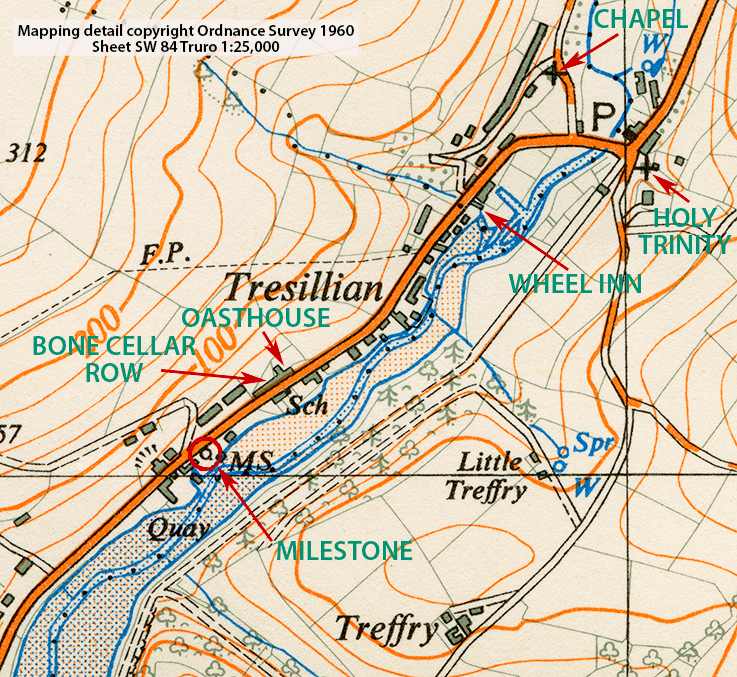 By cross referencing this data with Cornwall Council's excellent online Interactive Map website I was able to double check the exact position where the milestone once stood, or at least close enough given the disruption created by the 1960s A390 road widening/levelling scheme and adjacent change of land-use. Both the 1960 OS map and CC's Interactive Map show the location as being on the south side of the A390 where the current Audi dealership is situated.

Thanks to information also gleaned from the CC Interactive Map a detailed Cornwall & Scilly Historic Environment Record (HER) reference reads as follows:
HER Number:
MCO55585
Name:
TRESILLIAN – Post Medieval milestone
Summary
The site of a milestone on the SE side of the A39 in Tresillian – BODMIN 21¼ TRURO 3.
Grid Reference:
SW 8635 4604
Parish:
St Clement, Carrick, Cornwall
Protected Status: None recorded
Other Statuses/Codes: none recorded
Monument Types
Milestone (Post Medieval – 1540 AD to 1900 AD)
Full description
A milestone is recored on the SE side of the A39 in Tresillian, on both the 1st Edition 1:2500 OS map, annotated TRURO 3 BODMIN 20, and on the 2nd Edition 1:2500 OS map c1907 annotated BODMIN 21¼ TRURO 3. The milestone is not recorded on the modern OS Mastermap 2010, suggesting it has been lost, possibly due to road alignment alterations in the C20.
Associated Finds: none recorded
Associated Events: none recorded
Related records: none recorded
So, a milestone clearly did exist inside the village at a point along its main highway outside the current Audi dealership. Interestingly, the CC Interactive map has the A390 labeled as A39 at that point (note, must make CC aware of the error).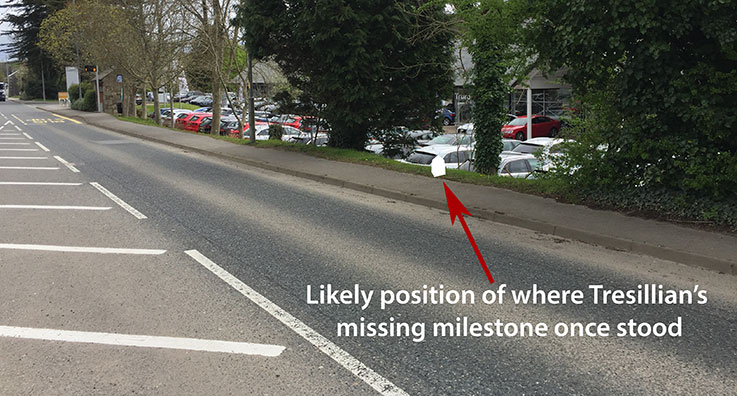 I have recently placed a request with our local parish council asking if, in the light of information now currently available, the possibility of the missing milestone being reinstated could be raised at a parish council meeting and that it could be pursued using the offices of the parish council.
Let's hope that Tresillian's missing milestone can either be found languishing in a council yard somewhere and reinstated, or that a replica can be produced using information recorded by C&S's HER database so that our village's milestone is no longer the only one missing in the chain of 12 historical milestones that run from Truro to Braddon.
If anyone has any more information or knowledge they think would be helpful or interesting regarding the missing milestone then please do contact me using the contact form on this site and I will publish it online as part of this continuing fascinating story. If you wish to receive emailed alerts as soon newsworthy items about village life are published online you can subscribe to the website for free using the box provided at the bottom right of most pages on the site.
Incidentally, most milestones you'll see date from the 1700s or later, when new Turnpike roads were legally required to have milestone markers. It meant passengers and goods carried on the stagecoaches could be charged standardised rates for the distance they travelled. You'll also see plenty of milestones along canals, also used to calculate how much people would be charged for moving their goods by barge.
Further news about the missing milestone will be added as soon as it becomes available.
Keith Littlejohns
---
A Sample of Website Testimonials Received
"What an amazing memory of the afternoon [Cream Tea for The Queen 2016]. Well done to Keith for producing it. Very well put together and excellent music choice."
Aileen Bratton
"Thank you, Keith.  Looks very good [swans] on the website along with all the other information you have published – well done!"
Phillip Buddell
"Just seen this new site. Lovely photos of Tresillian and interesting facts. Wish you well with it. Hope you get lots of comments and participation"
Tina Earley
"Website is great – thank you.  Just a quick note to say 'Thank You' for getting a Tresillian website up and running well."
Desiree Tillgren
"Thank you for your beautiful pictures and website design for the village."
Ann McCormick
"Great to meet you, and much thanks for including church activities on the village website, it really is the way forward!"
Billa Jeans
"After getting the leaflet delivered by 'Keith' this week and having a quick chat in the garden at time of delivery. I thought I would check the website out. Absolutely fantastic, beautiful photo's and puts the village in the here and now. Well done to you and I really hope the site goes from strength to strength. I am going to give the details to some family members to check it out. Well done and thank you so much for all the effort you have put into it, to make it so professional and enjoyable."
Geraldine Rawbone
"A friend of ours in Sussex, who used to live in the village, is thrilled with the site as it will keep her up to date on what is happening here."
Lesley Dobel
"Fantastic website, well done to all who was involved."
Kirsten Lean
"What a wonderful community website for our village with lots of information and history. Well done and very impressed. Keep up the good work."
Karl Russell, Treglyn, Tresillian
"I've had a look round – its very easy to use!"
Helen Nicholson
"I enjoyed looking at the site and thank you for the lovely photo of the Tresillian road sign for which I designed the emblem of the Roundhead and Cavalier at the invitation of the Highways dept. of course a reference to the civil war battle nearby. I wonder if there are any rusting cannon balls in the river."
Janet Bailey.
………. There are no further news bulletin items at present. Please visit again on a regular basis to check for updates ……….