Check Out Special Offers on Our Local Business Page
---
Remembrance Ceremony, Tresillian War Memorial November 12 2017
Getting on for 40 people turned out on Remembrance Sunday, 12th November to attend a ceremony of remembrance in Tresillian Village's Playing Field by the war memorial stone.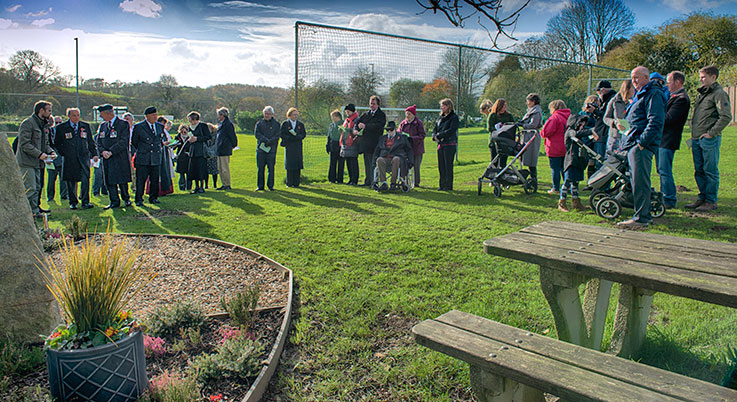 The Revd. Canon Lynda Barley led the ceremony with prayers.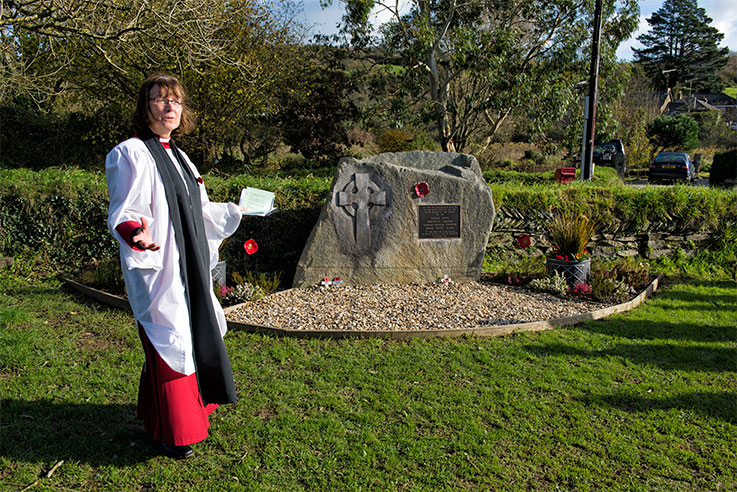 Leslie Sutton, standing just to the left of the netting post read out the names inscribed on the memorial, Bob Scott, standing next to wreath carrier John Dobel, delivered the lines from the famous fourth stanza of Robert Laurence Binyon's poem 'For the Fallen'
"They shall grow not old, as we that are left grow old:
Age shall not weary them, nor the years condemn.
At the going down of the sun and in the morning
We will remember them."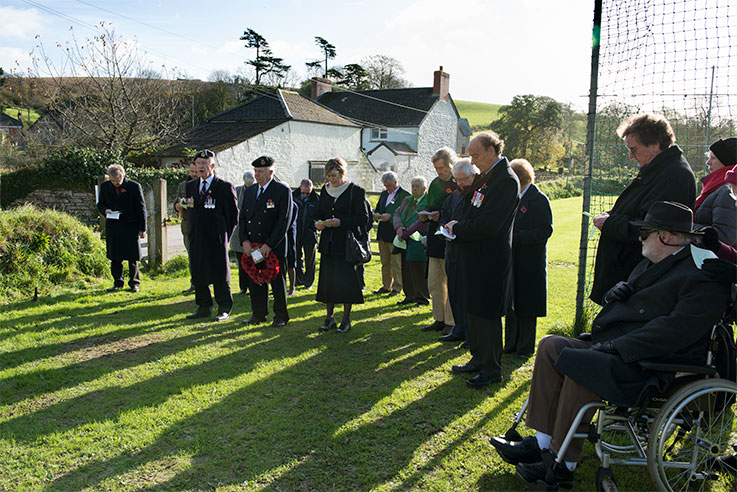 Dan Beacham sounded 'Last Post', followed by two minutes silence, after which Bob spoke the words "When you go home, tell them of us and say, for their tomorrow we gave our today" Dan then sounded Reveille (Rouse).


John Dobel then laid the Poppy Wreath against the memorial stone.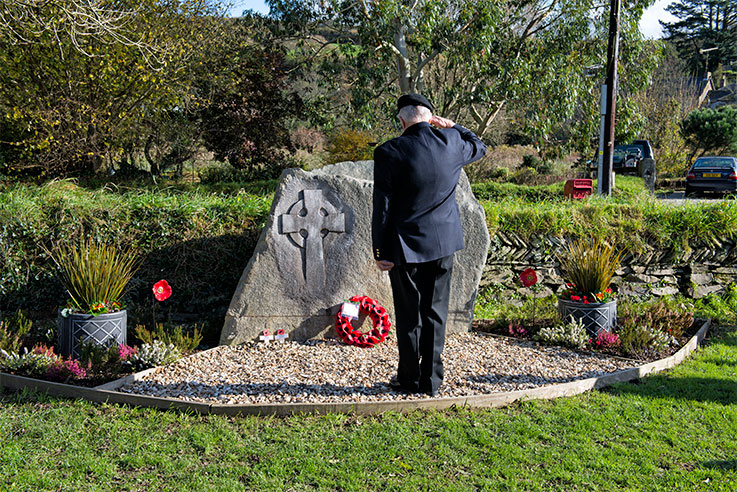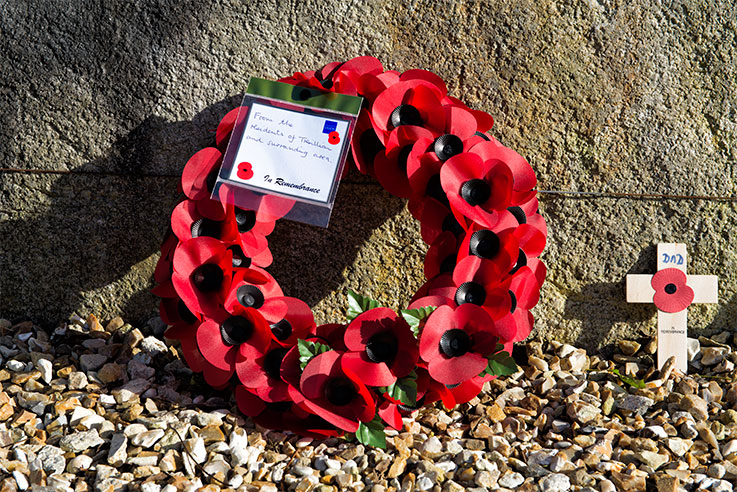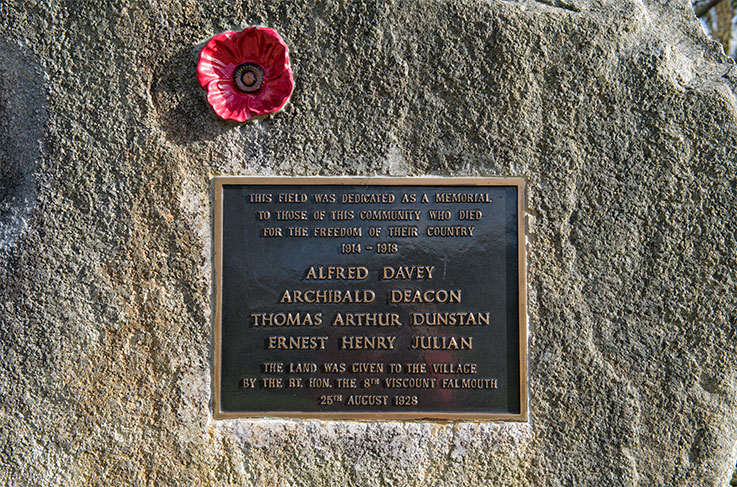 All Photos: © Keith Littlejohns
---
St Clement Parish Neighbourhood Plan Public Event – November 25 2017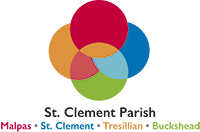 As part of a public consultation requirement, a public event is to be held at Tresillian Village Hall, Fairfax Road, Tresillian, Truro, Cornwall, TR2 4AZ from 10.00am until 8.00pm on November 25 2017. The purpose of which is to keep residents of the parish informed about progress to date regarding the local area Neighbourhood Plan. All local residents are welcome to attend, and St Clement Parish Neighbourhood Plan Steering Group staff will be on hand to answer questions about the plan.
The St Clement Parish Neighbourhood Plan website can be found on this link
---
Tresillian Photographic Archive Project – Keith Littlejohns
I am proposing setting up an organised collection of photographic images for our village that, hopefully, will remain as a permanent unified digital archive of life in Tresillian through the decades for future generations to have available.
Building this archive relies heavily on source material being forthcoming. To that end I am asking residents of Tresillian (or known past residents that have moved away but may have some suitable images) to make contact with me regarding the loan of images so that I can make professional scans and return the original prints or negatives to the owner.
This could turn out to be a quite substantial task and as a result I am expecting the building of the archive to be split into phases. For the initial phase I will be concentrating solely on gathering together a collection of older images from very early days up to and including 1979.
If you think you may have some suitable photographs I can be contacted via the village website by emailing me using this website's Contact page. There is no need to go into great detail at first as I will make contact to talk about any images you consider may be of interest. I'm really only looking to archive images that have recorded village life and how it has evolved through time. Eventually, as time allows, I will add more modern images from 1980 onwards to take the story forward.
If possible, it would be very useful if you have information such as dates (roughly will do), names of people or locations or any other details you think may be of interest. If you don't yet use email, please do ask a friend or neighbour to make contact on your behalf as old images are of particular interest for this first phase.
Keith Littlejohns
---
Tresillian Village Improvement Group Awarded 'Silver Pennant'
The Tresillian Village Improvement Group (TVIG) is pleased to announce that it has recently been awarded 'Silver Pennant' by South West in Bloom with the Royal Horticultural Society in the 2017 Main Competition's 'Village Pennant' class.
Last year the TVIG entered 'Britain in Bloom' at the basic 'It's Your Neighbourhood' level, where an award of Outstanding was given.
Given the higher standard expected at the Village Pennant class, the Silver award is a very good start and it is hoped to improve upon this next year.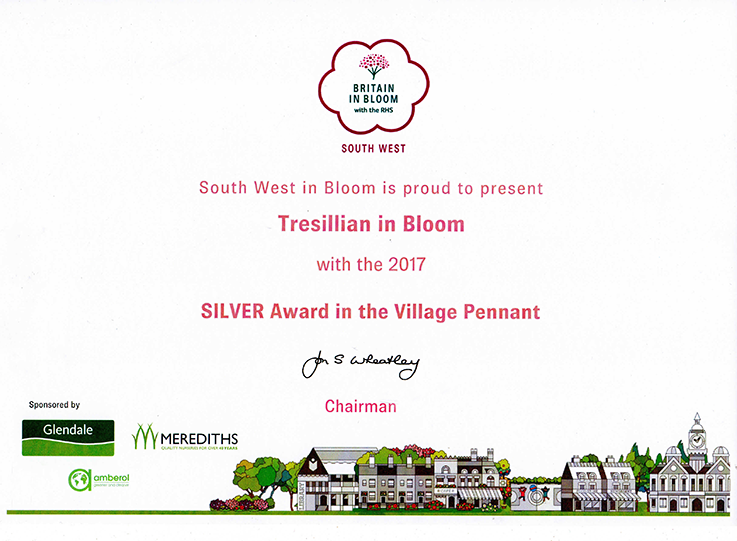 Although judging is dependent on adhering to a strict set of criteria, the judges offer much good advice in their summing up to encourage entrants to build on their achievements, so as to climb to higher levels.
The following is the introductory remarks from the judges mentioned in their Marking and Feedback sheet:
"Tresillian is a very elongated village situated on the busy A390 just 3 miles from the City of Truro. It has a fantastic array of wildlife as a river winds itself through the picturesque village.
It is always great to welcome a first-time entry and considering the massive step-up from entering a local competition they can be very proud of what has been achieved and with just a bit more attention to detail/judging criteria it will see them shooting up through the levels of awards."
Mentoring is also something that is made available, particularly to new entrants, and the TVIG would like to give thanks to experienced Britain in Bloom judge Peter Kessell, of Truro City Council Parks department for his time in giving post-award guidance to assist the group in its preparations for next year's competition.
The Tresillian Village Improvement Group would also like to thank the many volunteers that turn out to help and support the various schemes and events that led to this award being given.
There are several ideas under discussion for next year's village improvement projects. As a result, the TVIG would very much like to hear from individuals and businesses who are able to offer a little of their time or financial support to help keep our village environment looking clean, tidy and attractive for us all to enjoy. Contact details for the TVIG can be found on this link.
Keith Littlejohns
---
Canada Geese Over Tresillian October/November 2017
I counted 532 geese flying up-stream on Friday morning between about 8.15 and 8.35. 531 Canada geese and one white one which seems to have joined the flock. As you well know, it's an amazing sight to see them morning and evening, and sometimes in between, flying along the river and we feel greatly privileged to have so many of these fine creatures with us for the winter months.
Similarly the black-headed gulls, although far less remarkable are still a notable sight, with some 200 or more roosting at the southern end of the village. We have had one bird re-visiting for the past 3 years, though sadly he died this past week – recognisable because the two sections of his beak didn't quite meet at the end; he visited every morning from July through the winter till they depart for Denmark or other nesting grounds.We called this particular bird 'Squawky' because of the noise he made when settled on our deck! Like any creature which makes a regular appearance we will miss him now he has passed away – it was very sad seeing him floating downstream a week ago with his life ebbing away, but nothing we could do to change the course of nature. Meanwhile we do have this wonderful spectacle of the geese each day for which we must be thankful!
Philip Buddell
---
Treasure Hunt & Cream Tea – 2nd July 2017
A cream Tea event was held on the lawn that stretches down to the Tresillian River behind the Wheel Inn at 3pm.
An associated Treasure Hunt took place earlier in the day at 1.30pm. A delicious cake was donated as a prize and the winner was George Doherty, of Higher Polsue Way, Tresillian (seen in the photos below with the cake in front of him).
Later on in the afternoon, a Songs of Praise gathering sang a variety of religious hymns and songs. On guitar, and leading the singing was Andrew Nicholls and Revd Canon Lynda Barley was also in attendance. (Andrew Nicholls is seated wearing a dark T-shirt in the shade at extreme right of the bottom photo above, and Revd Barley is seated at extreme left in a black and white horizontal striped top and fuchsia pink trousers)
Keith Littlejohns
---
Tresillian's Missing Milestone – An Ongoing Story
As a person fascinated by local history I could not resist picking up from Chris Clarke's excellent article published in the spring 2017 edition of TRAM Magazine regarding Tresillian's missing milestone. His article stimulated me into taking up the challenge of conducting further research myself.
Using additional information kindly supplied to me by village resident Lewis Mitchell, which he found on an old 1960 edition Ordnance Survey map, a distinct reference point has now been established. The Tresillian milestone's position is marked on the OS map by the usual very small black dot accompanied by the letters MS, albeit slightly masked by a black circular graphic. Using my own copy of the same map, OS SW 84 Truro 1:25,000, I was also able to confirm the exact location.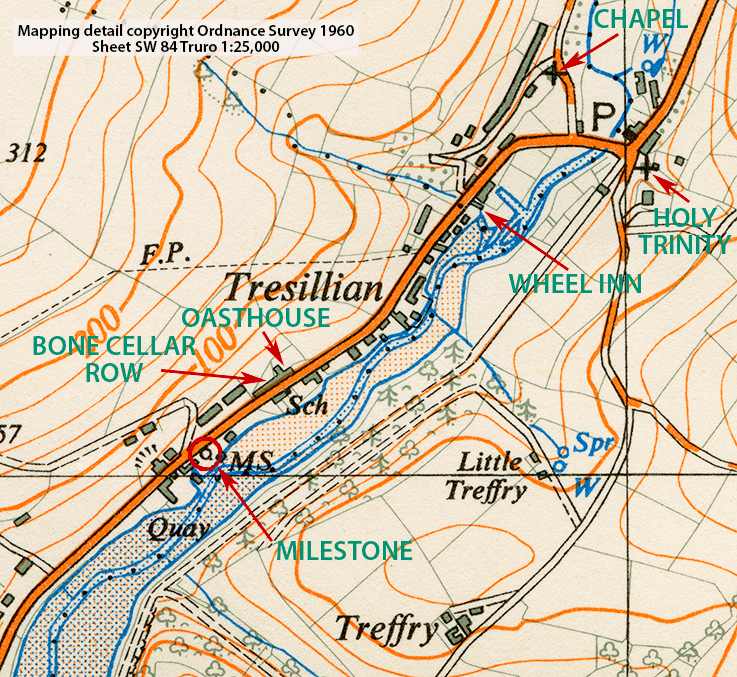 By cross referencing this data with Cornwall Council's excellent online Interactive Map website I was able to double check the exact position where the milestone once stood, or at least close enough given the disruption created by the 1960s A390 road widening/levelling scheme and adjacent change of land-use. Both the 1960 OS map and CC's Interactive Map show the location as being on the south side of the A390 where the current Audi dealership is situated.

Thanks to information also gleaned from the CC Interactive Map a detailed Cornwall & Scilly Historic Environment Record (HER) reference reads as follows:
HER Number:
MCO55585
Name:
TRESILLIAN – Post Medieval milestone
Summary
The site of a milestone on the SE side of the A39 in Tresillian – BODMIN 21¼ TRURO 3.
Grid Reference:
SW 8635 4604
Parish:
St Clement, Carrick, Cornwall
Protected Status: None recorded
Other Statuses/Codes: none recorded
Monument Types
Milestone (Post Medieval – 1540 AD to 1900 AD)
Full description
A milestone is recored on the SE side of the A39 in Tresillian, on both the 1st Edition 1:2500 OS map, annotated TRURO 3 BODMIN 20, and on the 2nd Edition 1:2500 OS map c1907 annotated BODMIN 21¼ TRURO 3. The milestone is not recorded on the modern OS Mastermap 2010, suggesting it has been lost, possibly due to road alignment alterations in the C20.
Associated Finds: none recorded
Associated Events: none recorded
Related records: none recorded
So, a milestone clearly did exist inside the village at a point along its main highway outside the current Audi dealership. Interestingly, the CC Interactive map has the A390 labeled as A39 at that point (note, must make CC aware of the error).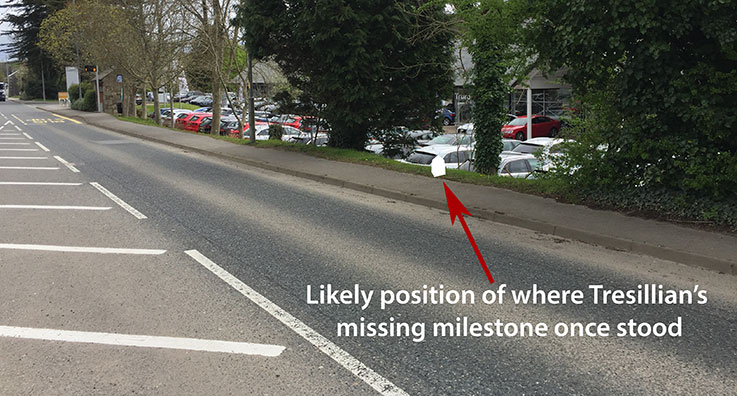 I have recently placed a request with our local parish council asking if, in the light of information now currently available, the possibility of the missing milestone being reinstated could be raised at a parish council meeting and that it could be pursued using the offices of the parish council.
Let's hope that Tresillian's missing milestone can either be found languishing in a council yard somewhere and reinstated, or that a replica can be produced using information recorded by C&S's HER database so that our village's milestone is no longer the only one missing in the chain of 12 historical milestones that run from Truro to Braddon.
If anyone has any more information or knowledge they think would be helpful or interesting regarding the missing milestone then please do contact me using the contact form on this site and I will publish it online as part of this continuing fascinating story. If you wish to receive emailed alerts as soon newsworthy items about village life are published online you can subscribe to the website for free using the box provided at the bottom right of most pages on the site.
Incidentally, most milestones you'll see date from the 1700s or later, when new Turnpike roads were legally required to have milestone markers. It meant passengers and goods carried on the stagecoaches could be charged standardised rates for the distance they travelled. You'll also see plenty of milestones along canals, also used to calculate how much people would be charged for moving their goods by barge.
Further news about the missing milestone will be added as soon as it becomes available.
Keith Littlejohns
---
Tresillian now has 2 Defibrillator Units fully operational – February/March 2017
Go to the Community>Health>Tresillian Defibrillators section of our website for full details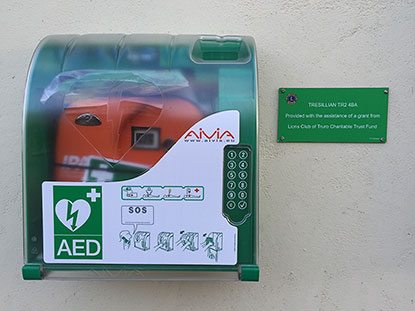 Remember. Always dial 999 for ambulance services first! This is vital so that professional medical personnel can respond to an emergency and make their way as soon as possible to the patient's location.
---
---
A Sample of Website Testimonials Received
"What an amazing memory of the afternoon [Cream Tea for The Queen 2016]. Well done to Keith for producing it. Very well put together and excellent music choice."
Aileen Bratton
"Thank you, Keith.  Looks very good [swans] on the website along with all the other information you have published – well done!"
Phillip Buddell
"Just seen this new site. Lovely photos of Tresillian and interesting facts. Wish you well with it. Hope you get lots of comments and participation"
Tina Earley
"Website is great – thank you.  Just a quick note to say 'Thank You' for getting a Tresillian website up and running well."
Desiree Tillgren
"Thank you for your beautiful pictures and website design for the village."
Ann McCormick
"Great to meet you, and much thanks for including church activities on the village website, it really is the way forward!"
Billa Jeans
"After getting the leaflet delivered by 'Keith' this week and having a quick chat in the garden at time of delivery. I thought I would check the website out. Absolutely fantastic, beautiful photo's and puts the village in the here and now. Well done to you and I really hope the site goes from strength to strength. I am going to give the details to some family members to check it out. Well done and thank you so much for all the effort you have put into it, to make it so professional and enjoyable."
Geraldine Rawbone
"A friend of ours in Sussex, who used to live in the village, is thrilled with the site as it will keep her up to date on what is happening here."
Lesley Dobel
"Fantastic website, well done to all who was involved."
Kirsten Lean
"What a wonderful community website for our village with lots of information and history. Well done and very impressed. Keep up the good work."
Karl Russell, Treglyn, Tresillian
"I've had a look round – its very easy to use!"
Helen Nicholson
"I enjoyed looking at the site and thank you for the lovely photo of the Tresillian road sign for which I designed the emblem of the Roundhead and Cavalier at the invitation of the Highways dept. of course a reference to the civil war battle nearby. I wonder if there are any rusting cannon balls in the river."
Janet Bailey.
………. There are no further news bulletin items at present. Please visit again on a regular basis to check for updates ……….