Check Out Special Offers on Our Local Business Page
---
Estate Agent's Sign is a Hazard to Pedestrians
This sign was spotted in the village alongside the A390 roughly opposite Mary's Pasty shop and Café. It is precariously positioned at a steep angle and is an obstruction to pedestrians walking on the narrow pavement.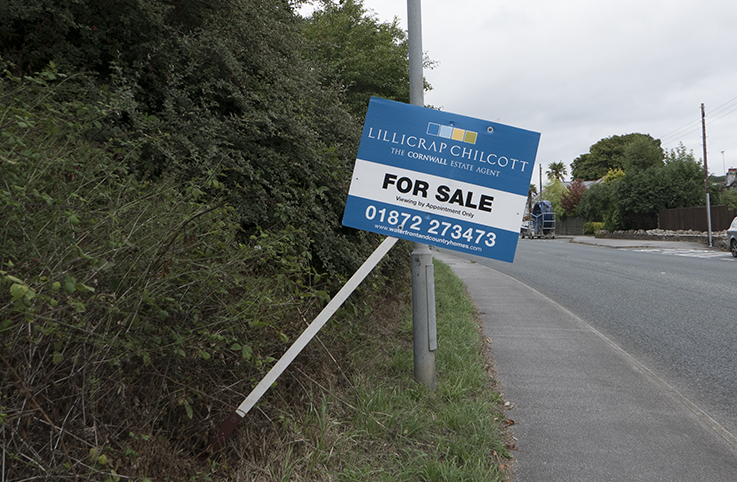 The estate agent has been alerted to request its urgent removal and/or relocation to a more appropriate and safe location. After all, they should be experts at relocating. A response from them is awaited!
---
Tresillian in Bloom 2018 – The Year Long Build Up
The judging for this year's Tresillian Village entry for RHS Britain in Bloom South West 'Village Pennant' category took place on 10th July 2018. The judges this year were Rod Pooley and Lesley Jelleyman.
Although the judges inspection visit takes a mere couple of hours, there are many hundreds of hours spent by the Tresillian Village Improvement Group (TVIG) members and others throughout the year leading up to judging day.
This is the third year that the TVIG has entered Britain in Bloom, having previously been awarded 'Outstanding' in 2016 at the basic 'Neighbourhood' category and 'Silver' in 2017 when first attempting the next level 'Village Pennant' category. This year, the 'Village Pennant' category was again entered with the aim of improving on last year's award.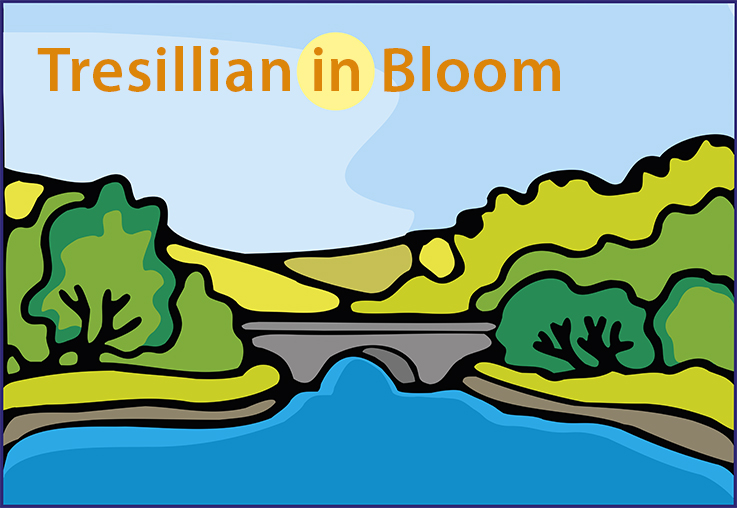 To herald the increased endeavours in respect of Britain in Bloom, Cllr Keith Littlejohns has designed a logo specifically for what now seems to have become a regular annual challenge.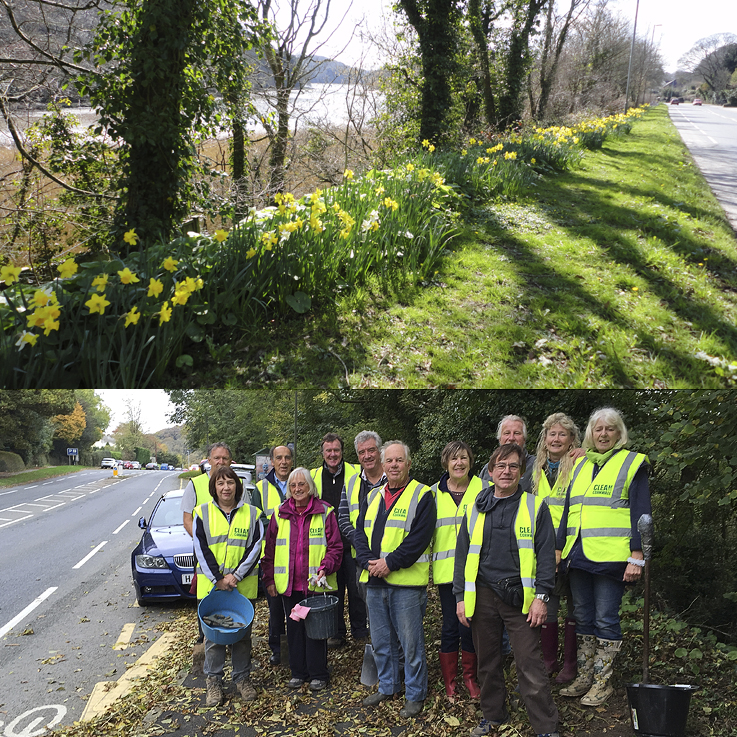 Looking back at the origins of the TVIG's work in the village and specifically the legacy that people enjoy when passing by the grass verges alongside the A390. The magnificent display of daffodils each spring is reminder of what can be achieved by a group of ordinary villagers intent on improving the environment of the village.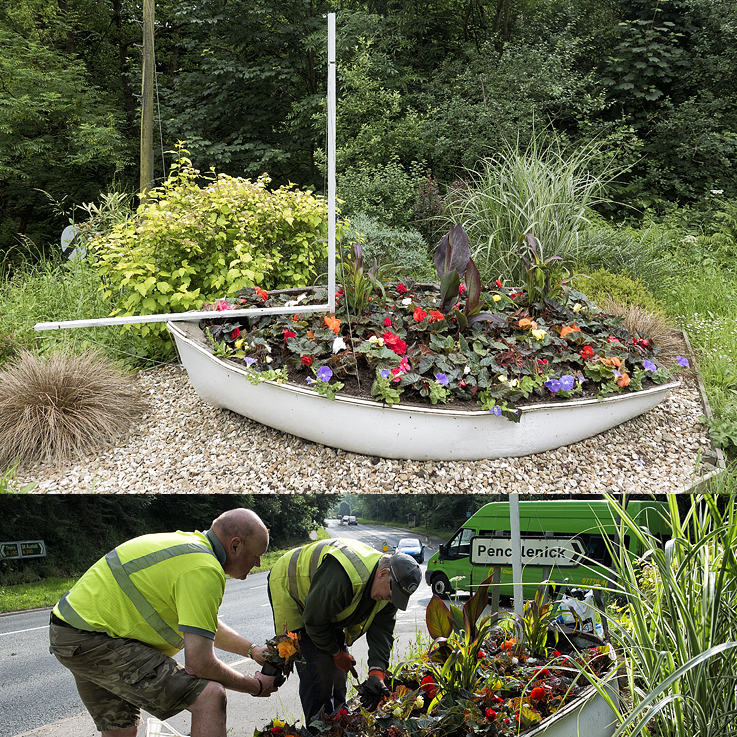 The floral boat at the western gateway to the village and the island shrub bed at the eastern gateway are other examples of what can be achieved. Regular planting for the boat and the two new roadside wooden planters is undertaken by Truro City Council Parks department staff. There is a cost for the supply of plants and planting which has to be paid for by funds raised at quiz nights and cream teas plus donations from those generous enough to support TVIG activities. In the above photo two parks department staff are planting up the floral boat in June this year.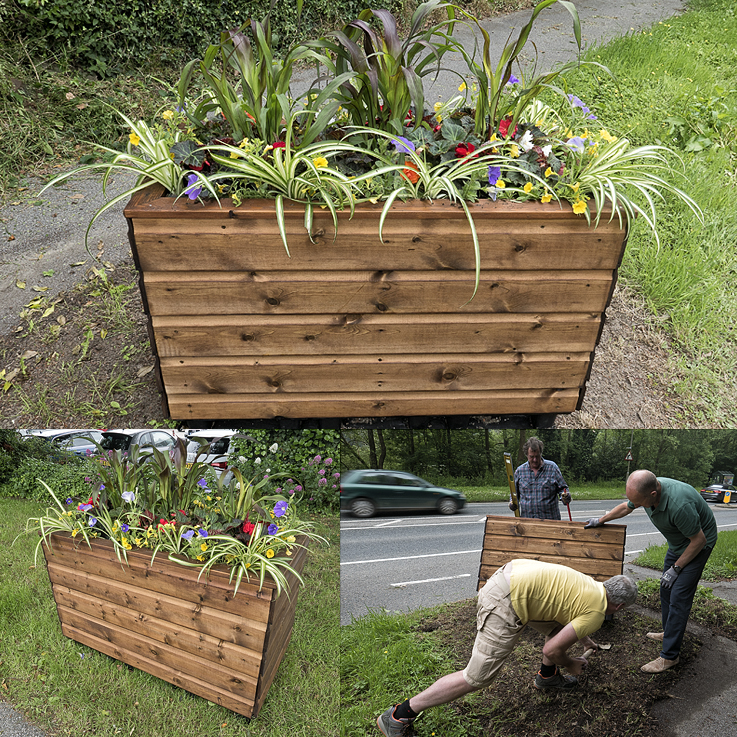 Two new wooden roadside planters were added to the mix of village improvement projects this year. They were paid for by a grant from St Clement Parish Council and constructed by village resident Richard Bratton. As previously mentioned, planting was carried out by Truro City Council Parks department staff.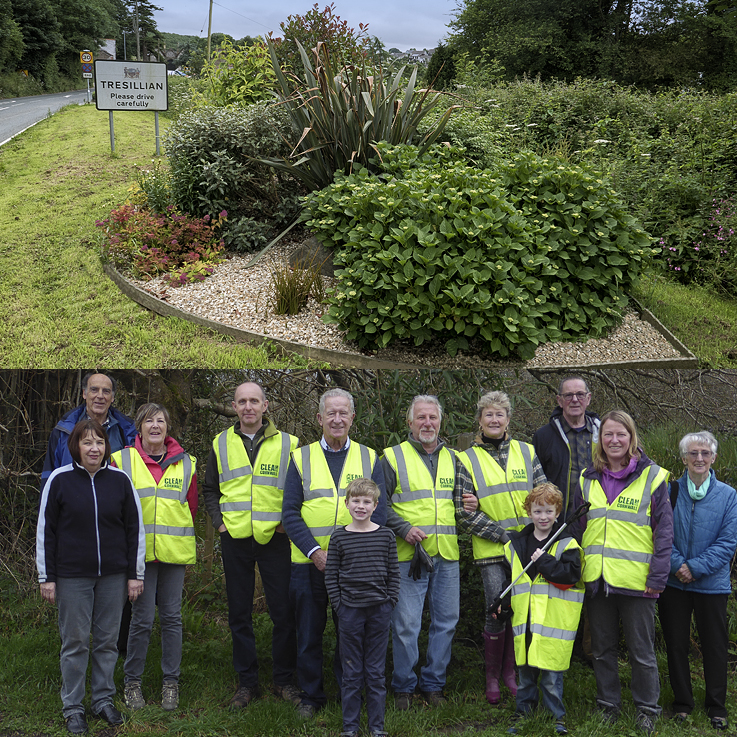 The island shrub bed is now maturing into a really nice feature at the eastern gateway end of the village and is regularly horticulturally maintained by TVIG members and other volunteers in the village throughout the year as with other planted areas.
Another feature of volunteer work in the village is, sadly, regular litter picks to tidy up known hotspots where some people leave rubbish around for other people to clean up their detritus. In the above photo a group of volunteers embark on one of their regular sessions of litter picking.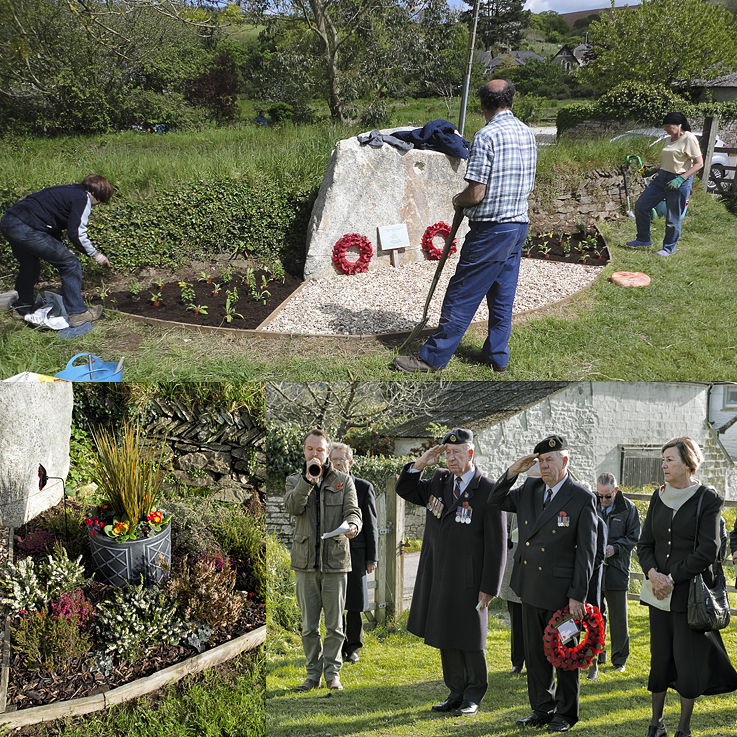 Attending to planting at the war memorial in the Playing field is another project which is included in the volunteers calendar. The work is focused on general maintenance and tidying up throughout the year, but with special attention paid around the time of remembrance day.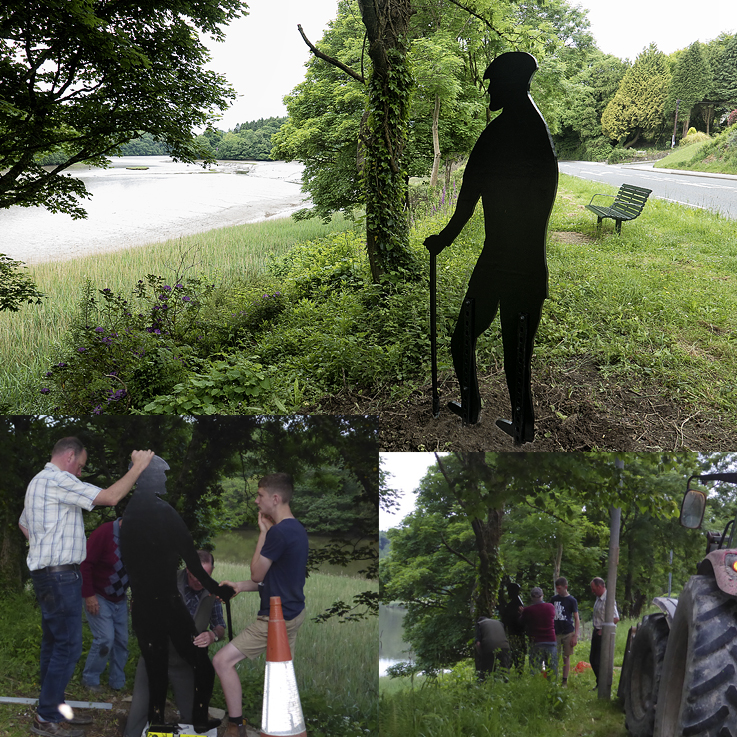 Another new village feature for 2018 is 'Contemplative Man', a black painted wooden silhouette positioned on the river bank midway through the village. This was an idea from TVIG volunteer member John Dobel and was constructed at his home in the village. Paul George gave valuable help by transporting the solid concrete base used to anchor the piece of installation art in situ.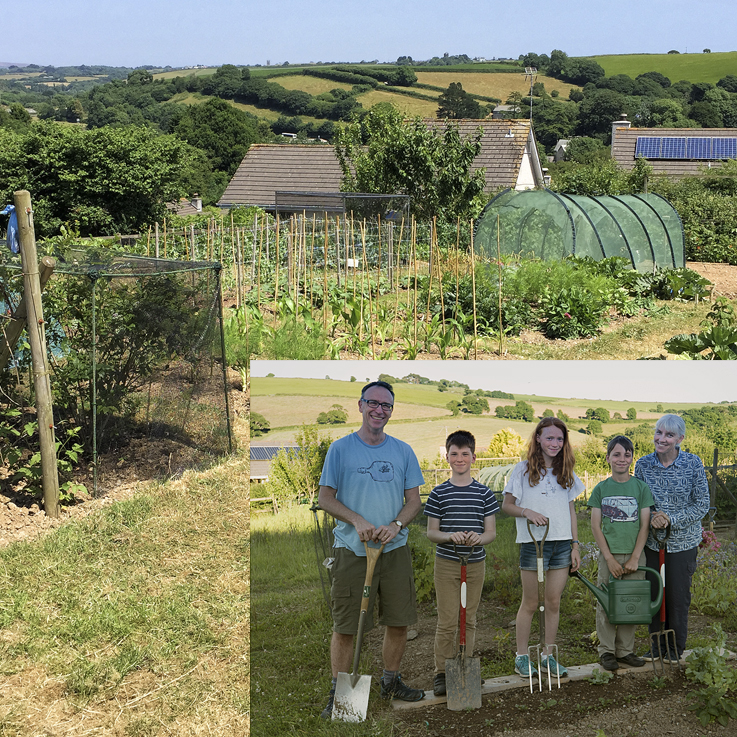 Of special mention this year on the Tresillian allotment site is a young teenage girl who has taken her keen interest in gardening to the point where she has, with her parents and siblings taken on an allotment plot. Although only 14, Gwen is very much the head gardener of the family and is using her allotment as project work for her bronze Duke of Edinburgh. The RHS judges were very impressed and it is well known that the RHS is campaigning for more young people to become interested in horticulture and is actively giving support through various channels. The main photo above is a general view of the allotments, and the inset taken on Gwen's allotment, with Gwen in the centre of her family group.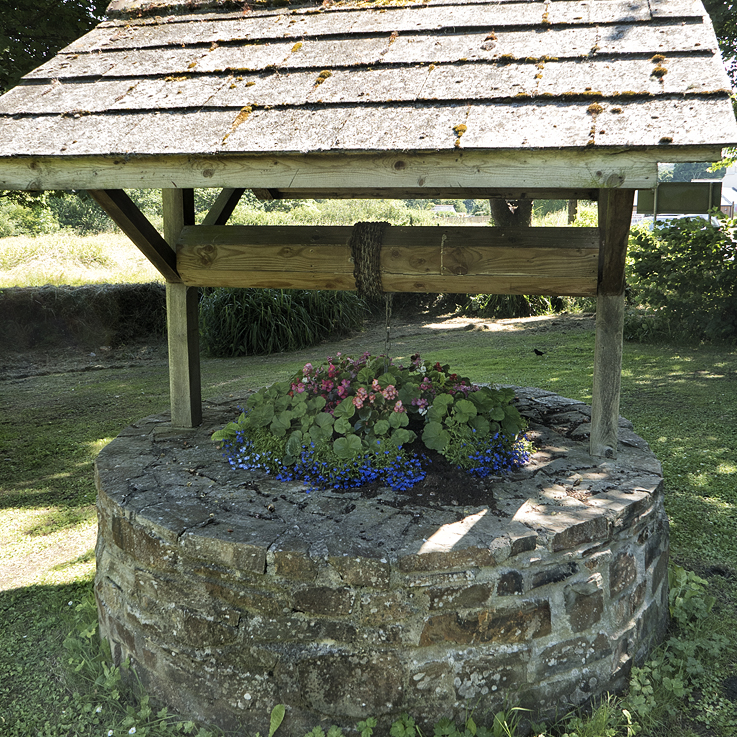 A regular part of the itinerary when escorting the judges around the village is the wishing well tucked away in a shady corner of the open space also occupied by the playing field. The wishing well, placed there in 2007 by the Playing Field Committee, is now looked after for planting and regular maintenance throughout the year by local resident May Carpenter and her family.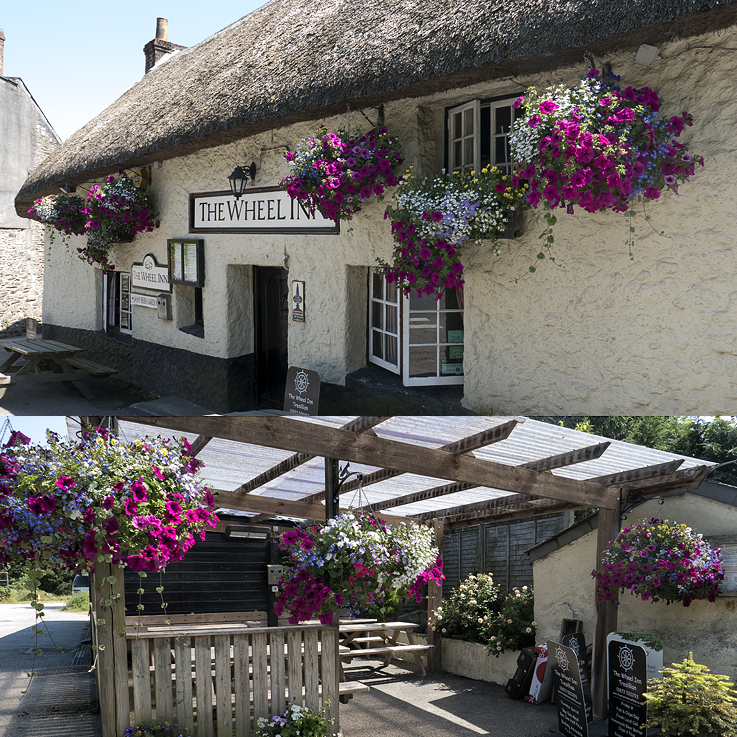 The Wheel Inn is also a regular stop for the judges, not for liquid hospitality though but to admire their floral display and the general amenity that the Inn and its open space provides for the village. Landlords Simon and Alison organise their own hanging baskets and planters through a commercial supplier in north Cornwall.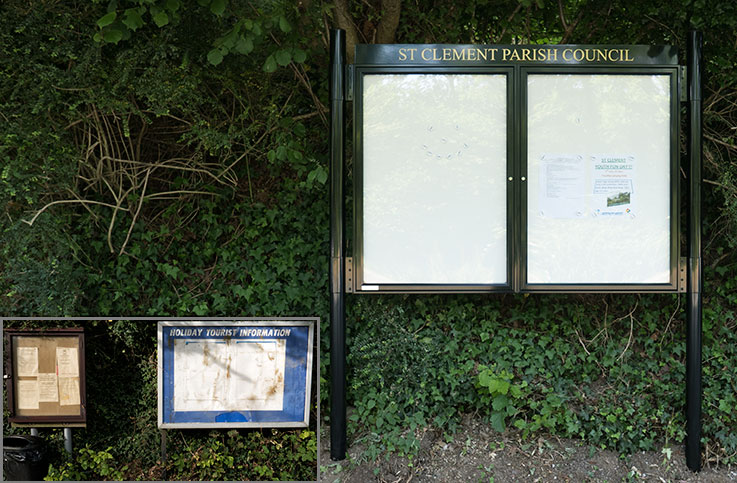 Among various recent projects supported and funded by St Clement Parish Council is a new information notice board at the official village information point lay-by towards the western end of the village. This new board replaces two old ones that were in a poor state and not salvageable. The inset photo above shows the two old boards that have now been removed – not to scale.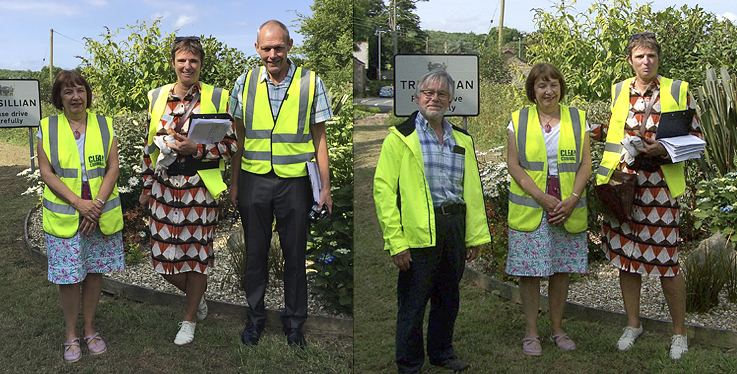 Lorraine Sutton and Cllr Keith Littlejohns escorted the judges around the village. Photo Left: L-R Lorraine Sutton, judge Lesley Jelleyman and Judge Rod Pooley. Photo Right: L-R Cllr Keith Littlejohns, Lorraine Sutton and Judge Lesley Jelleyman.
The RHS will announce the awards later in the year in October. Fingers crossed!
The Tresillian Village Improvement Group would like to thank the many volunteers and supporters who have made a phenomenal contribution to the general environment of the village and made it a better place in which to live.
Please look for notices of upcoming projects and fundraising events organised by the group, many of which you will find on this website.
Support is vital, either physical or financial. Anyone is welcome to participate in the various projects undertaken during the year, no special skills are required and you would not be expected to necessarily get involved with every single one. The more people there are to share the work, the less each person has to do and the TVIG crew really are a friendly bunch of people to work with. Financial support is also welcome, and if you have any ideas for fundraising, please let us know. Call Helen Nicholson on 01872 520 295 or email her at helennicholson@resource24.net.
Report by Cllr Keith Littlejohns
---
Tresillian's Biennial Open Gardens Event 2018 
– Sunday 22nd July, 1.30pm to 6pm – Report
As with the previous open gardens event held in 2016, a gloriously sunny afternoon saw several gardens open for visitors to explore at their leisure to raise money for charity. This event is organised by Tresillian Gardening Club. All of the gardens are within the village boundary and in easy walking distance of each other.
John and Lesley Dobel's garden was open for refreshments selling tea, coffee and home made cakes. Visitors took time out to sit and relax in the garden enjoying afternoon tea with a wonderful vista overlooking the village and surrounding area (below photo, top image).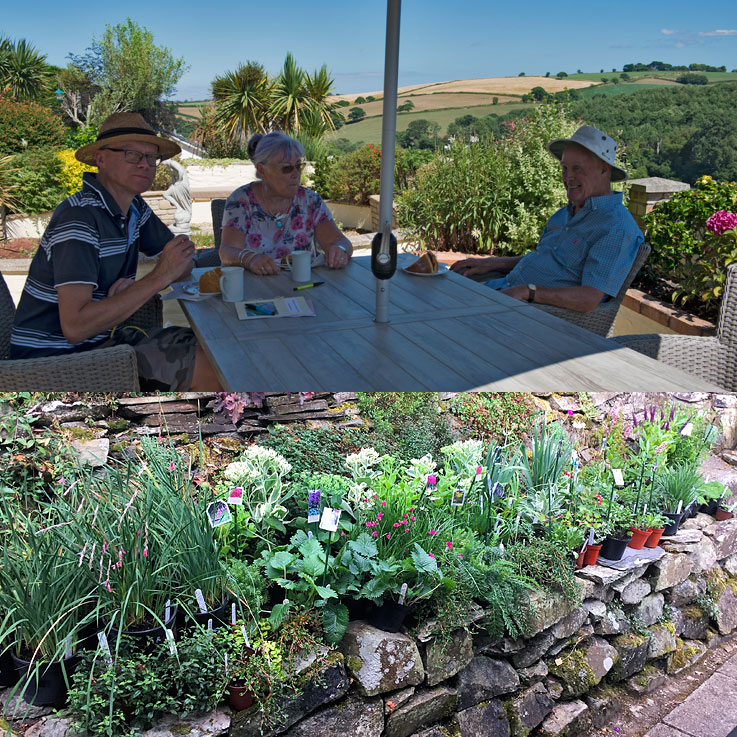 Plantswoman Pam Collenette sold a variety of plants at her delightful garden. Plant sales consisted of specimens she had propagated herself as well as those donated by other keen gardeners. (above photo, bottom image).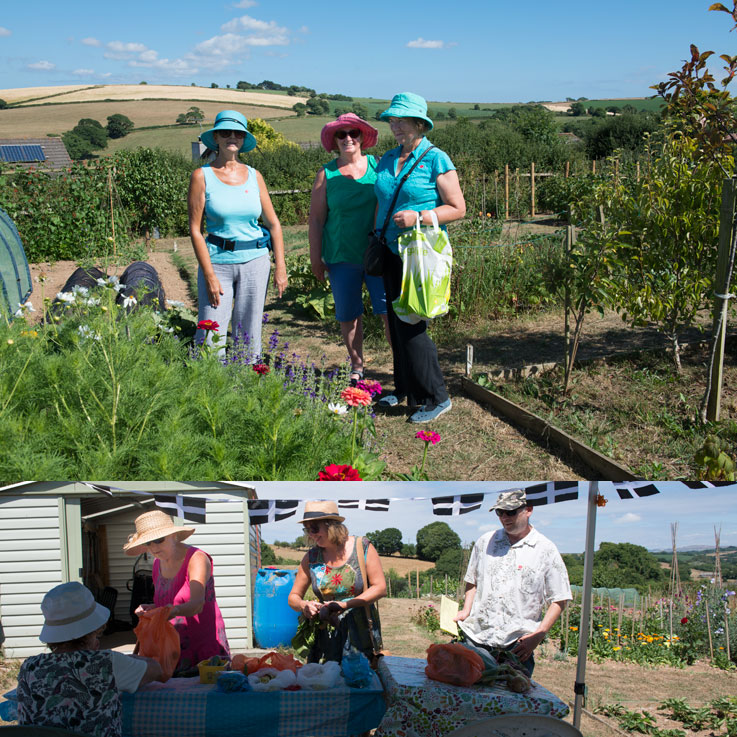 David & Lesley Jones and Cllr Keith Littlejohns welcomed visitors to the Tresillian Allotment site and escorted them around the various allotment plots. They also sold some allotment produce that had been donated by allotmenteers (above photos).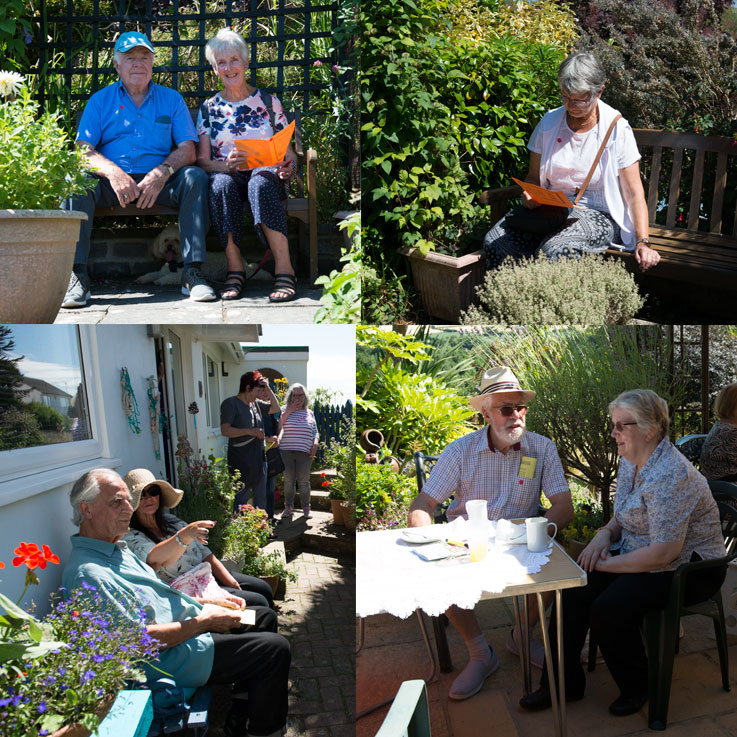 Most of the gardens are on sloping ground and have been a challenge for the owners to design and construct. Trees, shrubs, flowers and vegetables make up an array of textures and colour, with each garden having an individual style creating a selection of varied interest for those that took the tour around the gardens.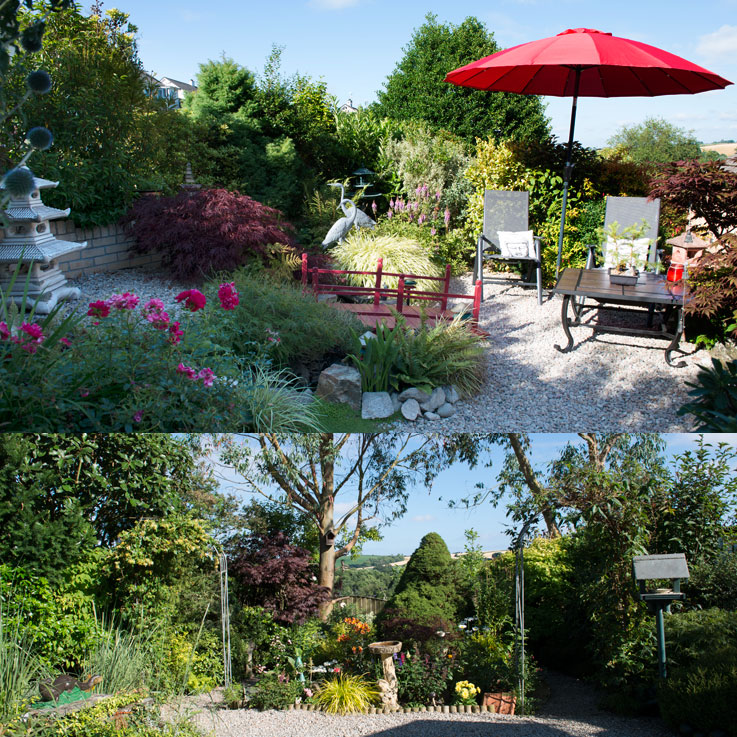 The organisers wish to thank all those that participated in, helped or supported this splendid event.
The overall total raised for the day was £889.50. After expenses the total available for charitable purposes was £855.00
Charitable donations were split as follows:
RSPCA £345.00
VILLAGE HALL £200.00
PLAYING FIELD COMMITTEE (to help get play equipment for the children reinstated) £200.00
ALLOTMENTS, THE TRESILLIAN ALLOTMENT ASSOCIATION £100.00
CHURCH ( a donation for the loan of the tea urn) £10.00
Report by Cllr Keith Littlejohns
---
Tresillian Wildlife Articles – Various Contributors
New articles posted on Wildlife Page. The Tresillian website welcomes any stories or photos of wildlife in Tresillian and its close environs and would love to hear from you. Just get in contact via the Contact page and we will be back in touch with you about your story/photos.
---
30mph Flashing Speed Sign is Now Installed in Tresillian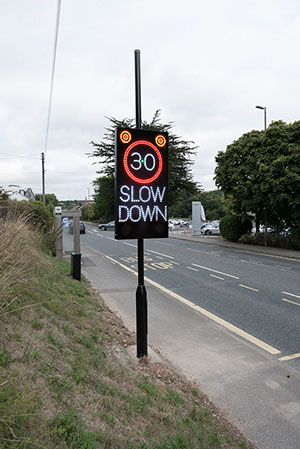 Following on from data gathered by Highways regarding traffic flow through the village and average speed checks, St Clement Parish Council organised and paid for a Vehicle Activated Speed Sign to be installed. The sign has now been installed and positioned as expected alongside the eastbound carriageway of the A390 approximately mid-way through the village on the approach to the most sensitive area for pedestrians where most of the village's amenities are. Research has shown that this is where traffic is most tempted to speed up and exceed the 30mph limit since entering the western gateway.
Another proposal, this time by our neighbouring parish of St Michael Penkevil, is to install another Vehicle Activated Speed Sign at the eastern approach gateway to the village. Tresillian Bridge has suffered severe damage on several occasions in recent times and it is hoped that this will help prevent motorists from speeding as they approach the bridge from the east and colliding with the bridge's walls.
Additionally, neighbouring parishes have been exploring the possibility of installing average speed cameras along the  Denas Water section of the A390 junction with the B3275. This is in response to two very serious RTA's earlier this year.
---
A New Tresillian Village Information Notice Board has been Installed
The two old village notice boards at the western end of the village that were well past their sell by date have now been replaced. St Clement Parish Council has organised and paid for one new, larger notice board to replace the previous ones.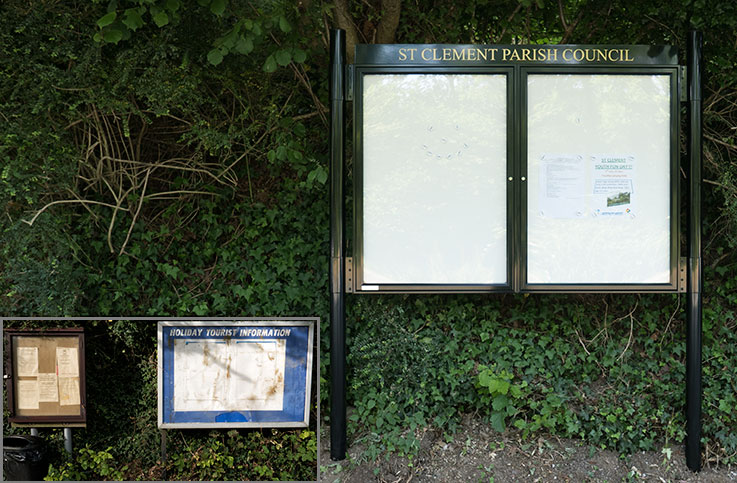 The new board (pictured here with the two scruffy old boards inset, not to scale) is more in keeping with other recently installed street furniture in the village.
---
Tresillian Photographic Archive Project – Keith Littlejohns
I am proposing setting up an organised collection of photographic images for our village that, hopefully, will remain as a permanent unified digital archive of life in Tresillian through the decades for future generations to have available.
Building this archive relies heavily on source material being forthcoming. To that end I am asking residents of Tresillian (or known past residents that have moved away but may have some suitable images) to make contact with me regarding the loan of images so that I can make professional scans and return the original prints or negatives to the owner.
This could turn out to be a quite substantial task and as a result I am expecting the building of the archive to be split into phases. For the initial phase I will be concentrating solely on gathering together a collection of older images from very early days up to and including 1979.
If you think you may have some suitable photographs I can be contacted via the village website by emailing me using this website's Contact page. There is no need to go into great detail at first as I will make contact to talk about any images you consider may be of interest. I'm really only looking to archive images that have recorded village life and how it has evolved through time. Eventually, as time allows, I will add more modern images from 1980 onwards to take the story forward.
If possible, it would be very useful if you have information such as dates (roughly will do), names of people or locations or any other details you think may be of interest. If you don't yet use email, please do ask a friend or neighbour to make contact on your behalf as old images are of particular interest for this first phase.
Cllr Keith Littlejohns
---
Tresillian's Missing Milestone – An Ongoing Story
As a person fascinated by local history I could not resist picking up from Chris Clarke's excellent article published in the spring 2017 edition of TRAM Magazine regarding Tresillian's missing milestone. His article stimulated me into taking up the challenge of conducting further research myself.
Using additional information kindly supplied to me by village resident Lewis Mitchell, which he found on an old 1960 edition Ordnance Survey map, a distinct reference point has now been established. The Tresillian milestone's position is marked on the OS map by the usual very small black dot accompanied by the letters MS, albeit slightly masked by a black circular graphic. Using my own copy of the same map, OS SW 84 Truro 1:25,000, I was also able to confirm the exact location.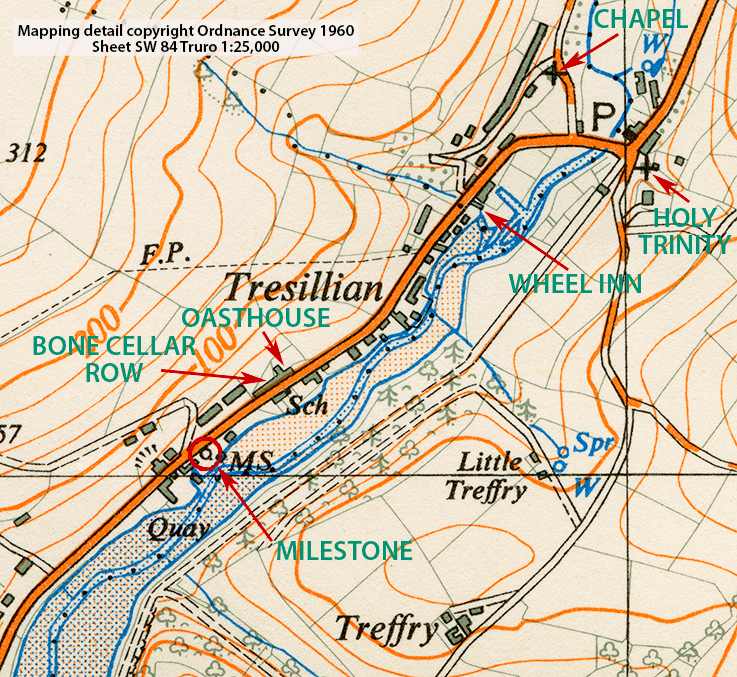 By cross referencing this data with Cornwall Council's excellent online Interactive Map website I was able to double check the exact position where the milestone once stood, or at least close enough given the disruption created by the 1960s A390 road widening/levelling scheme and adjacent change of land-use. Both the 1960 OS map and CC's Interactive Map show the location as being on the south side of the A390 where the current Audi dealership is situated.

Thanks to information also gleaned from the CC Interactive Map a detailed Cornwall & Scilly Historic Environment Record (HER) reference reads as follows:
HER Number:
MCO55585
Name:
TRESILLIAN – Post Medieval milestone
Summary
The site of a milestone on the SE side of the A39 in Tresillian – BODMIN 21¼ TRURO 3.
Grid Reference:
SW 8635 4604
Parish:
St Clement, Carrick, Cornwall
Protected Status: None recorded
Other Statuses/Codes: none recorded
Monument Types
Milestone (Post Medieval – 1540 AD to 1900 AD)
Full description
A milestone is recored on the SE side of the A39 in Tresillian, on both the 1st Edition 1:2500 OS map, annotated TRURO 3 BODMIN 20, and on the 2nd Edition 1:2500 OS map c1907 annotated BODMIN 21¼ TRURO 3. The milestone is not recorded on the modern OS Mastermap 2010, suggesting it has been lost, possibly due to road alignment alterations in the C20.
Associated Finds: none recorded
Associated Events: none recorded
Related records: none recorded
So, a milestone clearly did exist inside the village at a point along its main highway outside the current Audi dealership. Interestingly, the CC Interactive map has the A390 labeled as A39 at that point (note, must make CC aware of the error).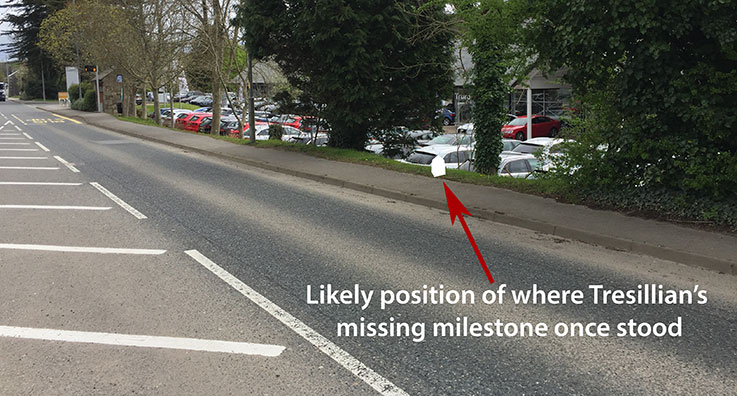 I have recently placed a request with our local parish council asking if, in the light of information now currently available, the possibility of the missing milestone being reinstated could be raised at a parish council meeting and that it could be pursued using the offices of the parish council.
Let's hope that Tresillian's missing milestone can either be found languishing in a council yard somewhere and reinstated, or that a replica can be produced using information recorded by C&S's HER database so that our village's milestone is no longer the only one missing in the chain of 12 historical milestones that run from Truro to Braddon.
If anyone has any more information or knowledge they think would be helpful or interesting regarding the missing milestone then please do contact me using the contact form on this site and I will publish it online as part of this continuing fascinating story. If you wish to receive emailed alerts as soon newsworthy items about village life are published online you can subscribe to the website for free using the box provided at the bottom right of most pages on the site.
Incidentally, most milestones you'll see date from the 1700s or later, when new Turnpike roads were legally required to have milestone markers. It meant passengers and goods carried on the stagecoaches could be charged standardised rates for the distance they travelled. You'll also see plenty of milestones along canals, also used to calculate how much people would be charged for moving their goods by barge.
Further news about the missing milestone will be added as soon as it becomes available.
Keith Littlejohns
---
Tresillian Village has 2 Defibrillator Units fully operational
Go to the Community>Health>Tresillian Defibrillators section of our website for full details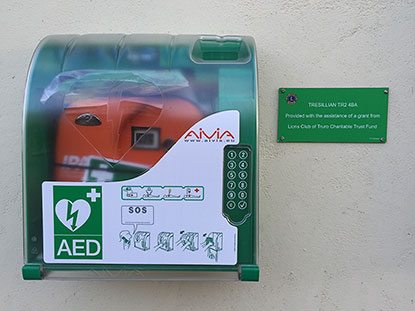 Remember. Always dial 999 for ambulance services first! This is vital so that professional medical personnel can respond to an emergency and make their way as soon as possible to the patient's location.
---
---
A Sample of Website Testimonials Received
"What an amazing memory of the afternoon [Cream Tea for The Queen 2016]. Well done to Keith for producing it. Very well put together and excellent music choice."
Aileen Bratton
"Thank you, Keith.  Looks very good [swans] on the website along with all the other information you have published – well done!"
Phillip Buddell
"Just seen this new site. Lovely photos of Tresillian and interesting facts. Wish you well with it. Hope you get lots of comments and participation"
Tina Earley
"Website is great – thank you.  Just a quick note to say 'Thank You' for getting a Tresillian website up and running well."
Desiree Tillgren
"Thank you for your beautiful pictures and website design for the village."
Ann McCormick
"Great to meet you, and much thanks for including church activities on the village website, it really is the way forward!"
Billa Jeans
"After getting the leaflet delivered by 'Keith' this week and having a quick chat in the garden at time of delivery. I thought I would check the website out. Absolutely fantastic, beautiful photo's and puts the village in the here and now. Well done to you and I really hope the site goes from strength to strength. I am going to give the details to some family members to check it out. Well done and thank you so much for all the effort you have put into it, to make it so professional and enjoyable."
Geraldine Rawbone
"A friend of ours in Sussex, who used to live in the village, is thrilled with the site as it will keep her up to date on what is happening here."
Lesley Dobel
"Fantastic website, well done to all who was involved."
Kirsten Lean
"What a wonderful community website for our village with lots of information and history. Well done and very impressed. Keep up the good work."
Karl Russell, Treglyn, Tresillian
"I've had a look round – its very easy to use!"
Helen Nicholson
"I enjoyed looking at the site and thank you for the lovely photo of the Tresillian road sign for which I designed the emblem of the Roundhead and Cavalier at the invitation of the Highways dept. of course a reference to the civil war battle nearby. I wonder if there are any rusting cannon balls in the river."
Janet Bailey.
………. There are no further news bulletin items at present. Please visit again on a regular basis to check for updates ……….