Check Out Special Offers on Our Local Business Page
---
Quiz Night – Wheel Inn 26th November 2019, 8pm
Simon and Alison will be holding another one of their excellent Quiz Nights in aid of Cancer research.
Follow up News on 27th November: The quiz night raised an amazing £177,00 for Cancer research. Well done Simon and Alison and all those who gave generously.
---
Report – 10th November 2019 Ceremony of Remembrance, Playing Field War Memorial
On a bright, sunny Cornish autumnal Sunday many villagers attended a ceremony of remembrance for the fallen at Tresillian's war memorial in the Playing Field.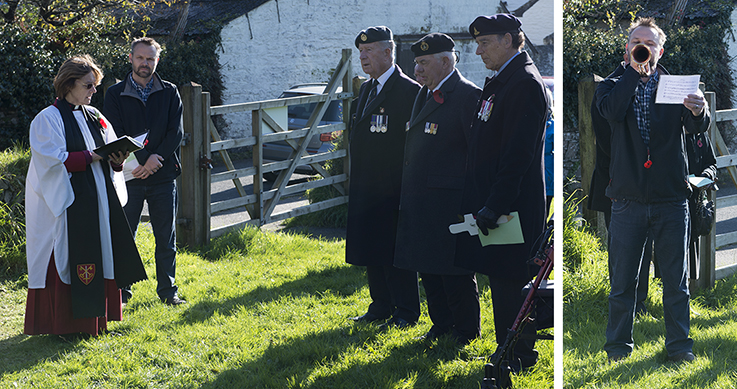 Prayers were led by Cannon Rev Linda Barley.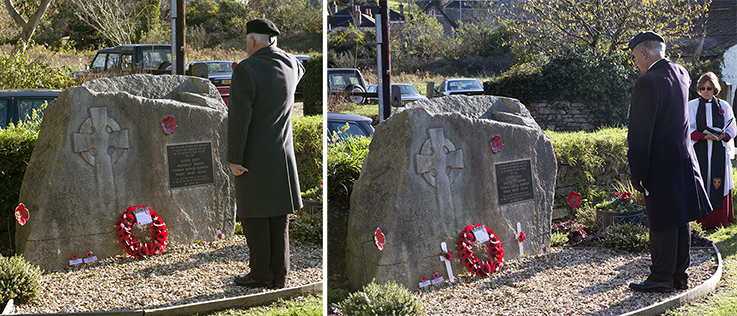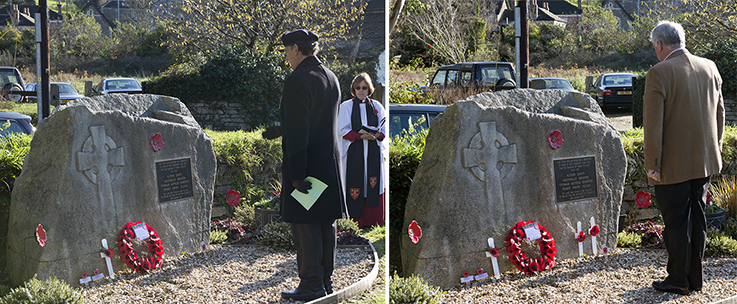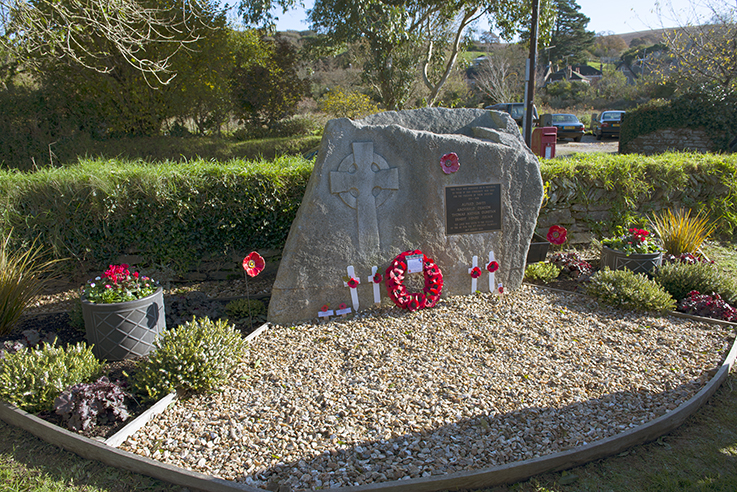 ---
Quiz Night, Wheel Inn – Tuesday, October 08, 8.30pm
Quiz Night Wheel Inn – Tuesday October 08, 8.30pm. Hosted by Alison and Simon. Good cause this time is supporting the Tresillian Village Improvement Group's activities in the village.
---
Tresillian in Bloom 2019 – Report
A major task undertaken in recent years by the Tresillian Village Improvement Group is taking part in South west in Bloom, one of several regional Britain in Bloom competitions held across the UK. From first competing just a few years ago at the basic 'Neighbourhood' competition level the TVIG volunteers are now achieving results in the higher 'Village Pennant' category.
This year the bar was raised by the RHS elevating judging of the Village Pennant class to national level making judging assessment marking more strict. The good news is we did not slip down from our previous award level by managing to retain a Silver Pennant. This is a tremendous achievement for our small village and testament to the sheer dedication and hard work of all the volunteers who helped throughout the year.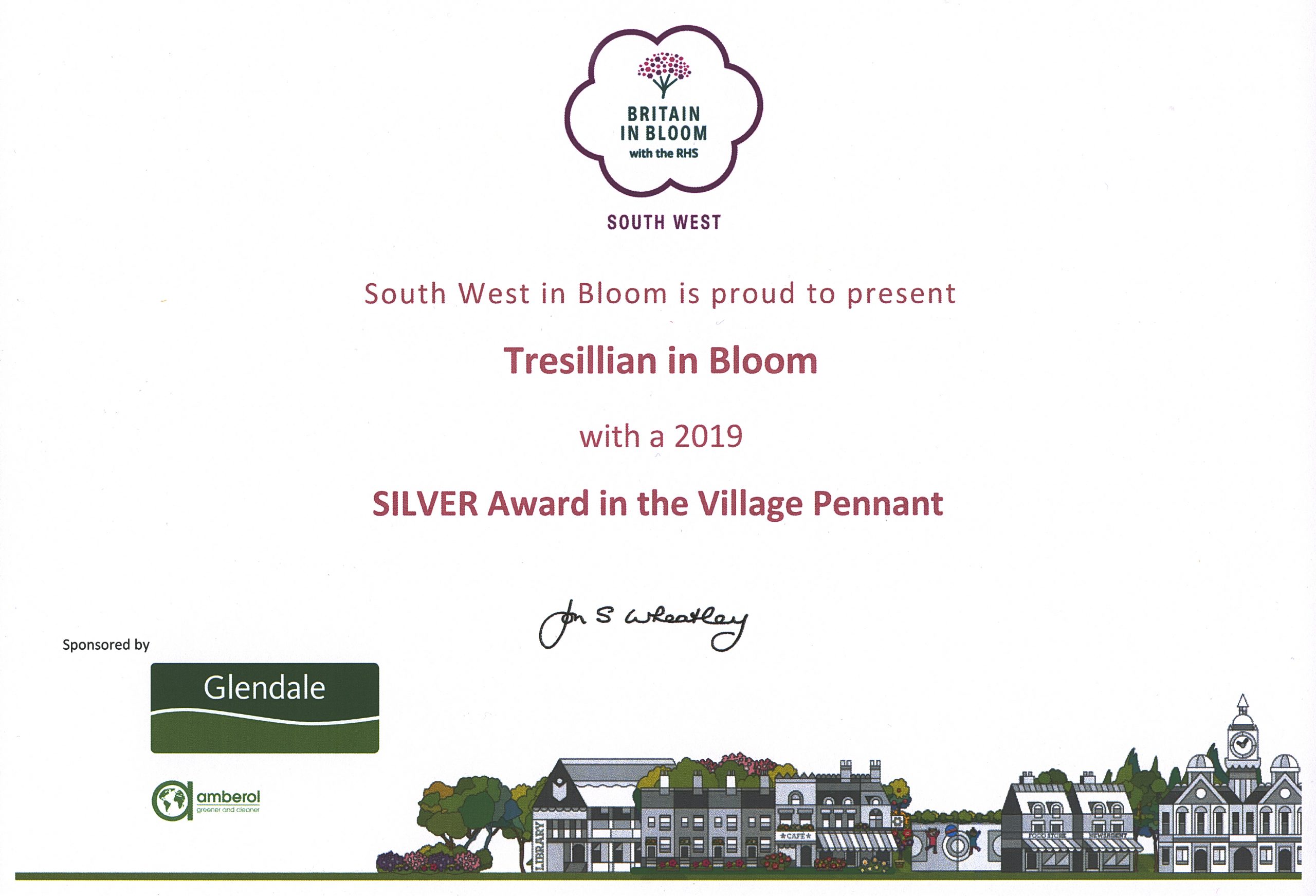 The following is a random selection of photos showing some of the various projects undertaken by volunteers.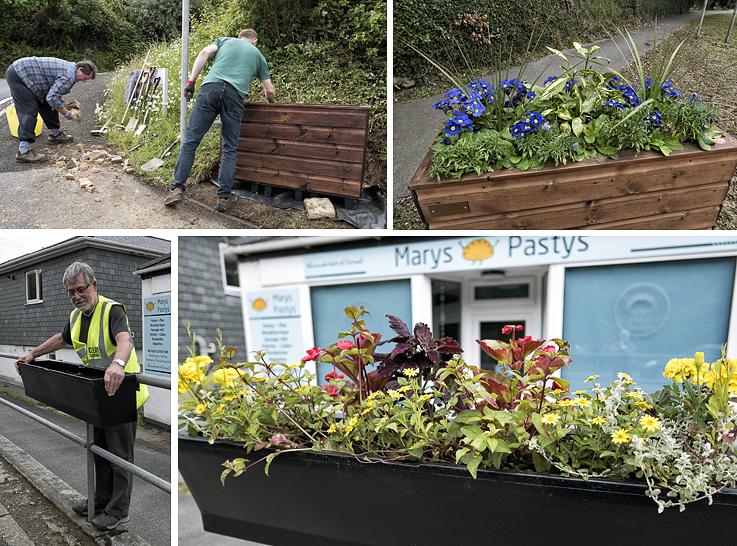 All photos are © Keith Littlejohns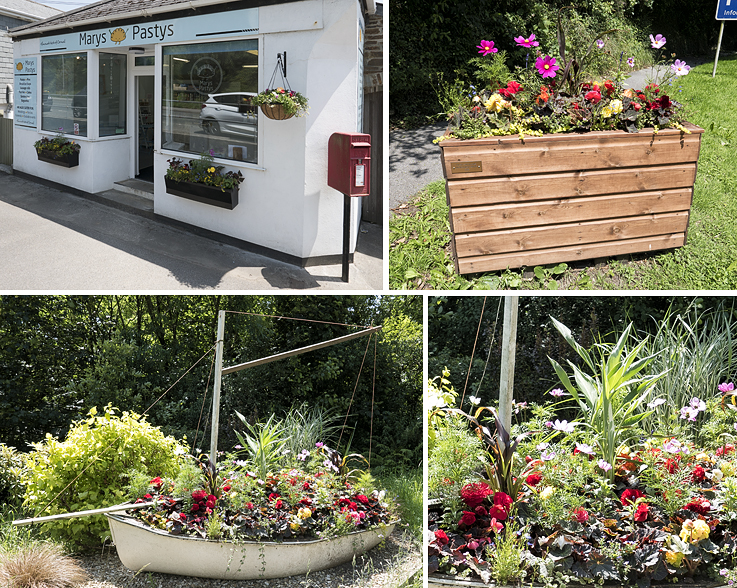 All photos are © Keith Littlejohns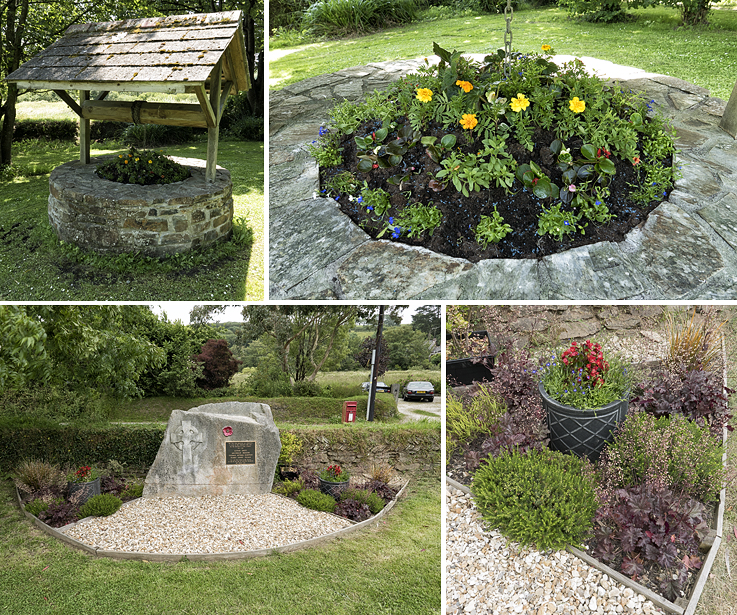 All photos are © Keith Littlejohns
More details about this year's competition entry can be found in the 'Tresillian in Bloom 2019' portfolio submitted to the judges which can be downloaded here.
---
Official Opening of The Playing Field's New Children's Play Equipment – Sunday, June 30th 2019
June seems like a long time ago but the memory of a lovely village celebration still lingers! Thanks to so many of you for supporting our official opening – it was a great sight to see the children running onto the new equipment after the official opening by Hon. Evelyn Boscawen. Sarah Newton MP presented some flowers to Christine Kitley in recognition of her contribution on the committee.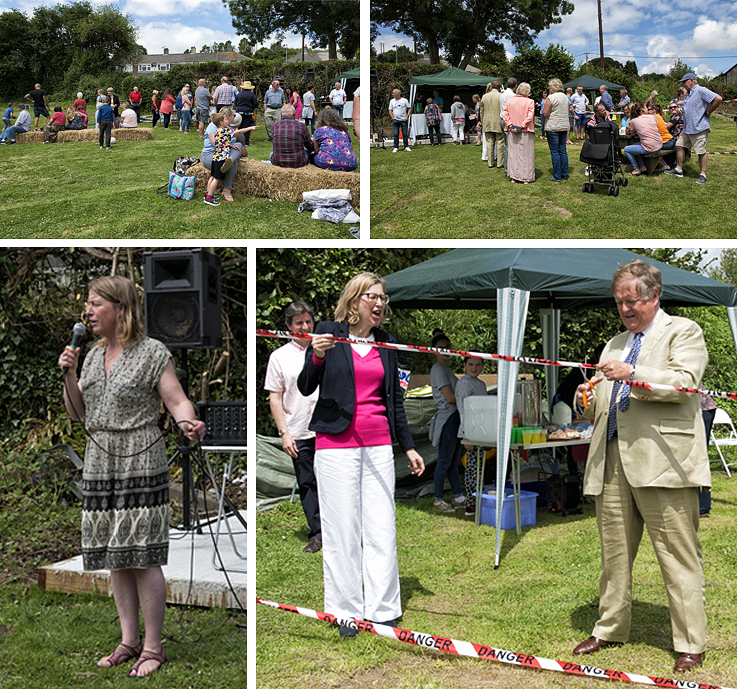 Above photos: top left and right crowds gathered at the Playing Field; bottom left Helen Nicholson, Playing Field Committee Chair and MC for the day; bottom right Sarah Newton MP counting down for the Hon EAH Boscawen to cut the official opening ribbon. All photos © Keith Littlejohns.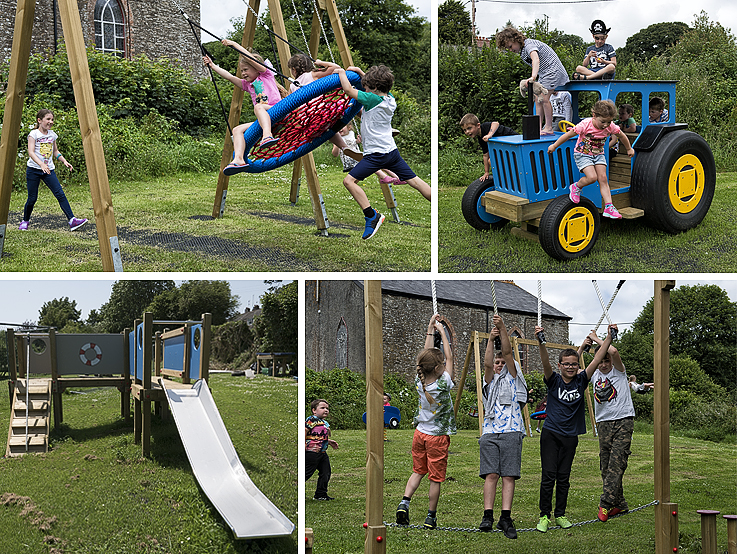 Above photos: some of the new playing equipment being eagerly enjoyed by children.
All photos © Keith Littlejohns.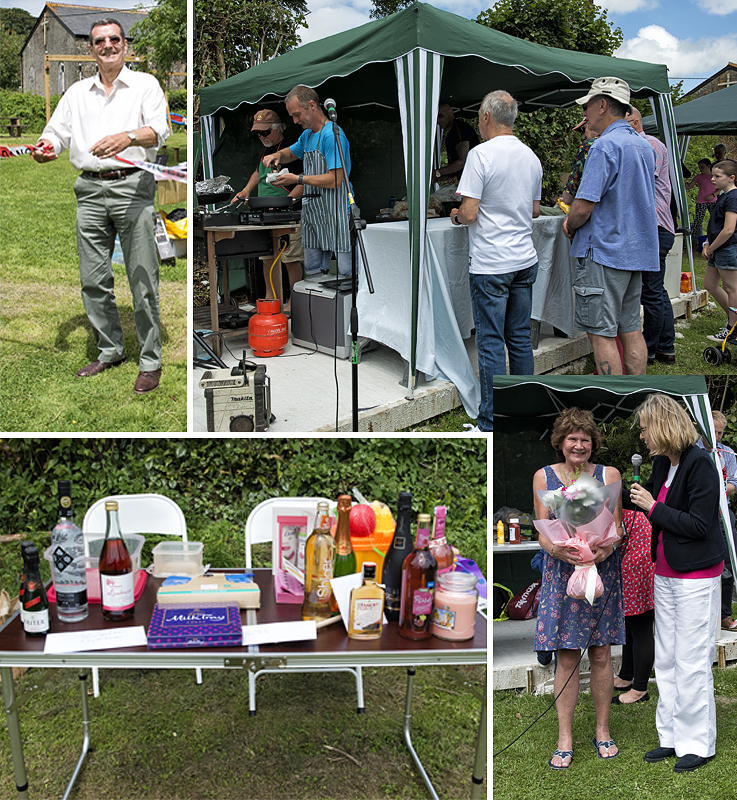 Above photos: top left Cornwall Cllr Mike Eathorne Gibbons also cutting ribbon; top right busy hot food stand serving meals; bottom left raffle prizes on offer; bottom right Mrs Christine Kitley, being presented with a bouquet of flowers by Sarah Newton MP for her contribution to the playing field committee. All photos © Keith Littlejohns.
What a lot of work has subsequently transformed the field into a much loved village asset. It was great to see so many people in the Playing Field over the summer months as well. Greater use has led to more litter though – please pick it up and take it home. The environment is now a major issue and we ALL have to play our part in conservation and improving our standards.
Helen Nicholson
---
AGM of the Cornwall Historic Churches Trust
The Chairman and Committee of the Cornwall Historic Churches Trust invite you to their Annual Meeting to be held at St Michael Penkevil Church, near Truro on Monday 3rd June 2019 at 2.30 pm. You will be welcomed by the Revd. Cannon Pastor Lynda Barley.
Attendance is by invitation, for which a application form can be downloaded here.
---
The Wheel Inn's Website Has Changed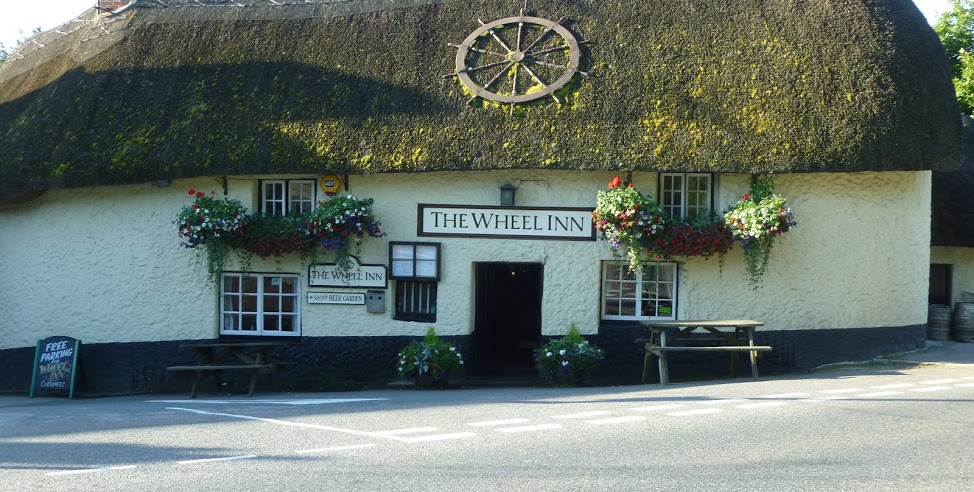 To visit their new, Google based, website you now need to use this link. Don't forget to bookmark/favourite it for future reference as the url is rather long.
---
Road Traffic Accident A390 Tresillian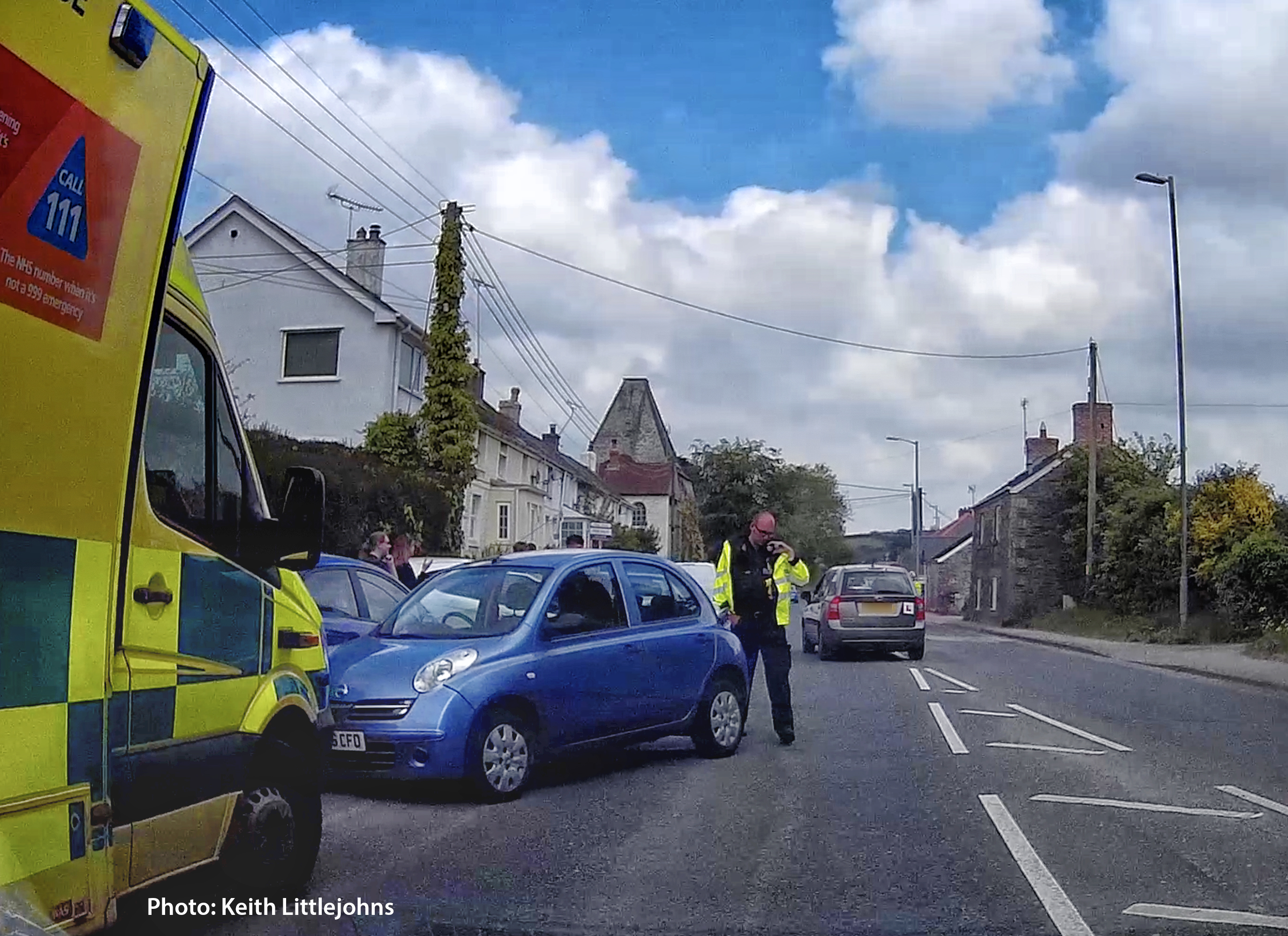 Three vehicles were involved in a road traffic accident sometime after 1pm on Sunday, 19th May 2019 on the A390 close to Bonecellars Row, Tresillian. Emergency service vehicles in attendance were an ambulance, a fire appliance and a police van. Traffic flow through the village was restricted for a period of time with traffic backing up in both directions. Injuries and cause of the accident is not known at this time.
---
St Clement Parish Neighbourhood Plan – Public Consultation Saturday 11th May 12.00pm to 5.00pm at Tresillian Village Hall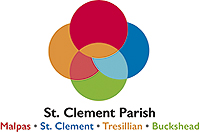 A public consultation to be held in the Village Hall, Tresillian regarding the latest stage reached on the draft Neighbourhood Plan being prepared for the parish of St Clement. The parish includes the villages of St Clement, Tresillian and Malpas plus the area of Buckshead.
Your views are important! Come along to view and discuss with Neighbourhood Steering Group members the latest progress on the plan. There will be plenty to see laid out on exhibition display panels as well as the current, work-in-progress version of the draft document.
---
Quiz Night, Wheel Inn – Tuesday April 30, 8.30pm
Quiz Night Wheel Inn – Tuesday April 30, 8.30pm. Hosted by Alison and Simon. Good cause this time is supporting purchasing of New Children's Playing Equipment for Playing Field.
---
Rock 'n' Roll and Country Music at Tresillian Village Hall – Saturday 23 March – 7.30pm to 11.00pm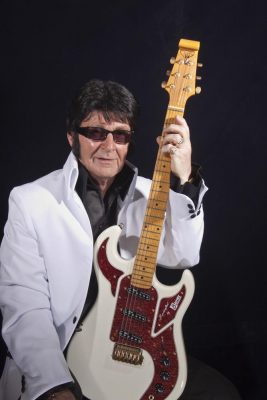 Justin Black, tribute and recording artist is to put on a concert performance at Tresillian Village Hall to help raise funds towards purchasing new children's playing equipment for the Playing Field in Tresillian.
Ticket price includes a Pasty Supper, bring your own drinks. There will also be a Prize Raffle.
Tickets can be purchased at Mary's Pasty Shop, Tresillian £10.
---
Work on Truro's new Tregurra Park Recycling Centre has come to a halt!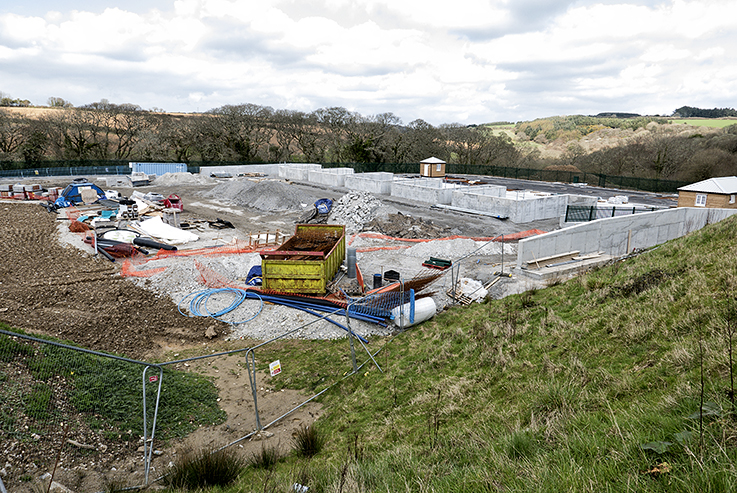 Construction work on the recycling centre has stopped due to Dawnus Construction Holdings Limited, the company building the site, having gone into administration.
The company due to take over running of the site when completed is Suez Recycling and Recovery. Cornwall Council has been working with Suez to find a solution to get the work started again so that the centre can open as planned in the spring.
Cornwall Council are currently seeking a new developer to take over the project with an expected delay of about five weeks.
---
Great British Spring Clean, Tresillian – Sunday March 24
Litter pick in Tresillian on Sunday 24 March, meeting at the playing field at 10 a.m. As always, volunteers are most welcome.
---
Wishing Well Vandalised With Graffiti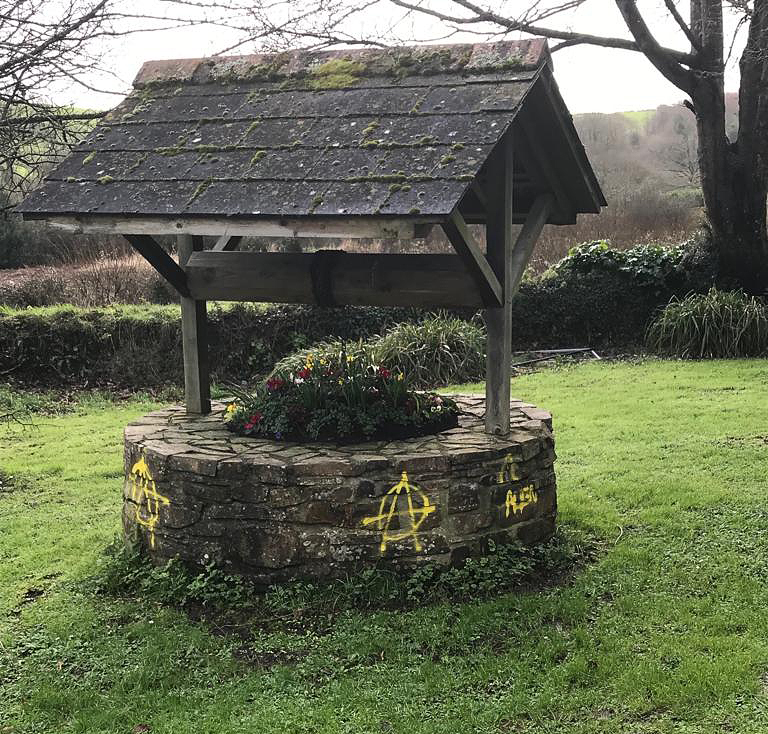 Sadly, the wishing well close to the Playing Field has been vandalised with ugly graffiti. The totally thoughtless person or persons who perpetrated the attack have shown utter contempt for those hard working individuals who voluntarily give up their spare time to enhance the local environment of our village.
If anyone has any information as to who was responsible for this act of vandalism then please contact this website via the Contact page and your information will be passed on to the appropriate authority. Alternatively, you can leave your information anonymously via the Crimestoppers website or by calling them on: 0800 555 111.
---
Quiz Night Wheel Inn – Tuesday March 12, 8.30pm
Quiz Night Wheel Inn – Tuesday March 12, 8.30pm. Hosted by Alison and Simon. Good cause this time is in aid of Children's Hospice.
Follow up. Another great, well supported, night at the Wheel Inn. A total of £170 was raised for the Children's Hospice. Many thanks to all involved.
---
Tresillian Village has 2 Defibrillator Units fully operational
Go to the Community>Health>Tresillian Defibrillators section of our website for full details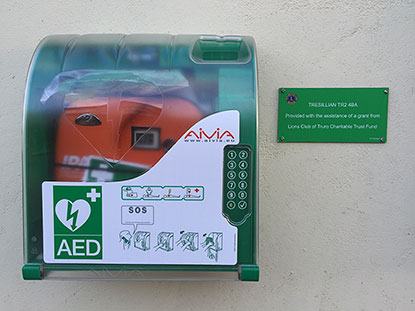 Remember. Always dial 999 for ambulance services first! This is vital so that professional medical personnel can respond to an emergency and make their way as soon as possible to the patient's location.
---
A Sample of Website Testimonials Received
"What an amazing memory of the afternoon [Cream Tea for The Queen 2016]. Well done to Keith for producing it. Very well put together and excellent music choice."
Aileen Bratton
"Thank you, Keith. Looks very good [swans] on the website along with all the other information you have published – well done!"
Phillip Buddell
"Just seen this new site. Lovely photos of Tresillian and interesting facts. Wish you well with it. Hope you get lots of comments and participation"
Tina Earley
"Website is great – thank you. Just a quick note to say 'Thank You' for getting a Tresillian website up and running well."
Desiree Tillgren
"Thank you for your beautiful pictures and website design for the village."
Ann McCormick
"Great to meet you, and much thanks for including church activities on the village website, it really is the way forward!"
Billa Jeans
"After getting the leaflet delivered by 'Keith' this week and having a quick chat in the garden at time of delivery. I thought I would check the website out. Absolutely fantastic, beautiful photo's and puts the village in the here and now. Well done to you and I really hope the site goes from strength to strength. I am going to give the details to some family members to check it out. Well done and thank you so much for all the effort you have put into it, to make it so professional and enjoyable."
Geraldine Rawbone
"A friend of ours in Sussex, who used to live in the village, is thrilled with the site as it will keep her up to date on what is happening here."
Lesley Dobel
"Fantastic website, well done to all who was involved."
Kirsten Lean
"What a wonderful community website for our village with lots of information and history. Well done and very impressed. Keep up the good work."
Karl Russell, Treglyn, Tresillian
"I've had a look round – its very easy to use!"
Helen Nicholson
"I enjoyed looking at the site and thank you for the lovely photo of the Tresillian road sign for which I designed the emblem of the Roundhead and Cavalier at the invitation of the Highways dept. of course a reference to the civil war battle nearby. I wonder if there are any rusting cannon balls in the river."
Janet Bailey.
………. There are no further news bulletin items at present. Please visit again on a regular basis to check for updates ……….