Check Out Special Offers (SUBJECT TO BUSINESS BEING OPEN) on Our Local Business Page
---
Season's Greetings to All Subscribers to The Tresillian Village Website.
Wishing You A Happier And More Prosperous 2021.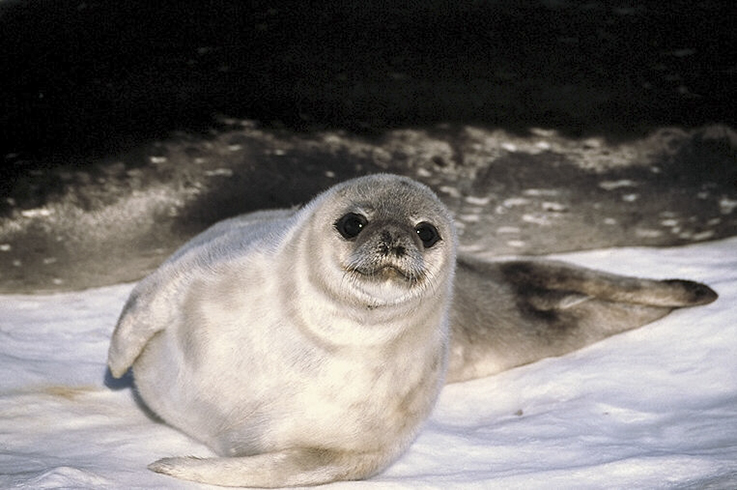 ---
Tresillian 2020 – Wildlife Reports and Photos
Visit the Wildlife and Natural History pages of the Tresillian Village website to see a whole year of reports and photos taken by residents of the village during 2020 and additional natural history related information.
Several of our subscribers, having more spare time on their hands than expected this year, have taken the initiative to record the natural world both inside and surrounding our village. Their results can be viewed by clicking on this link.
The main Wildlife and Natural History page can be found on this link. This page also has links to many important natural history, environment and ecology related websites.
---
Holy Trinity Tresillian – 24 December 2020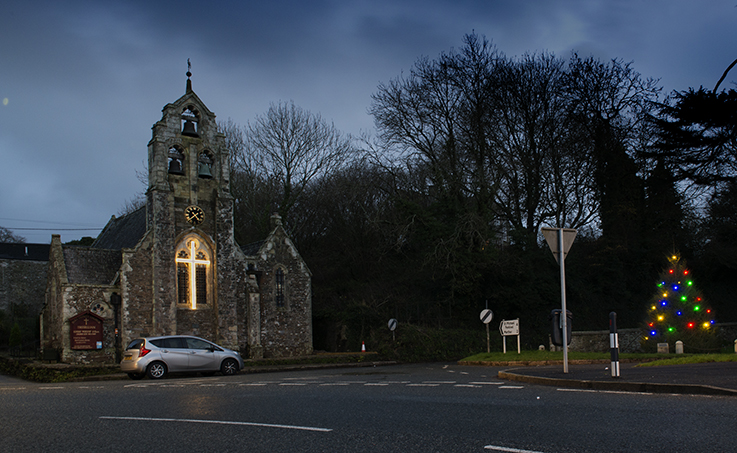 Photo: © Keith Littlejohns
On 24th December there will be a service of Holy Communion for Christmas Eve starting at 11.00 p.m. We are pleased that the Rt. Rev. Hugh Nelson, Bishop of St Germans will be leading and preaching at this festival service. Covid 19 restrictions regarding the requirement to wear face masks and to observe social distancing will still apply. Unfortunately no singing of carols will be possible but the music will be played so you can participate 'silently'! Communion will be offered in one kind only, there will be no sharing of the cup.
The Christmas Eve service has proved in the past to be popular particularly for visiting family and friends. This year, due to Covid 19 restrictions, we will have to operate social distancing and manage attendance. If you intend to come to the Christmas Eve service can you please let me or either of the churchwardens know how many would like to attend from your household/'bubble'. You can contact me on 01872 520679 or the churchwardens on 01872 520198 and 01872 263830 so we can plan the social distancing and maximize the numbers being able to attend. So, for example, one pew can either be used by 3/4 people from the same household or 'bubble' or by 2 single person households. We are only able to use alternate pews in order to maintain social distancing hence the need for planning! We will need to collect contact details for all those attending to assist with track and trace if necessary.
We do hope to see as many as can be accommodated at that service but be assured everyone will be remembered in our prayers.
HAPPY CHRISTMAS
---
Tresillian Methodist Chapel – 24 December 2020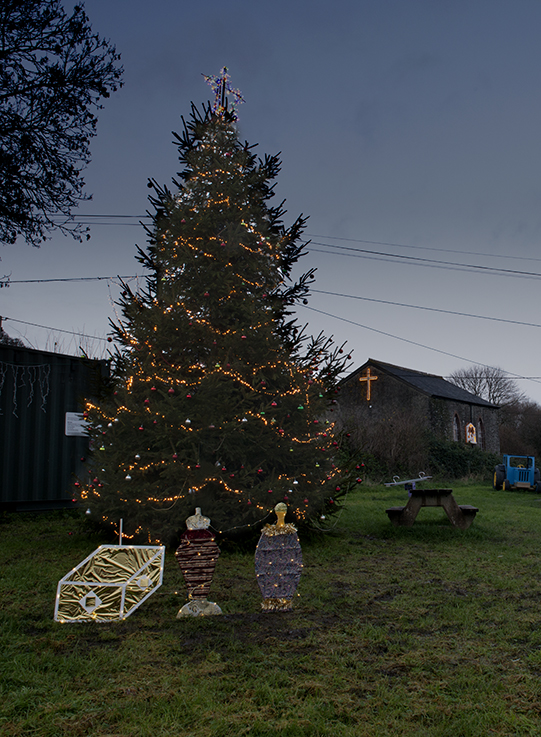 Christmas in a Bag – 4.30pm to 6.30pm on Christmas Eve at the Chapel. Come and pick up a bag and we will wish you a socially distanced Happy Christmas.
Also, new this year will be a Wise Men trail through the village. Look out for camels, wise men, stars and presents popping up along the roadside!
Photo: © Keith Littlejohns
---
Holy Trinity Tresillian – 20 December 2020
On Sunday 20th December 2020, Rev. Linda Whetter will celebrate Holy Communion for the 4th Sunday of Advent at Holy Trinity church, Tresillian at 11.15 a.m. Covid 19 restrictions will apply.
---
Royal Mail Latest Recommended Posting Dates For Christmas Delivery
Friday 18th December: 2nd Class and 2nd Class Signed For.
Monday 21st December: 1st Class and 1st Class Signed For, and Royal Mail Tracked 48*.
Tuesday 22nd December: Royal Mail Tracked 24* and Special Delivery Guaranteed.
*Royal Mail Tracked 24 and Royal Mail Tracked 48 services are not available to purchase at Post Office® branches
Full 2020/2021 Christmas and New Year Delivery and Collection Arrangements – Click to Download Here
---
Road Traffic Accident at Denas Water – 20 November 2020
Looks like yet another RTA on the A390 at Denas Water, close to the Mercedes dealership. No details yet.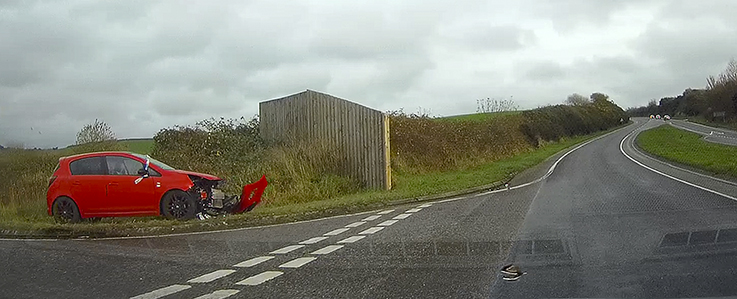 Photo: © Keith Littlejohns
---
Temporary Road Closure, Tresillian
Road Traffic Regulation Act 1984 S.14: Temporary Prohibition of Traffic
Wales & West Utilities Ltd have requested to close the following road(s) to carryout works to their apparatus.
Location: West of Nankilly to A390 at Tresillian
Timing: 2nd November 2020 to 20th November 2020
Contact: Wales & West Utilities Ltd Tel: 01209 211468
---
Tresillian has a new art installation in the Playing Field, next to the War Memorial.
The original idea came from John Dobel, the same person who created the Contemplative Man and his dog installation situated on the grass verge beside the Tresillian River. Although John, with others, worked on and saw his Contemplative Man completed, he sadly passed away before the latest WWI Soldier project got off the ground.
It seems only fitting that those involved with the first enterprise were also involved in this new installation based on John's vision.
Stage one involved having a suitable image to portray the silhouette of a typical World War I British soldier, affectionately known as a 'Tommy'. Local Tresillian artist, Gaye Lush, took on the task of producing a enlarged profile to be used as a template.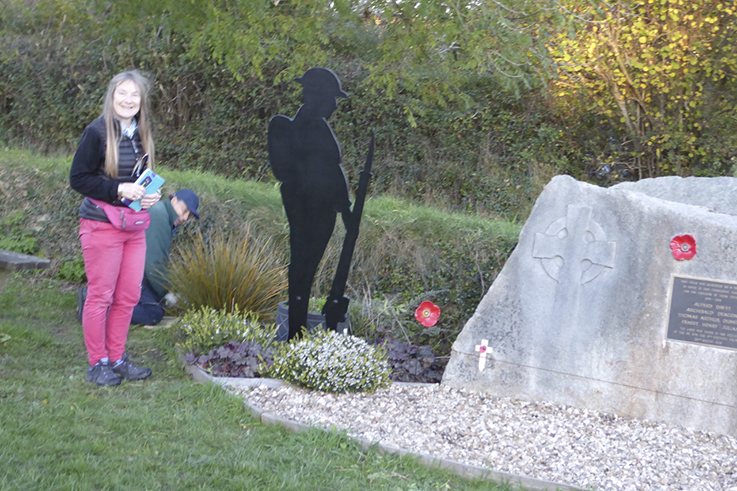 Photo: © Lesley Dobel. Local artist, Gaye Lush.
Next, Tresillian's master carpenter, Lars Tillgren, expertly cut out the outline in substantial grade marine plywood.
To protect the plywood and to give the installation its dark silhouette appearance, Leslie Sutton, another Tresillian resident applied several coats of non-glossy black paint.
Installation required steel brackets to anchor the plywood form into the ground. Graham Ellis, a respected senior member of our Tresillian Village community who was born in the village and is a Trustee of the Playing Field, supplied the brackets as he had done so before for the previous project.
Come the day of installation alongside the village war memorial, Lars Tillgren, along with his colleague Jestyn Edwards, carried out the work with precision to ensure that the soldier was erected into secure concrete foundations.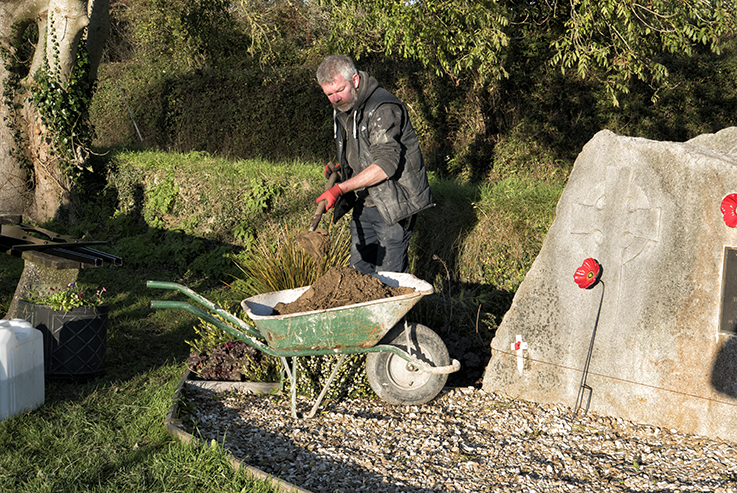 Photo: © Keith Littlejohns. Jestyn Edwards excavating deep hole for foundations.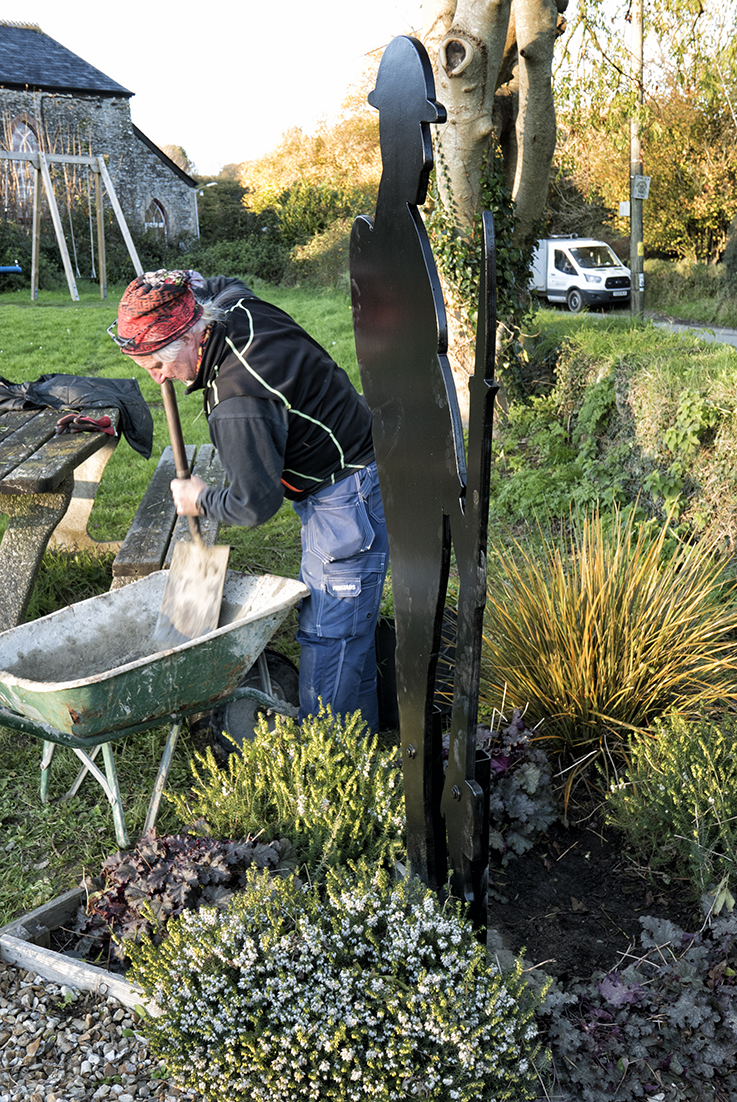 Photo: © Keith Littlejohns. Local Master Carpenter, Lars Tilgren, working on cement used for the foundations.
Lesley Dobel was instrumental in ensuring that John's vision came to fruition.
Installation took place several days in advance of Remembrance Sunday in plenty of time for the new addition to the memorial site to be seen by the casual visitors on Sunday, some of whom left individual personal tributes.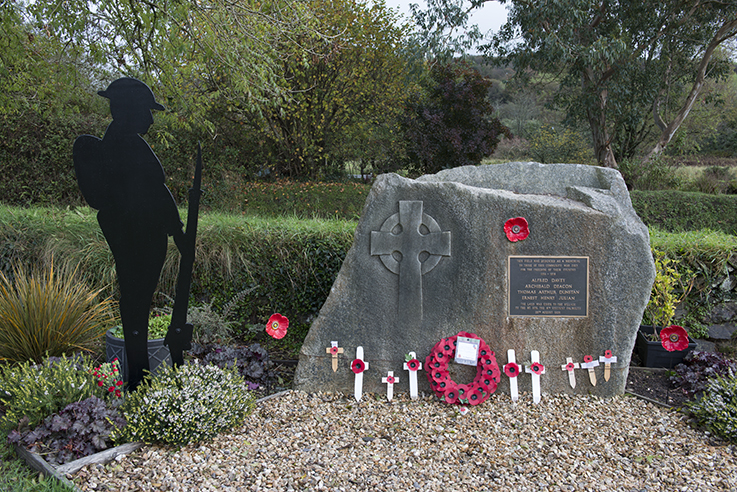 Photo: © Keith Littlejohns. Memorial on Remembrance Sunday 2020, complete with personal tributes and recently installed soldier silhouette.
---
It is with great sadness that the death has recently been announced of a much respected and enthusiastic community minded member of our local community in Tresillian.
OBITUARY
JAMES (JIM) LISTER
It was with great sadness that we heard of the recent death of Jim.
In the 1960s and '70s the Tresillian Residents Association, the Tresillian Village Hall Committee and the Amateur Dramatic Society organised scores of stage events. Be it in the Church Hall, the Village Hall, fete marquee or a farm outbuilding if there was lighting and electrical work to be done Jim was at the helm of it. The efficient way in which he provided just what the producers wanted at two pantomimes, two stage shows and lots of old time music halls, quizzes and game shows was just a part of it. He would introduce many tricks and turns that the organisers hadn't even thought of and would add tremendously to the enjoyment and success of the show.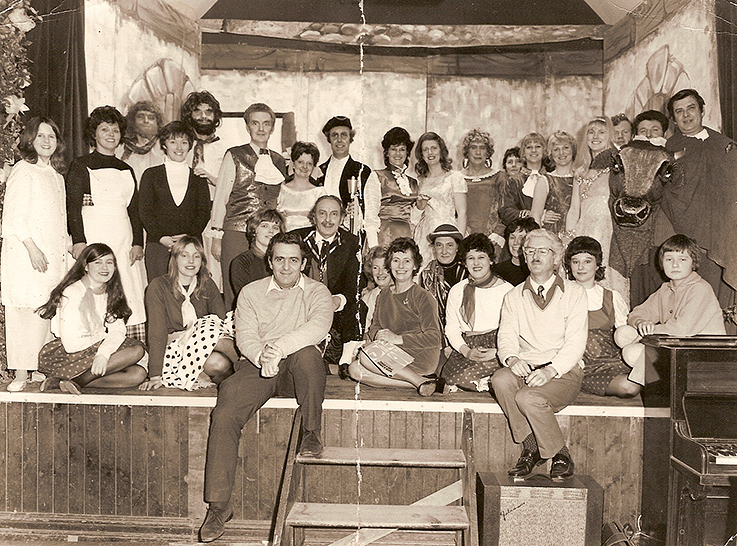 It didn't stop there. Jim was an accomplished player of the electric organ and would always enthusiastically offer his services at the many Old Time Music Halls that followed the Annual Fete, and for several family-orientated stage shows in both the Church and Village Halls.
Jim's father was a projectionist at The Majestic Cinema in Nelson, Lancashire, and as a boy Jim would assist him in changing the reels. It was this that started his life-long interest and enthusiasm for cine-photography.
He will long be remembered by older residents for his filming of what became known as 'The First Fete' in 1968 (which marked the start of the Residents Association). He was to show that film, and many others, to various organisations and parties many times. He would also show movies of the interesting holiday cruises he so much enjoyed. These were always much enjoyed by the senior citizens of the Thursday Club.
Jim will not be forgotten by his Tresillian friends.
We offer our sincere condolences to Joan, Martin and Caroline.
Obituary written by: Cllr George Doherty in consultation with the Jim's family. George is Chair, St Clement Parish Council, Editor of TRAM and respected local Tresillian resident.
---
Farewell Tea Party for Simon and Alison at Wheel Inn, 09 August 2020
A gathering of Tresillian Village Improvement Group (TVIG) volunteers attended a pleasant afternoon on the lawn at the Wheel Inn on Sunday with Simon and Alison. Members of the TVIG wanted to acknowledge the support given by Simon and Alison to the group, especially as being hosts for vital fund raising events such as pub quizzes that has enabled the group to cary out work on various projects over the years.
Helen Nicholson led the thanks and presented Simon and Alison with an Amazon Gift Card in a smart black box with gold ribbon. Lesley Dobel made a bespoke thank you card that included photos of TVIG projects that had benefitted from the results of their support, with wording supplied by Les and Lorraine Sutton.
---
Damaged Bus Shelter Replaced – 29 July 2020
The damaged bus shelter by the Playing Field has finally been replaced with a brand new shelter.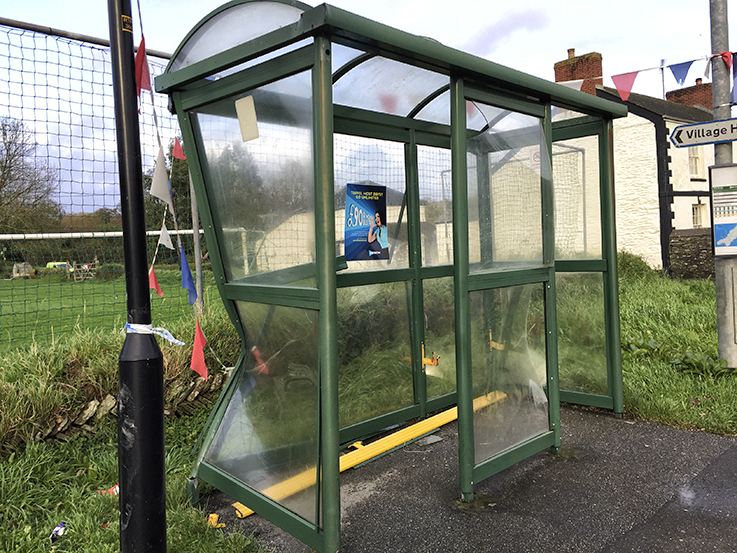 The old damaged shelter back in October 2019.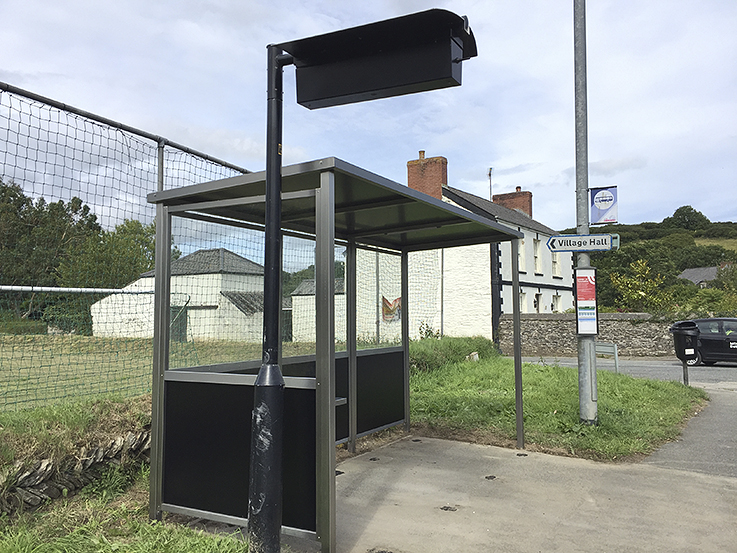 The new replacement shelter.
Given the difficulties with COVID-19 hindering work to replace the shelter along with the usual lengthy insurance claim process it has taken quite some time for a replacement to be installed. The new shelter is a little larger than the previous one which has involved adding wider footings and tarmac to suit.
The original shelter was extensively damaged as a result of a road traffic accident involving a vehicle leaving the road at speed before colliding with the shelter. Luckily, there were no children or adults waiting at the bus stop at the time.
---
A sad Day for the Village, the Wheel Inn is to Remain Closed – July 2020

A personal message from Simon and Alison.
After long & careful consideration following publication of the government guidelines, we have regrettably decided not to reopen The Wheel Inn.
The size and layout of the internal areas mean that we would be reduced to a maximum of 16 people in the pub at any one time. Due to the proximity of the entrance to the tables inside, customers would have to queue outside until allowed in, and standing at the bar would not be permitted. We would have to employ extra staff on each session to control the toilets (one in, one out) and clean them every 30 minutes, and to supervise the outside space to ensure that adequate social distancing was maintained. The vagaries of the British summer weather mean that we could not be certain we would make full (any!) use of our outside areas.
Add in the costs of additional cleaning and PPE, and it is highly doubtful that the business would be viable. As many people will know, we are in any case retiring in September and any investment we make now (screens etc) is unlikely to be repaid. We shall remain here until September, but may leave earlier if circumstances allow. The pub will then revert to Tregothnan Estate.
We would like to take this opportunity to thank all those who have supported the pub over the last 12 years, and in particular, the staff, who have seen us through good times and bad. They will now be looking for alternative employment, and we wish them all well for the future. They have truly stood by us when we needed them.
Finally, we cannot sign off without mentioning the loss of Shirley Tullett, which came as a huge shock to everyone here, staff and customers alike, and we miss her every day. She is fondly remembered, and spoken of frequently. Without Shirley we would have been lost when we first started, and we shall never forget the Wise Woman's kindness and advice.
Goodbye, thank you, and best wishes to everyone.
I'm sure many would like to thank Simon and Alison for all the years they have served our village well, not only by being landlords of the historic Inn, but also their support for local projects that help to bring about a sense of community which is much needed in today's rather disengaged lifestyle.
If you are unable to thank them in person, perhaps it would be appropriate if you could send them a personal Thank You card with a simple message of appreciation and best wishes for the future.
Keith Littlejohns
---
Tresillian is Still in Bloom – June 2020
Although the RHS 'South West in Bloom' competition has been cancelled for 2020, the Tresillian Village Improvement Group volunteers are committed to bring our village a touch of floral beauty.
All of the usual features have been planted up or tended to keep them looking good.
Thanks also to the staff at Truro Parks and Gardens for planting up the containers and troughs, with plants kindly paid for with a donation from St Clement Parish Council.
© All photos: Keith Littlejohns
---
Some Good News, 13 June
Marys Pastys has reopened
We have been reliably informed that Marys Pastys is now open for business serving her pasties and other treats again daily with the exception of Sundays.
---
It is with great sadness that the death has recently been announced of a much respected and enthusiastic community minded member of our local community in Tresillian.
OBITUARY
TREVOR CHARLES GROSE
Cherished husband of Marion (Deceased)
Much loved father of Richard and Rachael and brother of Douglas
And loving grandfather of Ben, Amber, Maisy and Alfie
Sadly missed by his Church family at St Kea
It is with great sadness that we record the death of a dear friend, very much respected in Tresillian and St. Michael Penkivel for his work for the community in general, Holy Trinity Church, the Tresillian Residents Association and Tresillian Village Hall. Following his retirement he was an esteemed member of St Kea Church, holding positions there and in the Diocese.
Trevor's contribution to the community of Tresillian was immense.
In 1968 Holy Trinity Church was badly in need of funds to carry out urgent repairs to the church roof. At a PCC Meeting Trevor suggested holding a village fete. Under his leadership an enthusiastic committee organised all that makes for the success of a village fete: a ram roast, children's games and fancy dress competitions, side-shows and refreshments.
The fete, to this very day known by many 'oldies' as 'The First Fete' was a tremendous success and the church roof was saved! There was a general feeling that the event had been such a hit that further community happenings should follow.
At a public meeting in the Church Hall the Tresillian Residents Association was formed. Trevor was elected Chairman and was to hold that position for the next eight years during which time in addition to the Annual Fete hundreds of events were organised ranging from quizzes and children's parties, through dinner dances and boat trips to male voice choir concerts and 'home-brewed' (but highly professional) Music Halls..
He led the way to the creation of TRAM, the Association's journal which was first published in 1971. He continued to subscribe right up to the current year.
In 1969, at Trevor's instigation a public meeting was held with a view to building the village hall. The land had been given to the village in 1948 by the Eighth Viscount Falmouth (father of the present Lord Falmouth). Several starts had been made on the project but none had come to fruition. Now a new committee was formed and Trevor was elected Chairman. He was to hold that position until after the hall was opened in 1973. Those years were a period of intense fund raising and (successful) grant applications.
As well as being an inspirational Chairman Trevor was very much 'hands-on', not least in the extremely profitable "It's a Knock-Out" events that the joint committees staged at various Holiday Camp venues.
In 1980 he stood as Conservative candidate for the Probus seat of Cornwall County Council, was elected and served on the Council for many years.
For several years he sat as a magistrate on the Bench of Truro Magistrate's Court.
He was for many years a Governor of Tresillian Infant's School and a Trustee of Tresillian Playing Field.
Trevor was born in Tresillian, at Treffry Farm.
After attending Tresillian School he was educated at The Cathedral School, Truro, where he showed great skill in the Debating Society.
On leaving school he joined his father at the farm and was an enthusiastic member of the Young Farmers Association.
His marriage to Marion was blessed with two children, Richard and Rachael.
On his father's retirement in the 1960s he farmed Treffry until his own retirement in 2002, when he and Marion went to live at Carnon Downs
Sadly, Marion predeceased him in 2013.
Throughout his life Trevor was dedicated to his Faith and to his Church.
He was a past Warden of Holy Trinity Church, Tresillian.
Following his retirement to Carnon Downs he worshipped at St. Kea where he was Church Warden and Verger. He was a past Lay-Chairman of Powder Deanery and Lay-Chairman of the St. Kea Deanery Synod.
He will be long remembered in Tresillian and at St. Kea for his dedication to the Church and the communities about him and, most of all, his kindness, understanding, selflessness and friendship.
We offer our sincere sympathy to Richard, Rachael, Douglas and their families.
Obituary written by: Cllr George Doherty, Chair St Clement Parish Council; Churchgoer attending Holy Trinity Church, Tresillian; Editor of TRAM and respected local Tresillian resident.
---
A message from Revd. Canon Dr Lynda Barley, upon her retirement.
Please follow this link to see her maessage.
---
Tresillian Village Website News Updates
During this difficult time the Tresillian Village Website will be adding helpful information to these pages as well as publishing News Alerts.
If you have news or information that you think is of general public interest to residents of Tresillian then please contact the website via our contact page with a brief summary and leaving your full name and contact details.
Everyone please stay safe by adhering to government advice.
Thank you.
---
Beware of Anti-Social Media, Fake News, Dangerous Adverts and Scams that are Increasing Exponentially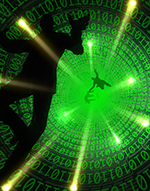 Mainstream cyber attack protection companies are seeing Facebook groups amassing hundreds of thousands of members, and YouTube channels with millions of subscribers, awash with fake "cures" and conspiracy theories about everything from Covid-19 being caused by 5G towers to false flag theories about a New World Order.
These posts aren't just preposterous, they're dangerous, decreasing trust in government advice at a time when it is vital for us to listen to official recommendations on how we can reduce the spread of coronavirus.
Just because social media companies are seemingly indifferent and slow to act doesn't mean we are powerless. If anything, it increases the urgency for all of us to take responsibility and mobilise against the spread of misinformation – just as people are mobilising against the spread of the biological contagion.
If you see suspect untruths or scams on Facebook, Twitter, WhatsApp (identified as one of the worst offenders) or elsewhere online including emails, don't engage with it. Don't comment, don't share it, even if it's to argue that it's untrue. The way social media works means that whenever we engage with a post it makes it seem more popular giving it some kind of legitimacy.
No matter how enticing a 'special offer' is to you, ignore it and move on. Offers that are seemingly too good to be true usually are just that, or cleverly written inducements to draw you in are the most dangerous and more often than not lead you to a place you will bitterly regret afterwards. The big scam players have fraudulently amassed deep pockets running into many millions of $US allowing them the ability to make their website or advert look just like a well known brand name to fool you into making a fake purchase or go deeper into their cesspool.
Stay safe with COVED-19 government advice, and stay safe online.
---
On a Brighter Note
Probus Surgery Prescriptions – A Message from Probus Surgery
We are currently trying to reduce the footfall to the surgery during the Coronavirus outbreak, if you could e-mail your requests* to enquiries.probussurgery@nhs.net that would be great. If you do not have access to the internet please request in the usual way, we cannot accept phone call requests.
Many Thanks
Dispensary.
For those patients who currently use the 'Waiting Room' online service for ordering repeat prescriptions, you may continue to use it as normal. Also mention your preferred pickup point from the list below in your request.
* Now that Marys Pastys, Tresillian is no longer available for picking up prescriptions you can arrange to use either the Probus Surgery Dispensary itself or, the Probus School Filling Station or, from Monday 6th April the Fal Garage, Tresillian.
Please observe NHS/government guidelines on social distancing and hygiene when picking up from either Probus Surgery or Probus School Filling Station.
---
On a Brighter Note
Early Easter eggs spotted on Tresillian River bank – UPDATE
Village resident Phillip Buddell has responded to our request to send us items of information that may be of interest to local residents.
You can read Philip's update with new photo on our wildlife page.
Blackbird nest discovered whilst working in garden
Your Tresillian Website Administrator discovered yesterday that we had a blackbird family nesting in a very well camouflaged position. Photo and description is on our wldlife page.
---
On a Brighter Note
Libraries are now closed, but you can still use some of their online services
Village resident Cheryl Chatterton has responded to our request to send us items of information that may be of interest to local residents.
Cheryl says that although the libraries throughout Cornwall have been closed, you can use your Cornwall Council Library Card number to access some of the library service online facilities. These services range from viewing/downloading popular newspapers [current and historical], magazines, audio books, eBooks etc., some of which are provided via partner platforms. If you are not yet signed up to these services you can do so now providing you have a valid library card. Sorting out the various website links and applications required can be a bit of a journey, but is worth the effort to open up a new repository of information/entertainment to while away the hours. The best place to start is at this page on Cornwall Council's website.
---
On a Brighter Note
Early Easter eggs spotted on Tresillian River bank
Village resident Phillip Buddell has responded to our request to send us items of information that may be of interest to local residents.
You can read Philip's article with photo on our wildlife page.
---
Cornwall Council COVID-19 Information

Cornwall Council has put together an amazingly comprehensive selection of information and advice regarding changes to council services and a broad range of related subjects.
Visit their website at Information about Coronavirus (Covid-19)
---
OPEN WITH COVID-19 RESTRICTIONS

Tresillian Allotment Site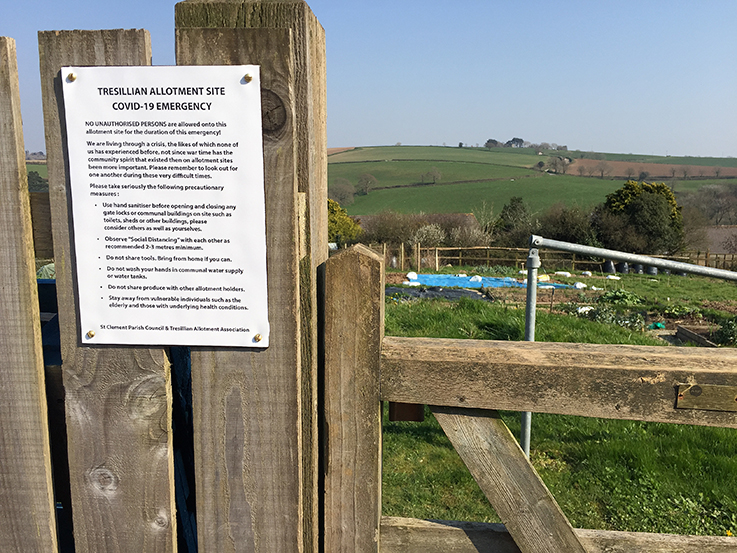 Photo: Keith Littlejohns
The Tresillian Allotment site remains open, but the following restrictions must be observed.
TRESILLIAN ALLOTMENT SITE
COVID-19 EMERGENCY
NO UNAUTHORISED PERSONS are allowed onto this allotment site for the duration of this emergency!
We are living through a crisis, the likes of which none of us has experienced before, not since war time has the community spirit that existed then on allotment sites been more important. Please remember to look out for one another during these very difficult times.
Please take seriously the following precautionary measures :
• Use hand sanitiser before opening and closing any gate locks or communal buildings on site such as toilets, sheds or other buildings, please consider others as well as yourselves.
• Observe "Social Distancing" with each other as recommended 2-3 metres minimum.
• Do not share tools. Bring from home if you can.
• Do not wash your hands in communal water supply or water tanks.
• Do not share produce with other allotment holders.
• Stay away from vulnerable individuals such as the elderly and those with underlying health conditions.
St Clement Parish Council & Tresillian Allotment Association
As of 26th March 2020 it is now legally enforceable that no unauthorised persons are allowed anywhere on this allotment site. Police can impose heavy fines on those who flout the law.
---
CLOSED

The Children's Play Area at The Playing Field Has Been Closed Until Further Notice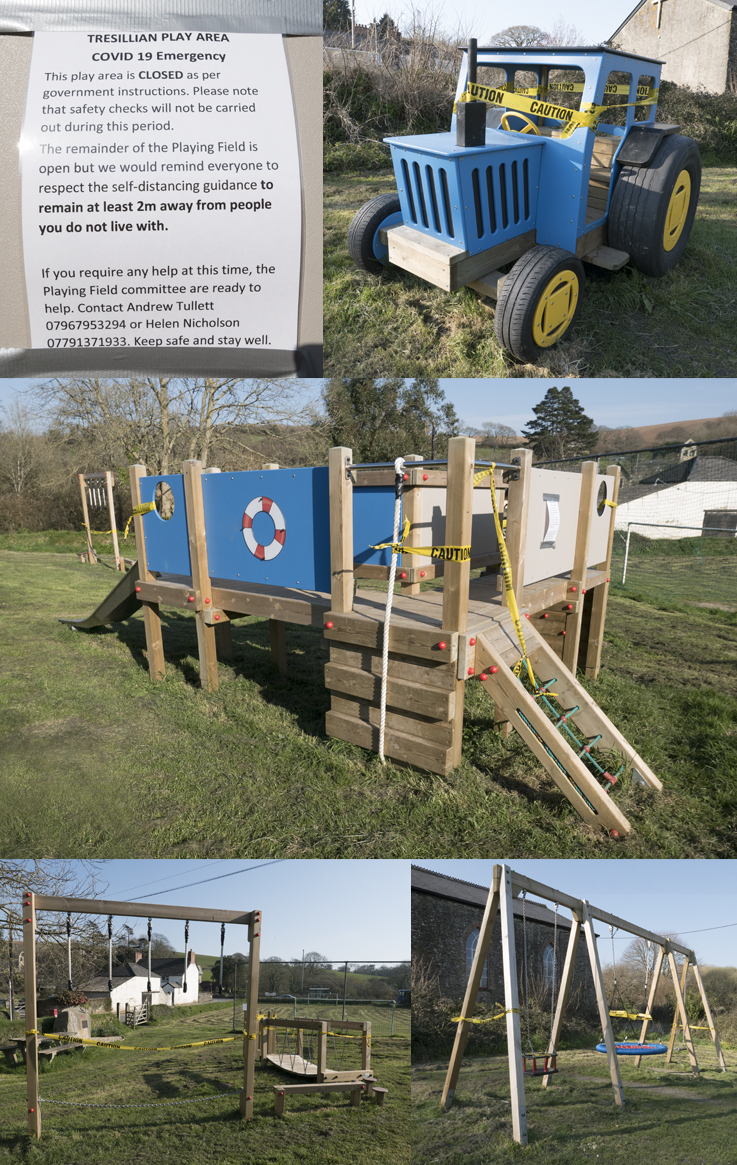 Photos: © Keith Littlejohns
The children's play area has been closed as per government instructions and safety checks will not be carried out during this period. Parents should make sure that their children are not tempted to use the play equipment until such time as it is safe to do so.
If you require any help at this time, the Playing Field Committee are ready to help you. Contact Andrew Tullett 07967 953 294 or Helen Nicholson 07791 371 933.
---
CLOSED

Marys Pasty Shop is Closed Until Further Notice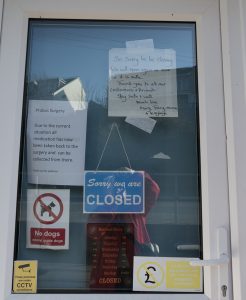 We wish Mary, Tracy, Maisie and Kayleigh well and hope to see them all back behind the counter selling delicious pasties and cakes just as soon as the enforced closure due to the COVED-19 Emergency is over.
Marys Pasty Shop has proved to be very popular since first opening back in March 2017.
As with all businesses, they will need plenty of support once the tide turns and we can all get back to normal everyday life.
Please note that medical prescriptions cannot be picked up from the shop for the time being. You should check with your usual medication prescriber if you normally rely on collection from Marys Pasty Shop.
Photo: © Keith Littlejohns
---
CLOSED

Wheel Inn is Closed Until Further Notice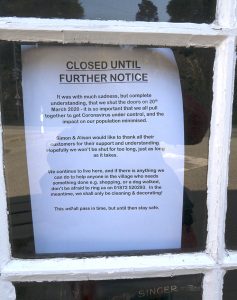 All of us in the village wish Simon and Alison well, and very much hope they will come bouncing back after the enforced closure due to the COVED-19 Emergency.
The quintessential British village pub has always been considered to be the beating heart of village life where people gather for sustenance and good company through good times and not so good times.
As with all businesses, they will need plenty of support once the tide turns and we can all get back to normal everyday life.
Photo: © Keith Littlejohns
---
NOTICE

Holy Trinity Church – Mothering Sunday, 22 March
This Sunday, 22 March Holy Trinity church will be open from 11.15 a.m. until 12.15 p.m. for private prayer and the lighting of candles as suggested by Bishop Philip. Rev Canon Barley will be in attendance. Those at home are invited to join with us in prayer during that time.
However, in light of the Government guidance around non-essential contact, the Archbishops of Canterbury and York have issued advice that all future public worship is suspended until further notice.
More information will be made available as and when there is more news.
Clive Stephens
---
CANCELLED

Church Hall Lunch Club
We are sorry that due to concerns over the possible spread of the Coronavirus we have decided to cancel our monthly community lunch club until further notice.
Clive Stephens
---
ADVISORY

Tresillian Village Hall Activities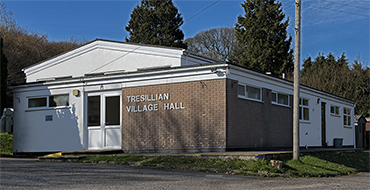 The village hall currently remains open for regular activities, but please contact the organiser in advance to make certain a particular activity will be taking place.
This situation may change due to stricter Government enforcement.
Photo: © Keith Littlejohns
---
CANCELLED

Annual Tresillian Village Litter Pick – Sunday, March 29 10am
The annual Tresillian Village litter pick will take place on Sunday 29 March meeting in the Playing Field at 10 a.m. to collect hi-viz jackets, rubbish bags and litter pickers. All are welcome. If you would like to help, please come along that morning to join us.
---
CANCELLED

Grand Quiz Night – Church Hall, Friday March 27 7pm-10pm
We are sorry that due to concerns over the possible spread of the Coronavirus we have decided to cancel the grand quiz night. We hope to rearrange it later in the year.
---
POSTPONED

St Clement Neighbourhood Development Plan – Referendum – 2 April 2020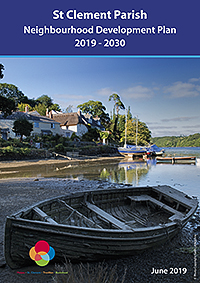 A date of 2nd April 2020 has been set for the purpose of holding a referendum regarding the St Clement Neighbourhood Development Plan.
Cornwall Council will be administering the referendum. Each resident on the Electoral register in the parish of St Clement will be receiving a polling card.
Further information will be posted on the dedicated St Clement Neighbourhood Development Plan website.
A new date for the referendum will be announced just as soon as the Neighbourhood Development Plan Steering Group have been informed by Cornwall Council.
---
Quiz Night – Wheel Inn, Tuesday March 3
Alison and Simon have very kindly offered to hold a quiz night in aid of the Village Improvement Group on Tuesday 3 March starting at the usual time of 8 p.m. Always a good night out!
---
News Update 25-02-2020. Re Out of Service Defibrillators in Village
Both of the village defibrillators are now back up and running. Anyone needing access to either of the units in case of emergency simply has to press 4, 6, 8, 0 followed by the tick on the keypad to open the cabinet and follow instructions. Most importantly dial 999 on your mobile and ask for the Ambulance Service, quoting just where you are.
Remember! Always dial 999 for ambulance services first! This is vital so that professional medical personnel can respond to an emergency and make their way as soon as possible to the patient's location.
However, the fact remains that the Tresillian Defibrillator Fund is now completely out of funds. We need to arrange a further training session for anyone in the village interested in the operation of the units or a refresher course, and this will cost a minimum of £150. So if you wish to make a donation or can help in arranging any fund raising activity for the defibrillators please contact any member of the Committee, Philip Buddell (520 185), Gerald Bennetts or Shirley Anderson with your ideas.
Philip Buddell
---
Holy Trinity and Other Parts of Tresillian Affected by Floodwater 13th February 2020
Heavy overnight rain coupled with a high tide affected several parts of the village. The most noticeable was overflow from the leat that runs downhill past Holy Trinity gushing mud and debris over the road in front of the church and Tregothnan's Gatehouse driveway.
All photos © Keith Littlejohns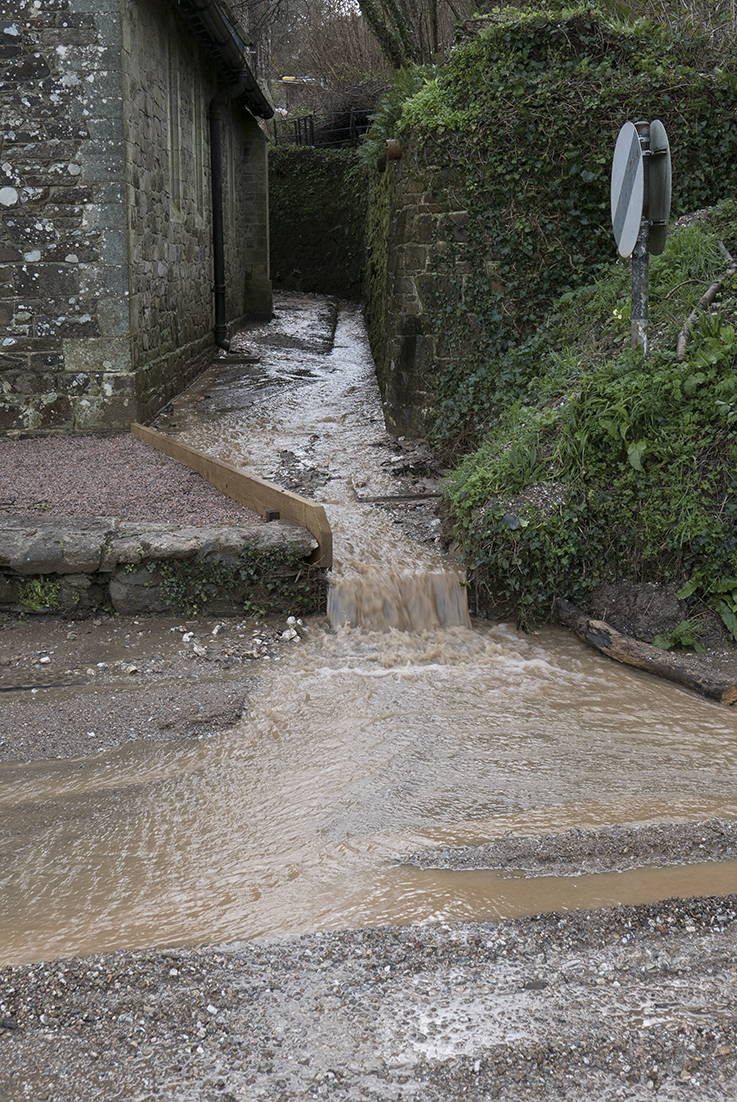 Also affected were:

The cottages over the bridge.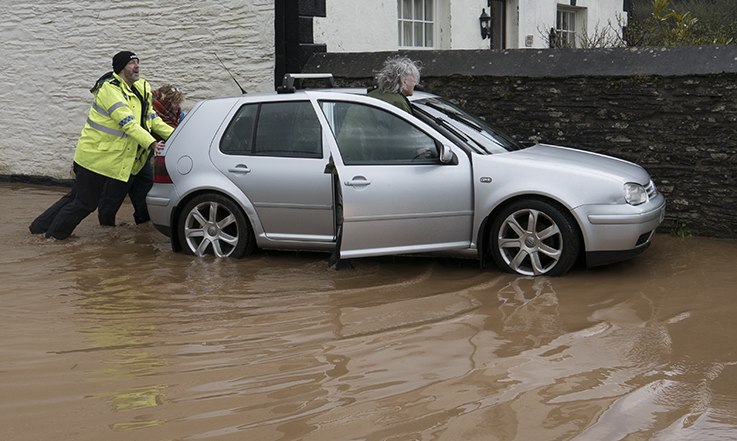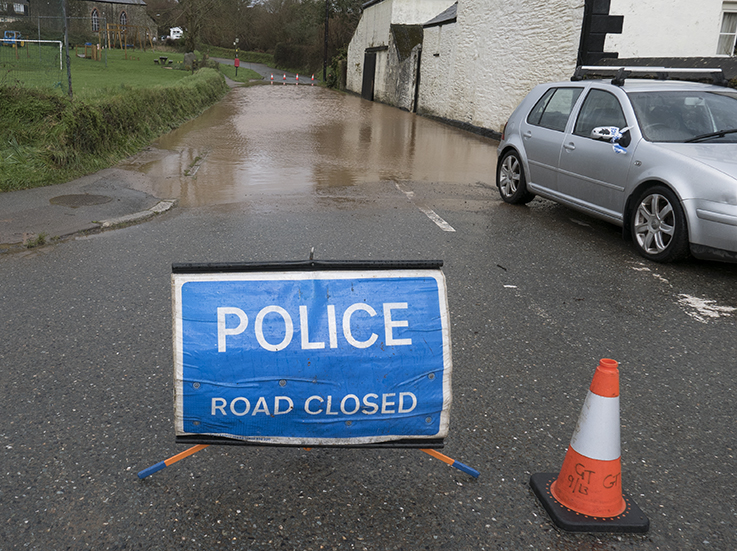 The access road leading to Lower Park and Fairfax Road.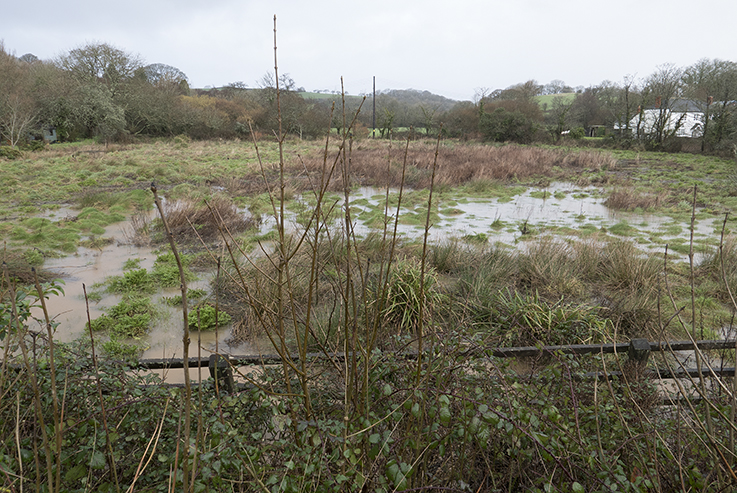 The field between Bridge House and Bridge Cottage.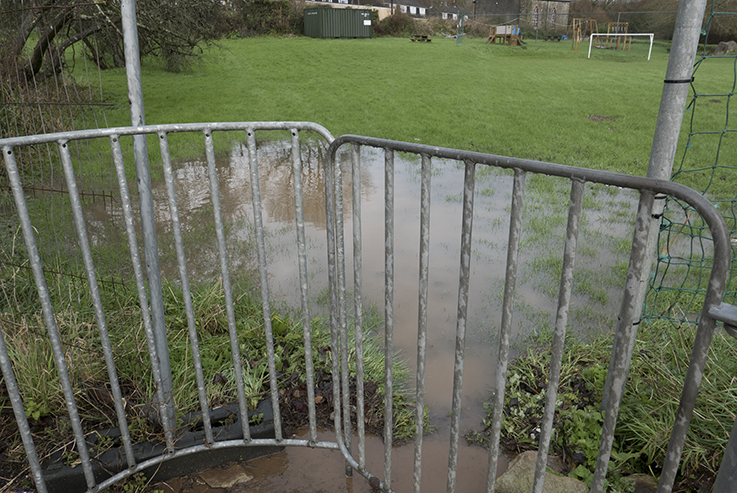 The Playing Field.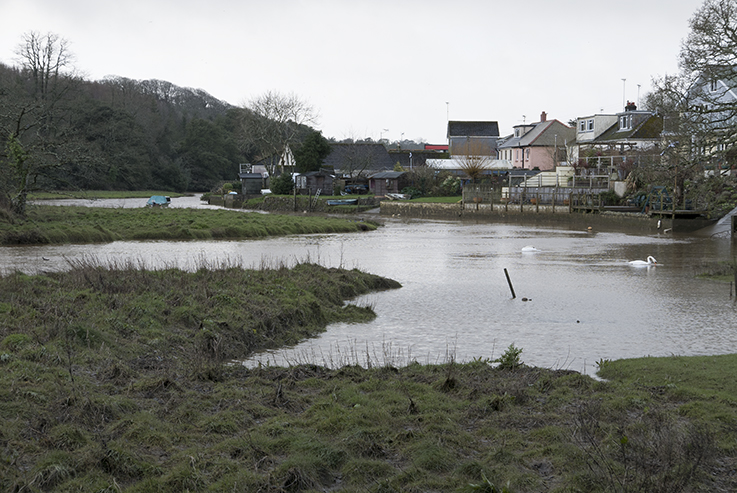 High tide behind Wheel Inn that thankfully did not affect the pub on this occasion.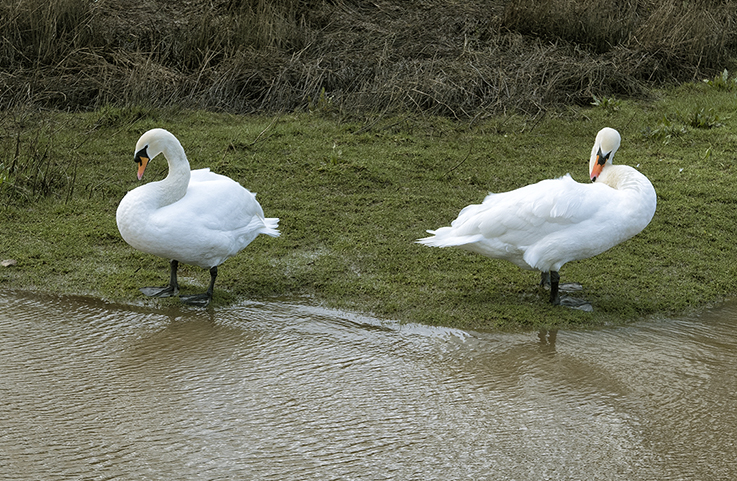 Mr and Mrs Swan enjoying the additional water, even if they are not talking to each other.
All photos © Keith Littlejohns
---
News Update 12-02-2020. Re Out of Service Defibrillators in Village
There are now sufficient funds available to purchase a second replacement battery and new pads for the defibrillator unit at Tresillian Chapel. The unit should be back in service very soon.
Phillip Buddell.
---
News Update. BT's Public Telephone Box Tresillian – To be Removed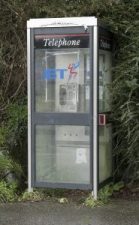 BT's public consultation period has so far yielded 'no response' either one way or another from the local community regarding the proposed removal of the public telephone box in Tresillian Village beside the A390, opposite Millcot and Watersmeet.
As no response has been received by the Clerk to St Clement Parish Council, the now redundant telephone box is due for disconnection and removal by BT.
Photo: © Keith Littlejohns
[Ed. See also previous article further down this page)
---
News Update 30-01-2020. Polsue Way Road Undermining Relating to Planning Application PA17/00998/PREAPP (Ed. please note this is a corrected application reference)
The Council have signed off the first stage of the design process as "approval in principle". The developer is now required to submit their design, drawings and necessary certificates before construction can start.
The temporary traffic lights at the site are still temperamental in operation. If you notice they are not working correctly the number to call is 0845 371 5050.
---
News Update 29-01-2020. Re Out of Service Defibrillators in Village
St Clement Parish Council has declined to give financial support for the defibrillators in Tresillian Village. It was felt that organising maintenance and seeking funding for running costs would be better served by people in the village engaging in that process themselves.
As has previously been reported in these News Bulletins there were insufficient funds left over from the initial money raised at the time of the original installation to carry out essential regular maintenance for both of the units in the village.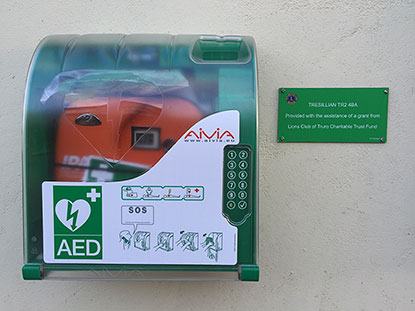 One unit on the wall close to Mary's Pasty Shop has already been refurbished and is now fully operational again.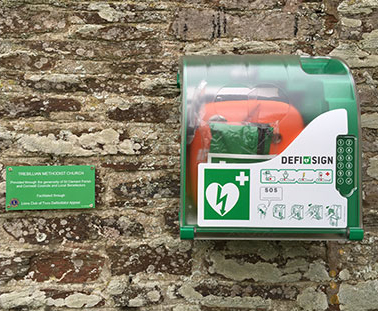 The additional good news is that local Cornwall Councillor, Mike Eathorne-Gibbons has agreed to offer a one-off donation from his community chest fund. It is hoped that this will help with the second unit affixed to the Tresillian Chapel wall, adjacent to the main door, and that this unit can also be brought back into full working order.
Long may both of these extremely valuable defibrillators continue to be serviceable, not only for residents of Tresillian but also the wider public who may need to urgently call on their use in a life-threatening emergency.
Photos: © Keith Littlejohns
---
Bus Crashes into Side of A390 a Short Distance from Tresillian Bridge – Afternoon of 27th January 2020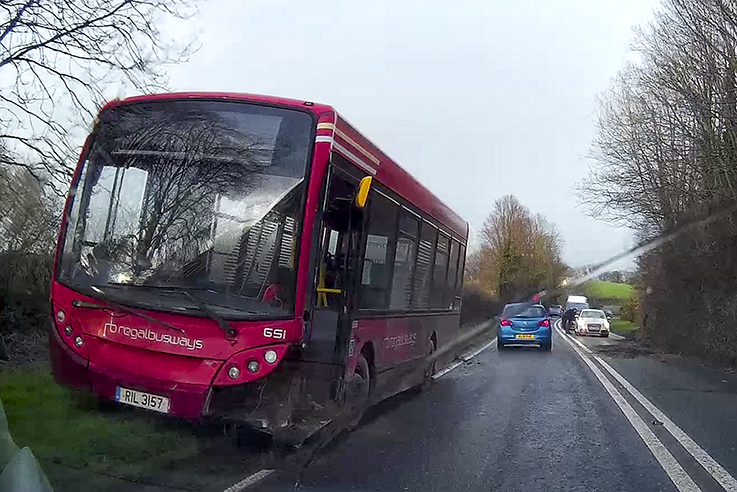 Dashcam Photo © Keith Littlejohns.
During the afternoon of Monday 27th January, a bus collided with a roadside tree lined earth bank whilst entering the village of Tresillian on the A390 close to Holy Trinity Church. No injuries were reported. The bus sustained substantial damage to its nearside front and side, having gouged out earth from the embankment leaving soil and debris in the road. The vehicle ended up on a grass verge on the other side of the road.
Soon after, there were severe traffic hold ups in both directions between Probus and Tresillian backing up all the way into Truro that lasted for several hours. This was accentuated by the regular heavy rush hour commuter traffic using this increasingly busy, congested section of the A390 through Tresillian.
The cause of the accident is yet to be determined.
---
Latest on Out of Service Defibrillators in Village, 28th January 2020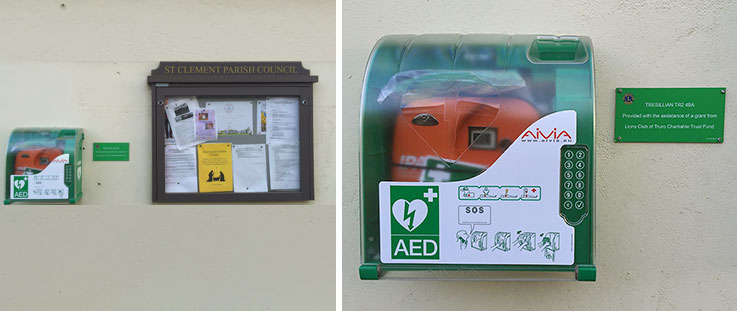 Photos: © Keith Littlejohns
The Parish Council has been approached to see if they are able to offer support for urgently needed replacement parts for the two defibrillator units currently out of commission. Before they can be brought back to use they will need new batteries and pads to conform to the standard required. The cost of new parts is just under £450. However, the total balance left over from the original donations is only about £330.
The original suppliers, Ronnie Richards Memorial Charity, have been approached but nothing has so far come out of that contact.
The three public spirited people responsible for administering the original fund are Shirley Anderson, Gerald Bennetts and Philip Buddell. They admit they are getting on in years and feel that going forward it would be a better solution if the Parish Council were to play the leading role in administration and management of the defibrillators.
An item is on this month's Parish Council Agenda to be discussed on Wednesday 29th January, St Clement Parish Council website.
---
Holy Trinity Church, Tresillian Flood Damage Just Before Christmas 2019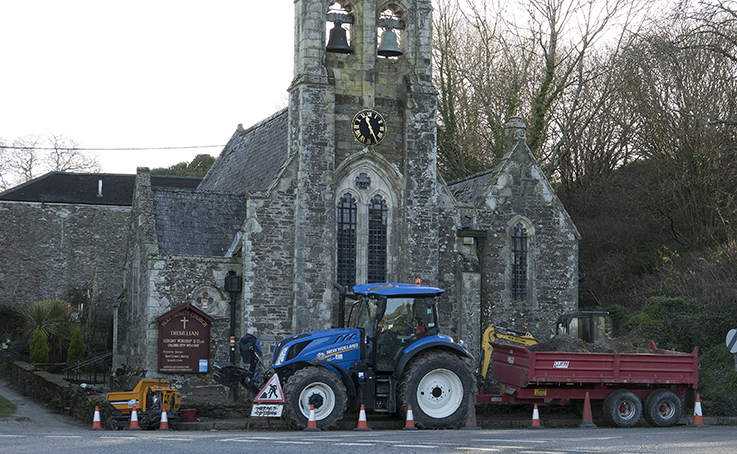 All Photos © Keith Littlejohns.
Just before Christmas, 2019 Holy Trinity suffered a large ingress of water from the leat that drains away beside and under the church.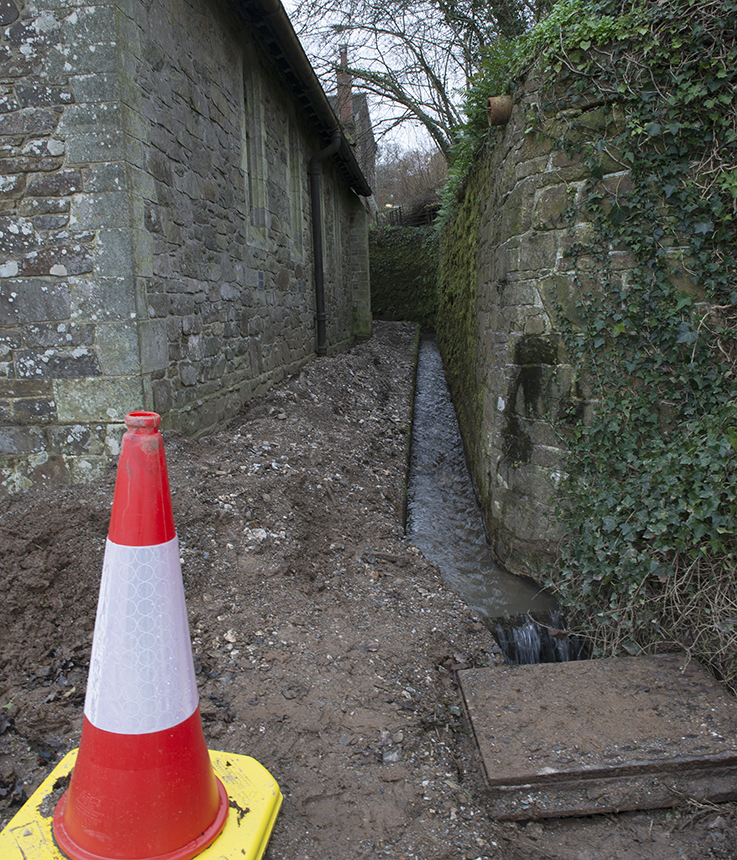 The problem arose due to a combination of heavy rainfall and blockages in the drainage systems that allowed excess water to backup and seep through into the floor area of the church. At its peak, the water forced several tons of muddy soil to pile up beside the building and into the road, thereby exacerbating the damage and work required to initiate a clear up. Removal of the soil took several days.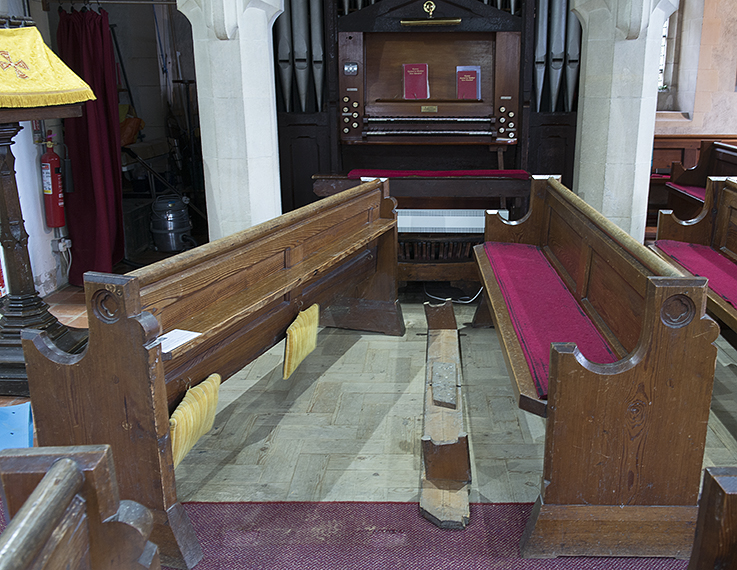 Of special concern was potential damage to the church organ where water had saturated the wooden flooring surrounding and beneath the organ .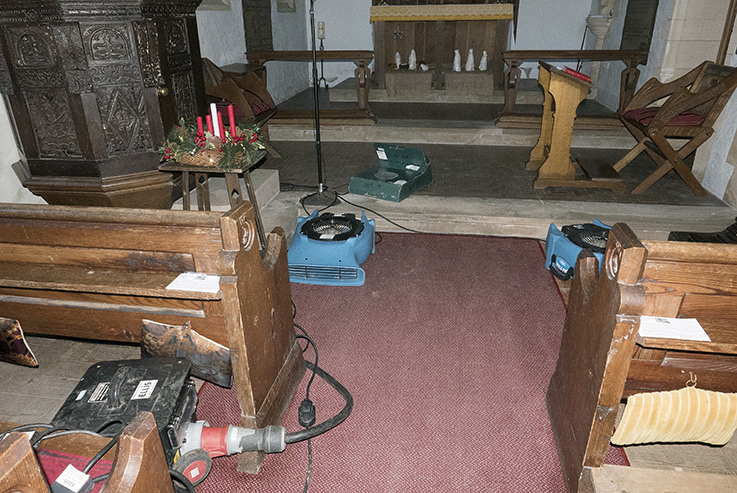 Once the water flow had been brought under control dehumidifying equipment was quickly installed to start the drying out process which is expected to take many weeks.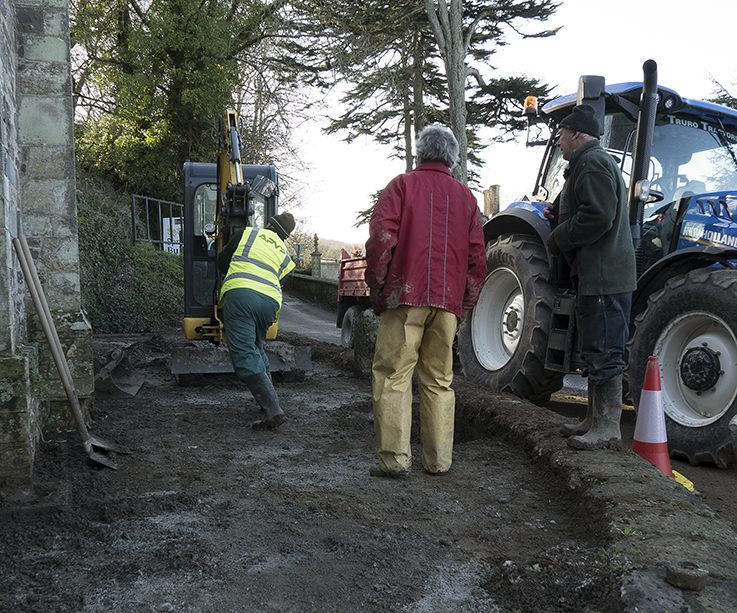 Work continues to improve drainage and tidy up the damage. Heavy-duty equipment has been brought in to improve drainage.
---
Woman Driver's Dashcam Captures Speeding Driver Overtaking Her on A390 in Tresillian – 03 December 8.05pm
Tuesday, December 3rd at 8.05pm. A woman driver was constantly, closely tailgated with headlights reflecting in her rearview mirror after she had slowed down when entering the Truro end of Tresillian village to abide by the 30mph speed limit. Her dashcam captured the driver overtaking her vehicle and speeding away very fast into the distance just a few seconds later passing Manor Cottage.
---
Road Traffic Accident in Tresillian 03 December 2019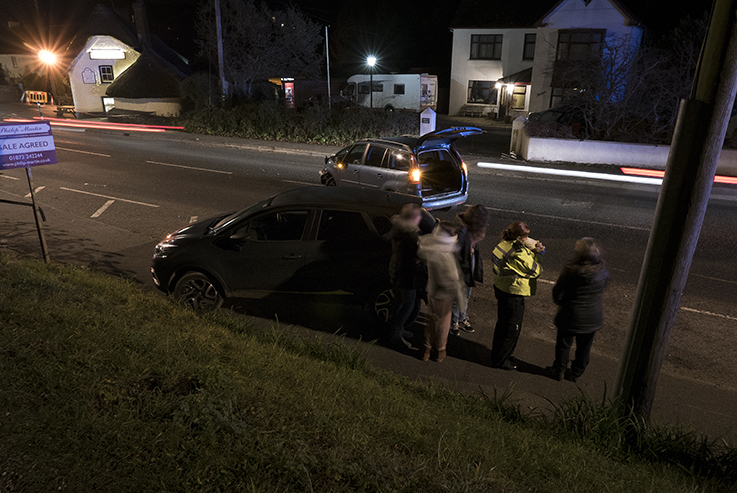 Photo © Keith Littlejohns.
At around 4.45pm this evening there was a RTA between a number of vehicles on the busy A390 outside Primrose Cottages, not far from the Wheel Inn public house. Police and ambulance services attended the incident, but there are no reports of any serious injuries. Traffic in both directions along this regularly busy stretch of the A390 slowed to a snails pace as commuter and local traffic backed up for several miles in both directions.
A member of the local community who was one of the first on the scene assisted in managing traffic past the damaged vehicles that were blocking the road.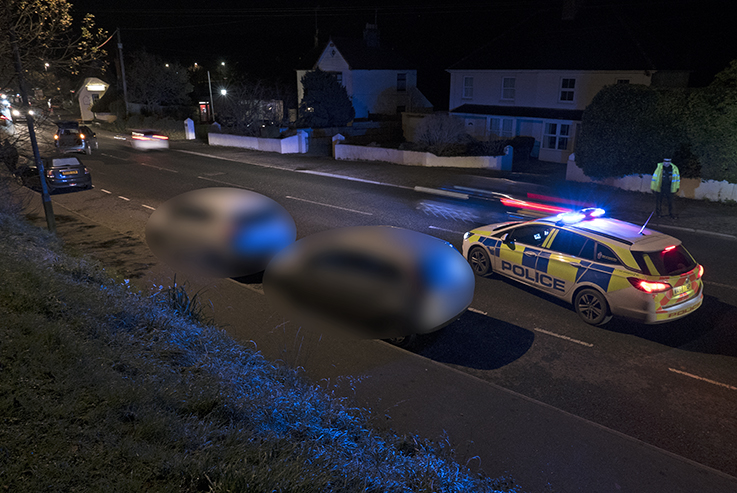 Photo © Keith Littlejohns.
Police who questioned drivers say they are trying to ascertain how the accident happened.
---
BT Public Telephone Box Consultation – Consideration of Removal
BT are currently engaged in public consultation regarding their intention to consider removing the public telephone box in Tresillian village beside the A390, opposite Millcot and Watersmeet. The consultation period will end on 09 February 2020.
BT records show that within the previous 12 months just one call was made from this telephone box.
Any objections from members of the local community can be sent to the Parish Clerk, St Clement Parish Council (contact details are on the St Clement Parish Council page under the Community tab).
Any objections to the removal of the telephone box require an explanation as to why it should not be removed.
---
Polsue Way Road Undermining Relating to Planning Application
PA17/00998/PREAPP (Ed.
Please note this is a corrected application reference
)
– [Ed. See also News Update 30-01-2020]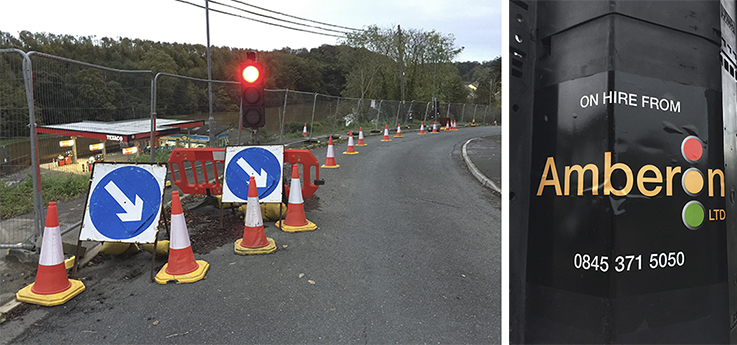 Photos: © Keith Littlejohns
The Heron Close/Polsue Way embankment debacle continues month after month without any idea of when the situation is likely to be suitably resolved which is making a number of local residents understandably very concerned.
Nobody wants to see a repeat of the tragic circumstances that surrounded the serious road collapse caused by land erosion due to heavy rainfall which blighted a community in Looe during March 2013 for several weeks. It emerged after that event that a 60 page document concerning safety had been handed by residents to Cornwall Council some two months before the landslip occurred.
Useful contacts and information sources:
Cornwall Council Website – Planning Applications
http://planning.cornwall.gov.uk/online-applications and enter PA17/00998/PREAPP in the search box.
Cornwall Council Website – Report/Track an issue
Not as easy to locate as it used to be. First go to website home page, click on 'Report something' rectangle and search links for 'Road Surfaces', then 'track an issue' giving Works Ref UF999HEDH/HERON/GP. However, this only returns a message 'No problem found…', so is pretty useless.
A little bit better solution is to follow the CC website links through 'Home / Transport and streets / Roadworks' and give a location for a map, them move around the map until you find the spot marked on Heron Close/Polsue way. However, again, although it does at least give an explanation the information provided is pretty scant.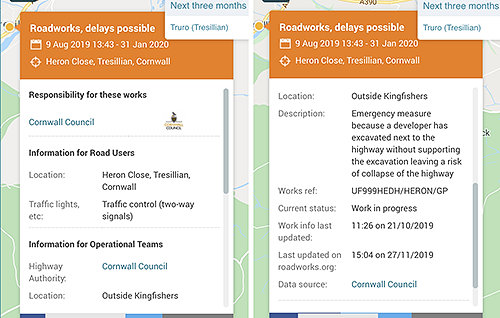 Finally, you cold try contacting Cormac directly but you will likely be bounced back to Cornwall Council as the provider of this information.
If you don't already have it to hand, the number to call if you notice the traffic lights are not working is 0845 371 5050.
---
Road Traffic Accident A390 Tresillian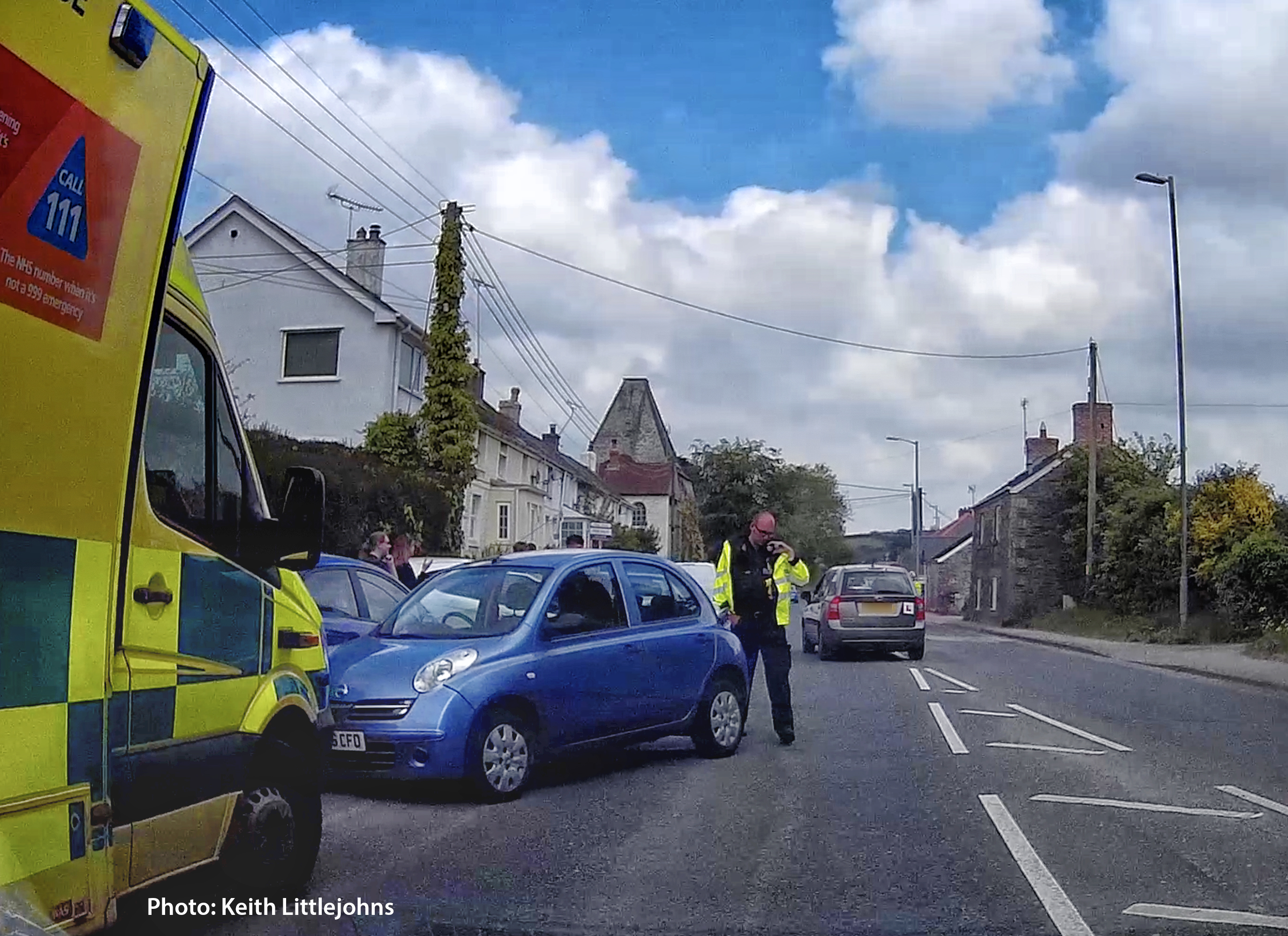 Three vehicles were involved in a road traffic accident sometime after 1pm on Sunday, 19th May 2019 on the A390 close to Bonecellars Row, Tresillian. Emergency service vehicles in attendance were an ambulance, a fire appliance and a police van. Traffic flow through the village was restricted for a period of time with traffic backing up in both directions. Injuries and cause of the accident is not known at this time.
---
Tresillian Wildlife Articles (Steady on! Not that kind of wild life) – Various Contributors – Check out latest items added by following the Wildlife & Natural History Page link below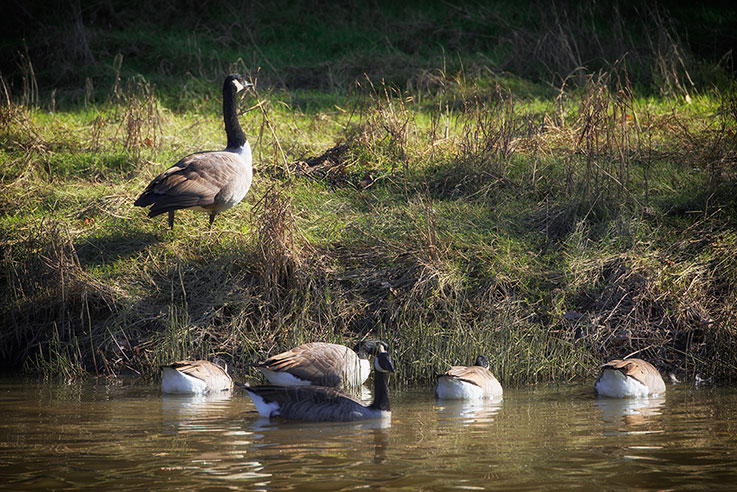 Photo: © Keith Littlejohns
Wildlife articles can be accessed by visiting the Wildlife & Natural History Page and selecting the relevant year link at the bottom of the page. The Tresillian website welcomes any stories or photos of your wildlife/Natural History observations in Tresillian and its close environs. Hedgehog, bird or any other wild animal sighting or naturalised flowers or plants of interest that catch your attention. We would love to hear from you. Just get in contact via our Contact page and we will be back in touch with you about your story/photos.
---
Tresillian Photographic Archive Project – Keith Littlejohns
I am proposing setting up an organised collection of photographic images for our village that, hopefully, will remain as a permanent unified digital archive of life in Tresillian through the decades for future generations to have available.
Building this archive relies heavily on source material being forthcoming. To that end I am asking residents of Tresillian (or known past residents that have moved away but may have some suitable images) to make contact with me regarding the loan of images so that I can make professional scans and return the original prints or negatives to the owner.
This could turn out to be a quite substantial task and as a result I am expecting the building of the archive to be split into phases. For the initial phase I will be concentrating solely on gathering together a collection of older images from very early days up to and including 1979.
If you think you may have some suitable photographs I can be contacted via the village website by emailing me using this website's Contact page. There is no need to go into great detail at first as I will make contact to talk about any images you consider may be of interest. I'm really only looking to archive images that have recorded village life and how it has evolved through time. Eventually, as time allows, I will add more modern images from 1980 onwards to take the story forward.
If possible, it would be very useful if you have information such as dates (roughly will do), names of people or locations or any other details you think may be of interest. If you don't yet use email, please do ask a friend or neighbour to make contact on your behalf as old images are of particular interest for this first phase.
Cllr Keith Littlejohns
---
Tresillian's Missing Milestone – An Ongoing Story
As a person fascinated by local history I could not resist picking up from Chris Clarke's excellent article published in the spring 2017 edition of TRAM Magazine regarding Tresillian's missing milestone. His article stimulated me into taking up the challenge of conducting further research myself.
Using additional information kindly supplied to me by village resident Lewis Mitchell, which he found on an old 1960 edition Ordnance Survey map, a distinct reference point has now been established. The Tresillian milestone's position is marked on the OS map by the usual very small black dot accompanied by the letters MS, albeit slightly masked by a black circular graphic. Using my own copy of the same map, OS SW 84 Truro 1:25,000, I was also able to confirm the exact location.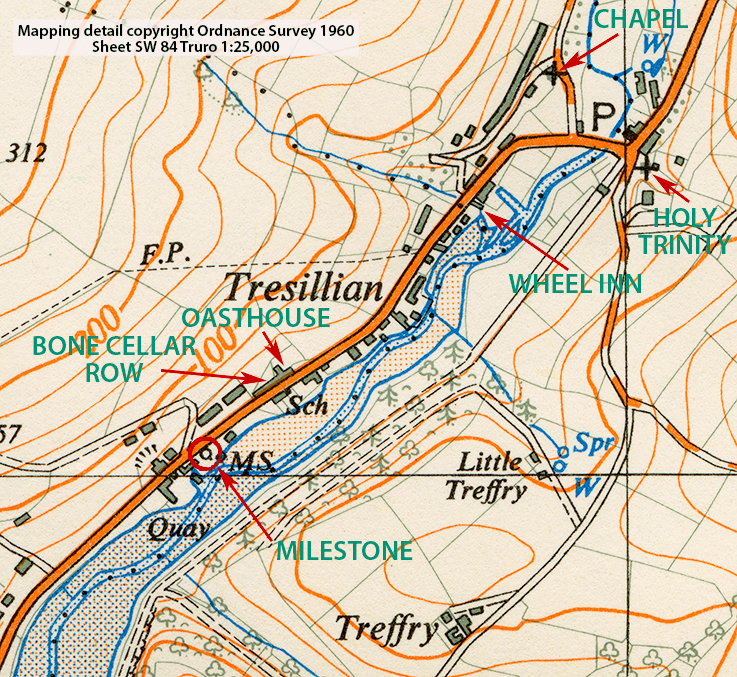 By cross referencing this data with Cornwall Council's excellent online Interactive Map website I was able to double check the exact position where the milestone once stood, or at least close enough given the disruption created by the 1960s A390 road widening/levelling scheme and adjacent change of land-use. Both the 1960 OS map and CC's Interactive Map show the location as being on the south side of the A390 where the current Audi dealership is situated.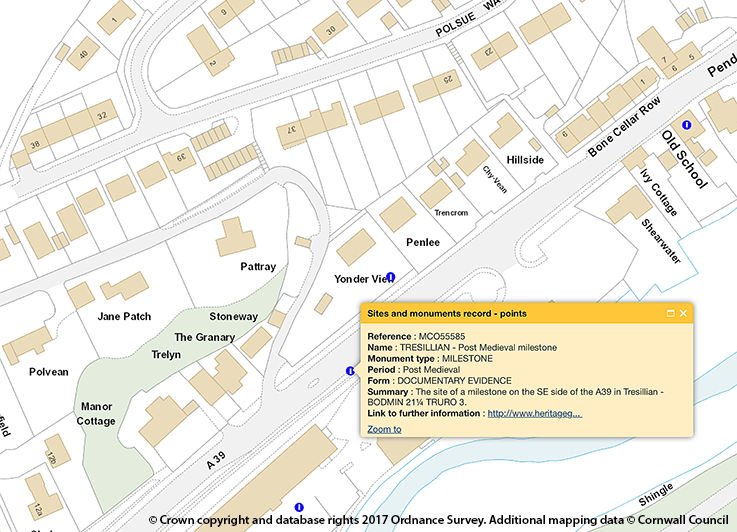 Thanks to information also gleaned from the CC Interactive Map a detailed Cornwall & Scilly Historic Environment Record (HER) reference reads as follows:
HER Number:
MCO55585
Name:
TRESILLIAN – Post Medieval milestone
Summary
The site of a milestone on the SE side of the A39 in Tresillian – BODMIN 21¼ TRURO 3.
Grid Reference:
SW 8635 4604
Parish:
St Clement, Carrick, Cornwall
Protected Status: None recorded
Other Statuses/Codes: none recorded
Monument Types
Milestone (Post Medieval – 1540 AD to 1900 AD)
Full description
A milestone is recored on the SE side of the A39 in Tresillian, on both the 1st Edition 1:2500 OS map, annotated TRURO 3 BODMIN 20, and on the 2nd Edition 1:2500 OS map c1907 annotated BODMIN 21¼ TRURO 3. The milestone is not recorded on the modern OS Mastermap 2010, suggesting it has been lost, possibly due to road alignment alterations in the C20.
Associated Finds: none recorded
Associated Events: none recorded
Related records: none recorded
So, a milestone clearly did exist inside the village at a point along its main highway outside the current Audi dealership. Interestingly, the CC Interactive map has the A390 labeled as A39 at that point (note, must make CC aware of the error).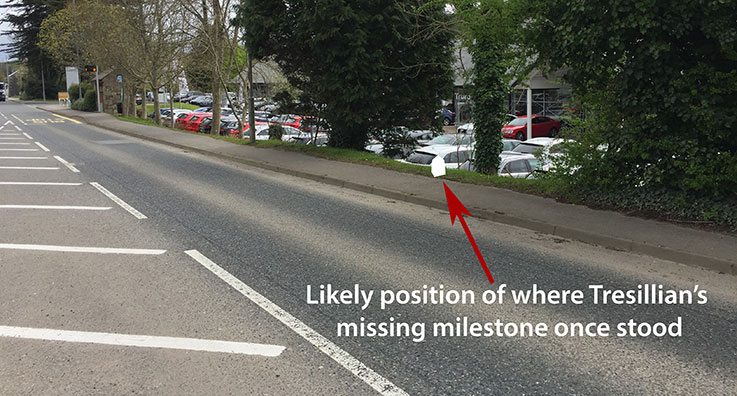 Photo: © Keith Littlejohns
I have recently placed a request with our local parish council asking if, in the light of information now currently available, the possibility of the missing milestone being reinstated could be raised at a parish council meeting and that it could be pursued using the offices of the parish council.
Let's hope that Tresillian's missing milestone can either be found languishing in a council yard somewhere and reinstated, or that a replica can be produced using information recorded by C&S's HER database so that our village's milestone is no longer the only one missing in the chain of 12 historical milestones that run from Truro to Braddon.
If anyone has any more information or knowledge they think would be helpful or interesting regarding the missing milestone then please do contact me using the contact form on this site and I will publish it online as part of this continuing fascinating story. If you wish to receive emailed alerts as soon newsworthy items about village life are published online you can subscribe to the website for free using the box provided at the bottom right of most pages on the site.
Incidentally, most milestones you'll see date from the 1700s or later, when new Turnpike roads were legally required to have milestone markers. It meant passengers and goods carried on the stagecoaches could be charged standardised rates for the distance they travelled. You'll also see plenty of milestones along canals, also used to calculate how much people would be charged for moving their goods by barge.
Further news about the missing milestone will be added as soon as it becomes available.
Keith Littlejohns
---