Tresillian Christmas Tree Lights – Switch On 05 December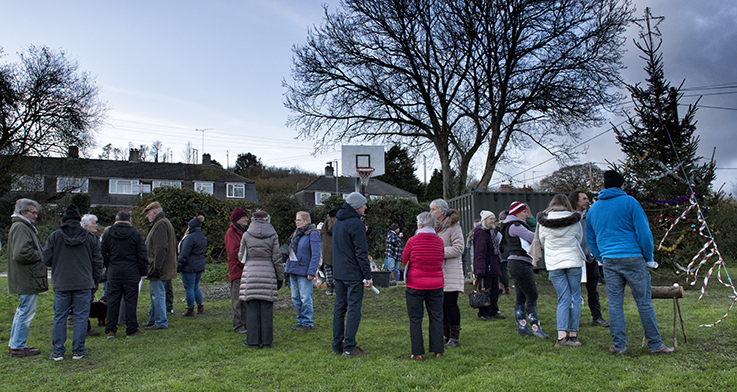 There was a good turnout at the Playing Field on Sunday 5th December to see the official switching on of the Christmas tree lights. Activities started at 3pm with mince pies, mulled wine and an invitation to make a reindeer!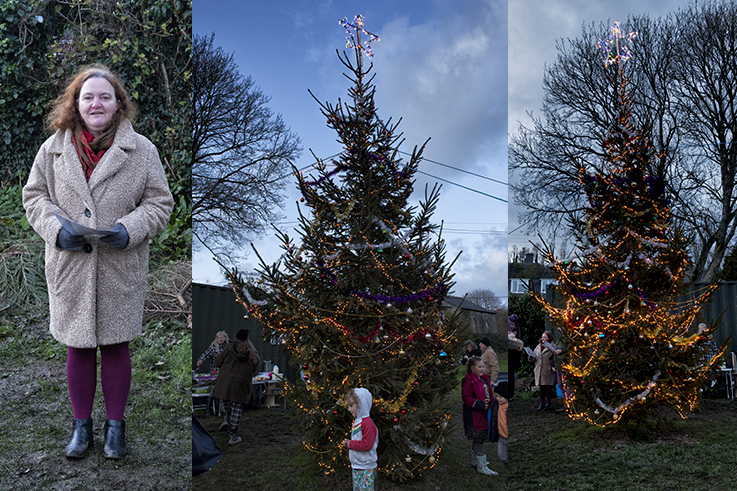 As the afternoon turned to dusk Cllr Karen Glasson, our recently elected Cornwall Councillor, carried out the switching on countdown ceremony at 4.30pm.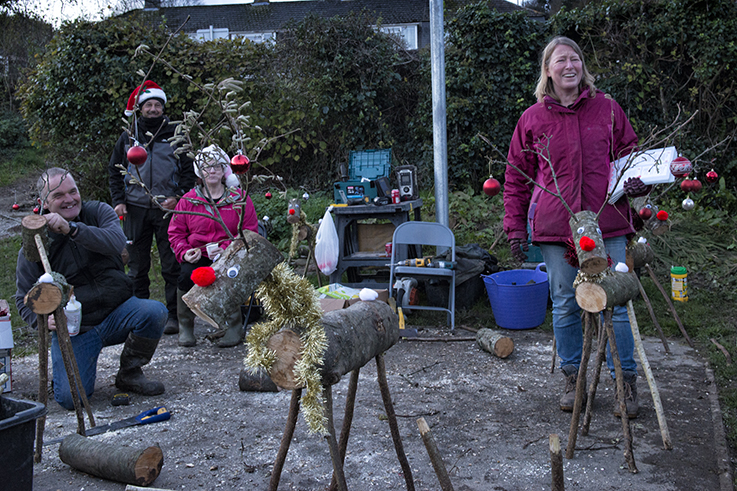 Helen Nicholson then led the singing of Christmas carols, with Andrew Tullett tending the assembled reindeer.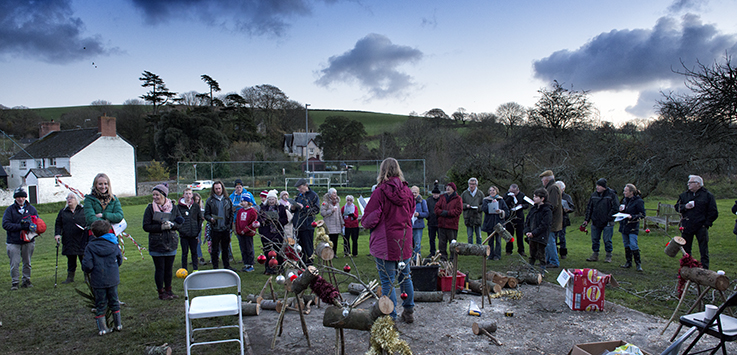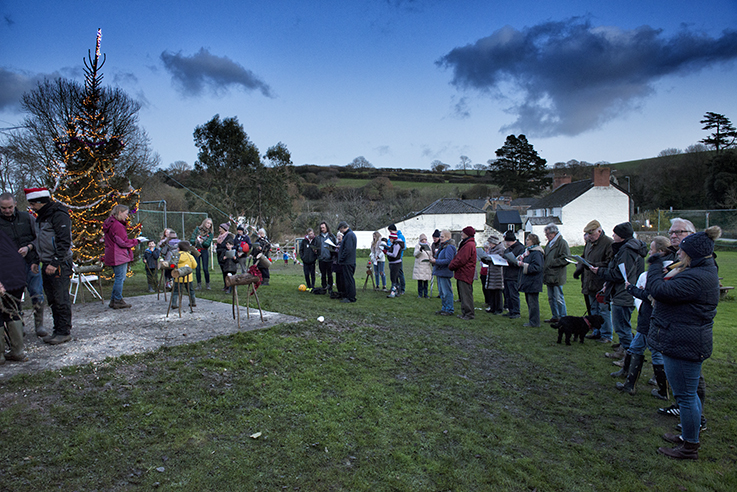 All Photos © Copyright Keith Littlejohns
---
Good News! – The Wheel Inn Will Be Open Again Before Christmas
Standing defiantly juxtaposition the modern A390 highway the Wheel Inn has for over 400 years been the centre of village life, not forgetting earlier drinking and hospitality houses that are reputed to have existed on this site possibly dating back some 600 years. During the hundreds of thousands of conversations that will have taken place throughout the centuries over a pint, or more of ale one can only speculate as to the content of wide ranging issues of day to day life that must have passed between those engaged in hearty chatter in the comforting environment of the Wheel Inn.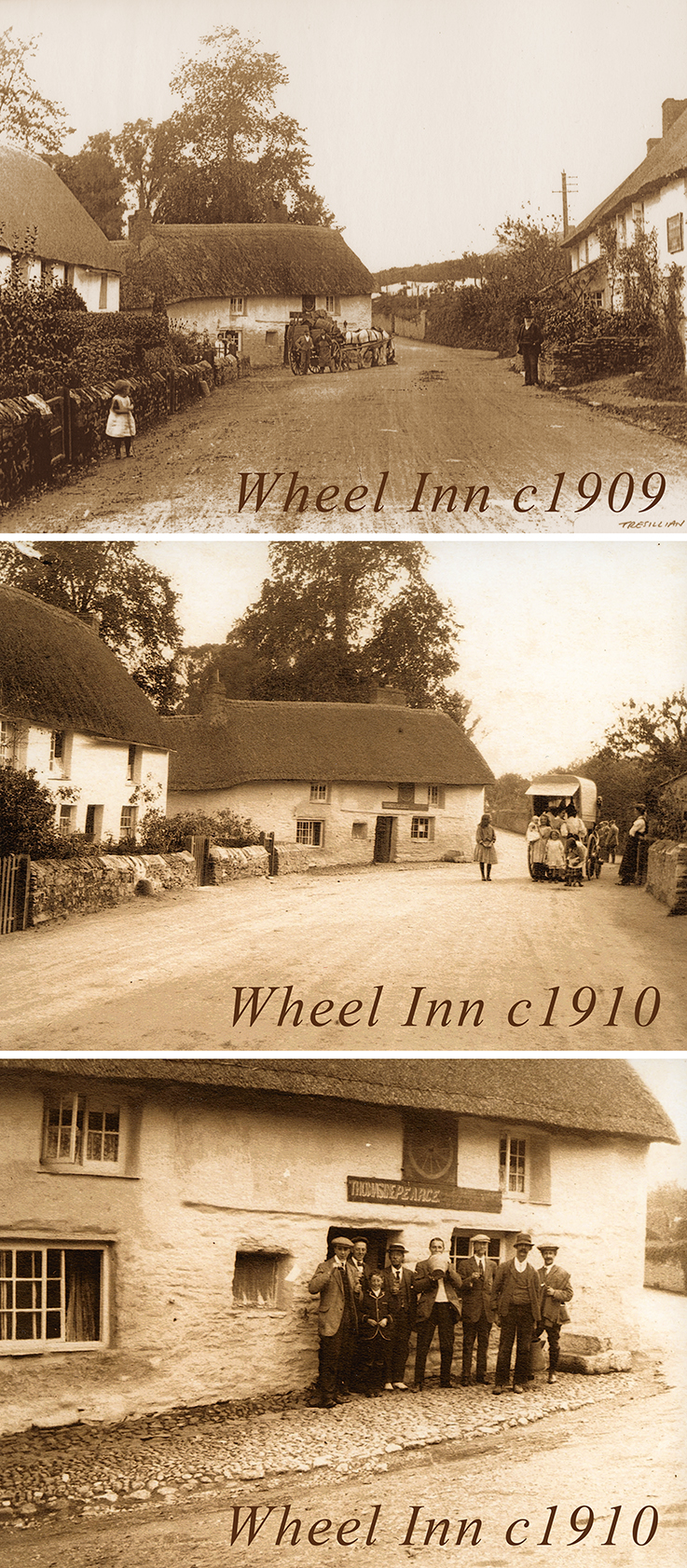 Now, all being well, after 18 months of modern day closure brought on by the 21st century Covid-19 pandemic this popular pub is due to reopen before Christmas 2021 following a major refurbishment.
As would be expected with such heritage several people are known to have been born at the Wheel Inn. The last of whom is a previous local parish council Chairman, Graham Ellis who still lives elsewhere in the village and is a prime candidate to play a part in the reopening celebrations.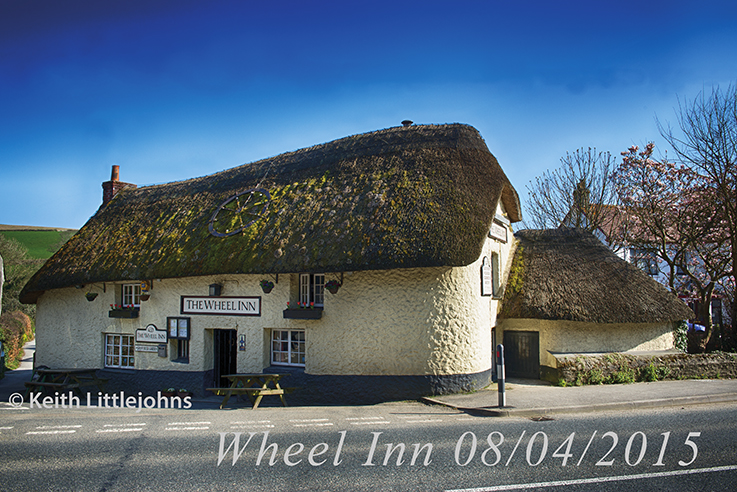 Above Photo © Copyright Keith Littlejohns
Chef, Neil Wager, has taken on the leasehold which during his tenure is expected to see some further developments with plans to add additional facilities in stages.
The first phase will concentrate on reopening the Wheel Inn as a venue for good quality food and drink. This is due for completion in the lead up to Christmas.
The second phase, subject to planning permission being granted, is to extend facilities by demolishing the garages at the rear to be replaced by a larger more modern, better equipped kitchen. This important upgrade will considerably enhance the culinary preparation and cooking area enabling staff to serve a greater number of covers. Also in the pipeline are new al fresco dining areas in the riverside garden. These will be in the form of several seated areas, each with a canopy and mostly open sides where diners can appreciate the riverside environment whilst enjoying their meal and drink. Other envisioned new installations are an outside bar and barbecue. There is also the possibility of using the Inn's upstairs rooms as B&B accommodation. All of this will, of course, be subject to permissions being granted. Brendon and the refurbishing crew are currently working hard to complete phase one for a reopening in mid-December.
Neil is well travelled being a working chef in resorts in Asia and Africa. More recently he ran the popular Dokke restaurant at St Katherine's Dock in London and is just about to open a fish restaurant in the city called Off The Hook. During his time as a chef Neil has also spent several years working in Cornwall where he has family, and has worked at the Alverton as well as hotels in Portscatho and Falmouth which is why he is so enthusiastic about his new Cornish venture in Tresillian. Neil's plan is to source quality meat, fish and produce from within a 30-mile radius of Tresillian, and is a clear indication that he wants to be a champion of great Cornish food and drink that the county has an abundance of.
I'm sure the whole village is behind Neil wishing him well with his endeavour in reopening our popular local hostelry.
Keith Littlejohns
Tresillian Village Website
© Copyright Keith Littlejohns
---
Tresillian's Annual Ceremony of Remembrance – Sunday 14-11-2021
On a misty Cornish autumnal Sunday morning more than 50 villagers attended a ceremony of remembrance for the fallen at Tresillian's war memorial in the Playing Field. Despite the damp, misty conditions the 2021 ceremony of remembrance drew one of the largest gatherings of recent years.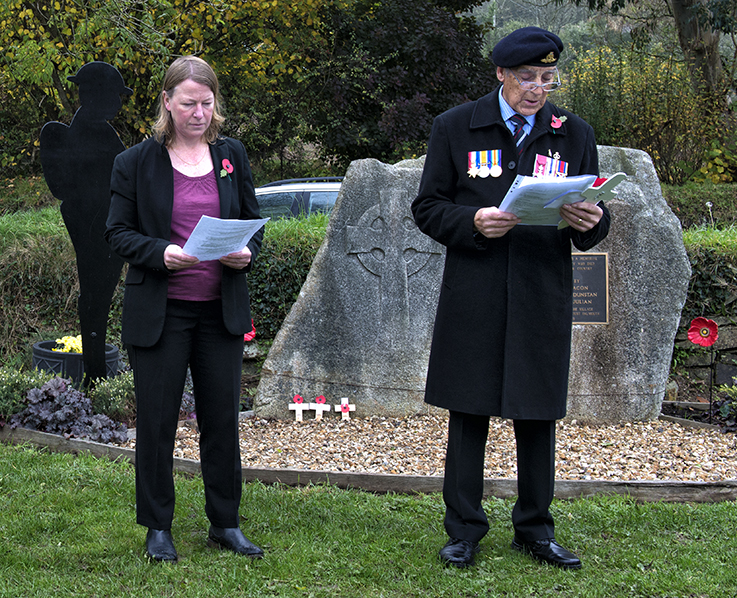 Helen Nicholson [Left] gave the welcome address followed by a prayer of remembrance for those who made the supreme sacrifice for us all. This was followed by Leslie (Les) Sutton [Right] reading out the names of WWI fallen as commemorated on the war memorial, who were part of our local community. By way of a new innovation this year, Les also read out names of members of our armed forces lost in any military conflict since WWI and who's relatives are resident in our village community today.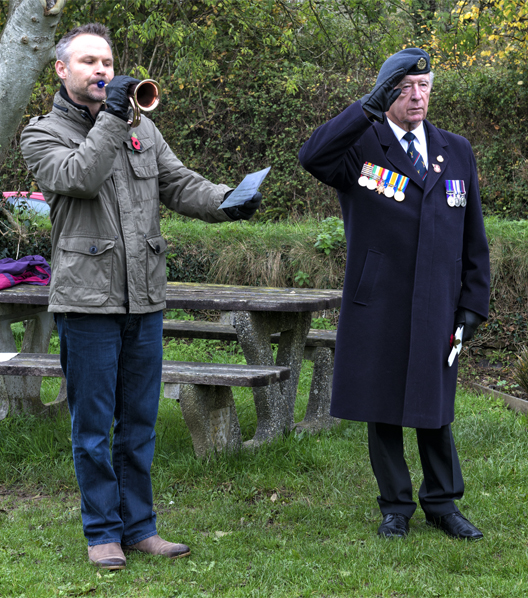 Bob Scott [Right] read aloud the familiar 4th stanza from Laurence Binyon's 'The Fallen' as adopted by the Royal British Legion as an Exhortation for ceremonies of Remembrance to commemorate fallen Servicemen and women:
"They shall grow not old, as we that are left grow old:
Age shall not weary them, nor the years condemn.
At the going down of the sun and in the morning
We will remember them."
Buglar, Dan Beacham [Left] then preceded a two minutes silence by sounding Last Post, after which he sounded Reveille to bring the customary period of respectful silence to a conclusion.
Bob Scott then read aloud the words immortalised on the Kohima Memorial inscription:
"When you go home, Tell them of us and say, For your tomorrow, We gave our today".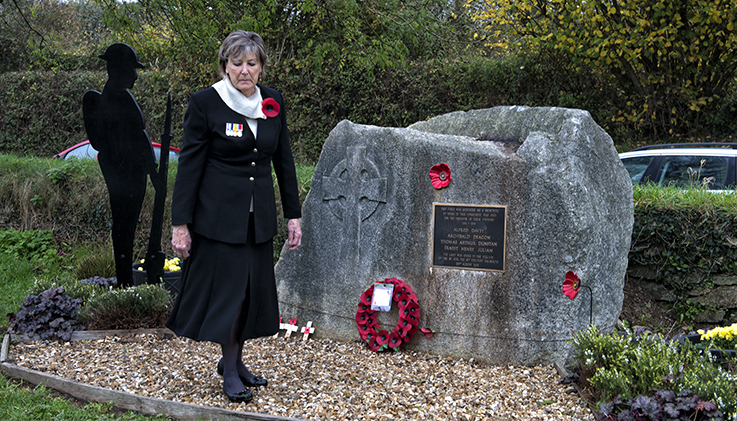 Lesley Dobel led the wreath laying and acknowledged the wreath.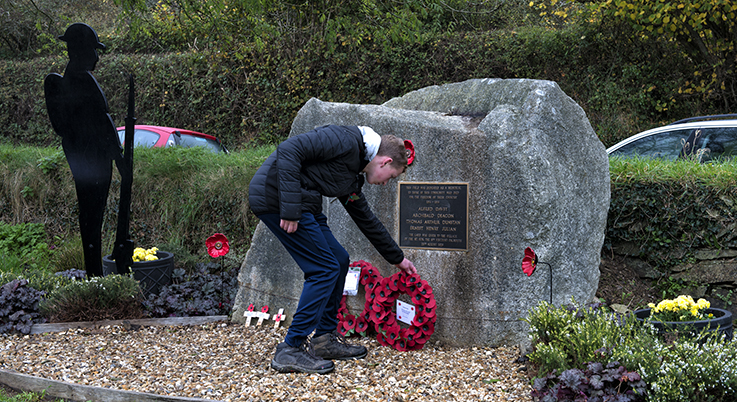 A second wreath was laid by Isaac Nicholson before acknowledging them both.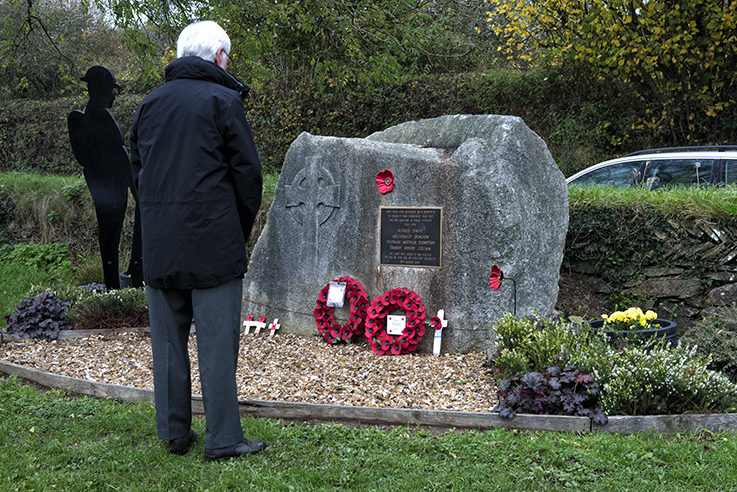 Roy Owen also acknowledged the wreaths.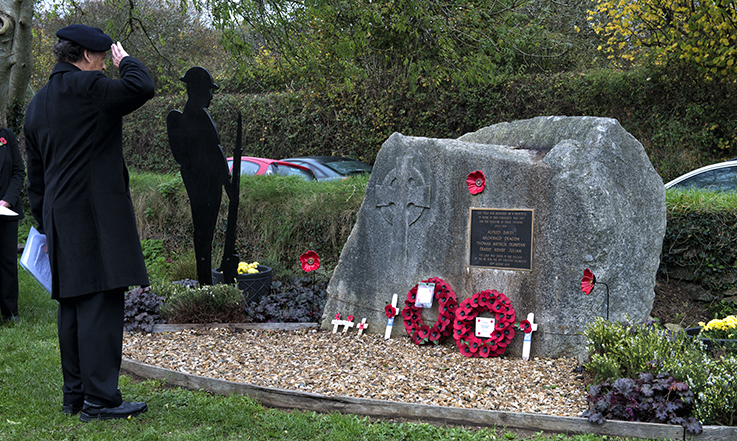 Les Sutton also acknowledged the wreaths.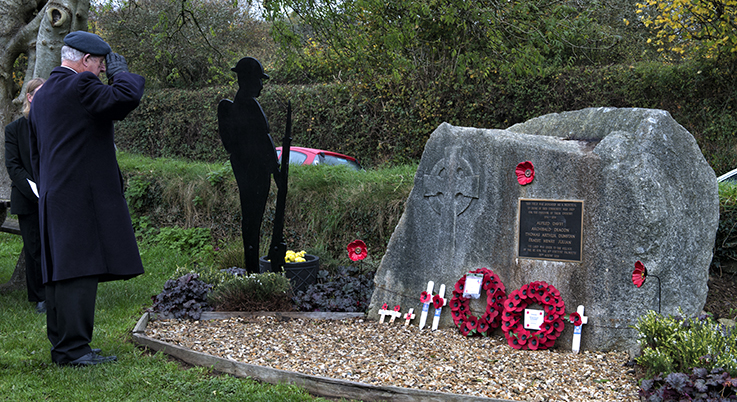 Bob Scott also acknowledged the wreaths.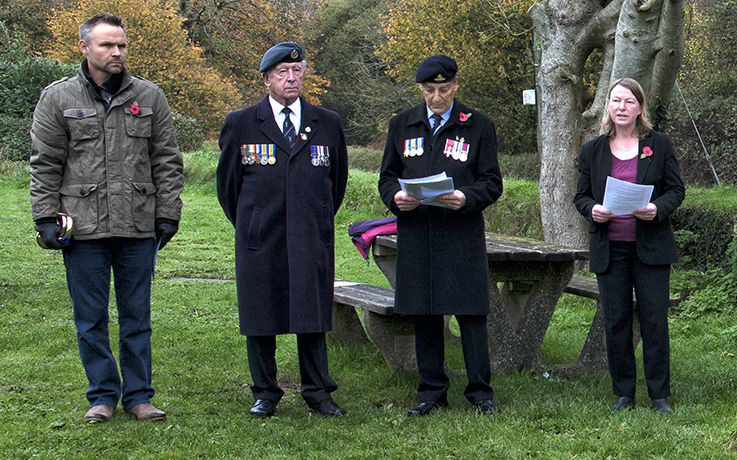 Helen read prayers, including the Lords Prayer, followed by a blessing and thanking of those who chose to turn out before closing the ceremony.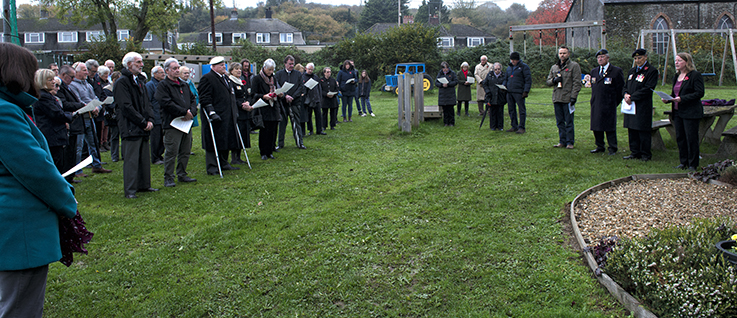 At closure there were more than 50 villagers gathered in the field next to the war memorial, many of whom are in this photo with others standing just out of view.
All photos are © Copyright Keith Littlejohns
---
Tresillian's Annual Ceremony of Remembrance – 2021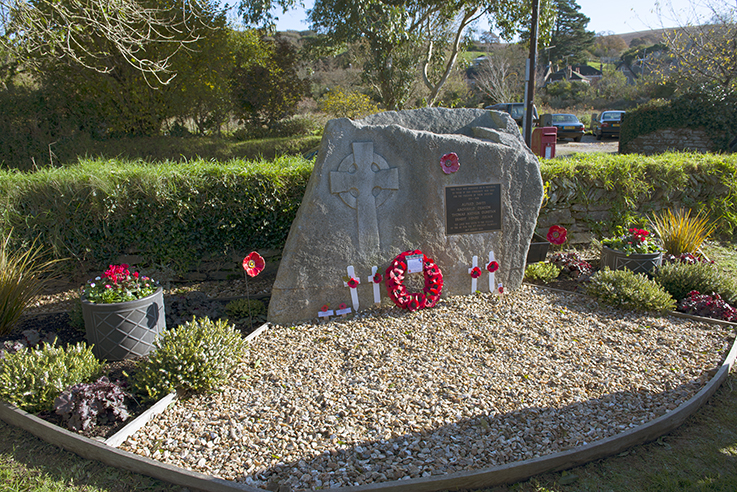 This year's annual Ceremony of Remembrance in Tresillian will take place at the Playing Field, by the War Memorial at 11am on Sunday, 14th November. Please begin to gather in the field at least 20 minutes to half an hour before the ceremony commences so as not to miss any of the proceedings.
As part of this year's ceremony, in addition to the names inscribed on the war memorial, Leslie Sutton is willing to read out names of the fallen for all conflicts who were members of families that are now currently living in our village community irrespective of where they originated from.
Leslie says "If there are any residents who have lost family members in either of the two World Wars or any conflicts since and would like me to make mention their names, providing they can let me have some details i.e. Full Name, service number (if available) Rank, Regiment/ Navy/Army/RAF, Date of death and age, I would be happy to do so." Don't worry if you have not got all of this information, as long as you have their name and some of their details as suggested this will be sufficient.
---
South West in Bloom 2021 – Award for Tresillian
Tresillian Village has achieved a SILVER GILT Award in the Mary Mortimer Trophy, South West in Bloom. Congratulations to all involved.
More details to follow.
---
Tresillian Village Hall – Good news!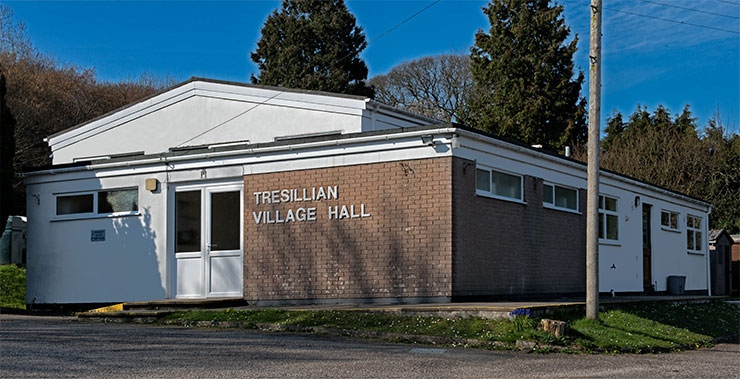 Thankfully, our village hall now has a full team to administer the day-to-day running of the hall.
---
Tresillian Village Hall May Have To Close – September 2021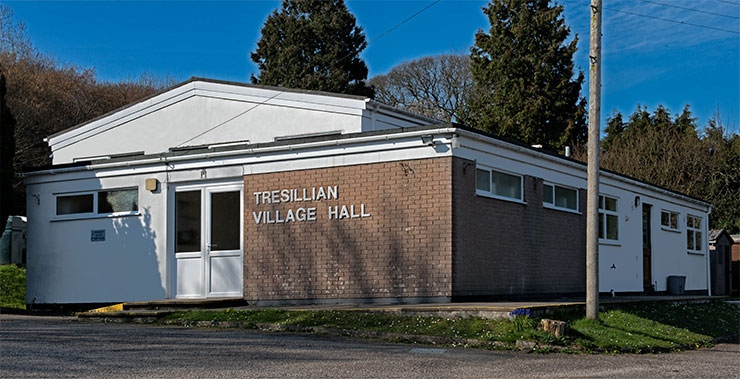 The Tresillian Village Hall Committee met recently, to discuss the future of TVH that has been running with very few members of the committee for the last month. Our Letting Secretary has been ill and cannot return to duties, and our Treasurer is currently in hospital serious ill. Deputies have temporarily stepped in to administer both these roles, but we have no back up.
The remaining committee members are hoping that we may be able to attract new members to serve on the committee, who have the knowledge and the time to help with these roles, particularly appointing a Treasurer and Letting Secretary.
Should we be unable to find willing volunteers to join the TVH committee, we regret that we will be unable to run the Hall in 2022 and will have to close it down at the end of December 2021.
---
Cornwall Air Ambulance Lands in Tresillian Field – August 25
Around 7.30pm, Wednesday 25th August a Cornwall Air Ambulance landed in a field at Mill Farm whilst on call to attend a patient in Fairfax Road. The helicopter pilot had to circle the area a few times before finding a safe place to land due to the undulating local terrain and plethora of power lines, trees and other obstacles.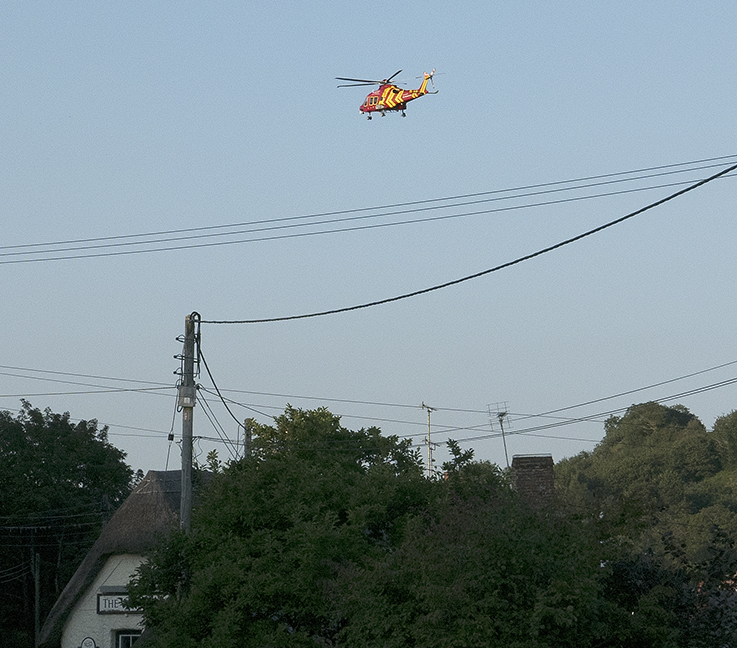 Photo: © Keith Littlejohns. Cornwall Air Ambulance circling around over the Wheel Inn searching for a safe landing place.
The field was occupied by a small herd of cows that seemed bemused at having the 'copter as temporary company.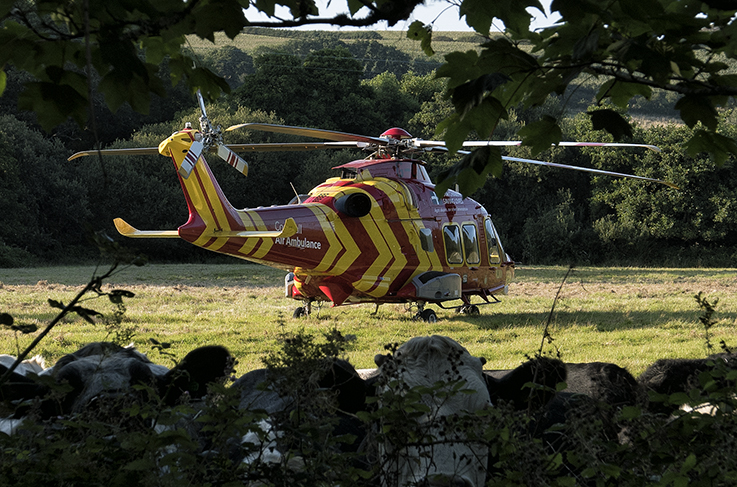 Photo: © Keith Littlejohns. Typically curious bovines behind a field boundary hedge at the bottom of photo looking at the photographer taking photos of the helicopter.
Photo: © Keith Littlejohns. The bemused herd encircling the helicopter for a closer look. The small figure of the pilot dressed in black can just be seen at centre left of the photo walking towards her aircraft.
---
St Clement Parish Neighbourhood Plan – Result of Referendum held on Thursday 15th July 2021
94.15% in favour, 5.85% against.
I do hereby declare that more than half of those voting have voted In favour of the St Clement Neighbourhood Plan
Claire Jenkin
Deputy Counting Officer for Cornwall Council
Electorate: 934 Ballot papers issued: 188 Turnout: 20.12%
Dated: 15 July 2021
---
Vote, Vote, Vote – St Clement Parish Neighbourhood Plan Referendum – Thursday 15th July 2021
What will your neighbourhood look like in 20 years' time?
For a number years St Clement Parish Council has been consulting with local residents at several open public events across the parish to help formalise a coherent Neighbourhood Plan covering the whole of the parish.
After a year's delay, due to covid-19, the time has come for residents of St Clement Parish to have their final say by voting for or against the proposed plan by way of a referendum.
A downloadable document containing the entire vision of the plan can be found HERE at the official St Clement Neighbourhood Plan website with further general information HERE.
Residents of the parish will already have received their official voting card as issued by Cornwall Council.
---
Tribute to Shirley Tullett
The Tresillian Village website would like to draw your attention to an article published in Truro Voice by well known local broadcaster and journalist Laurence Reed. Laurence writes sensitively about the untimely passing of Tresillian resident Shirley Tullett due to Covid-19 and the effect it has had on her family, and in particular her son Andrew who is a well known local garden maintenance businessman.
Local residents will no doubt be aware that there is a memorial to his mother Shirley in the Playing Field, Tresillian.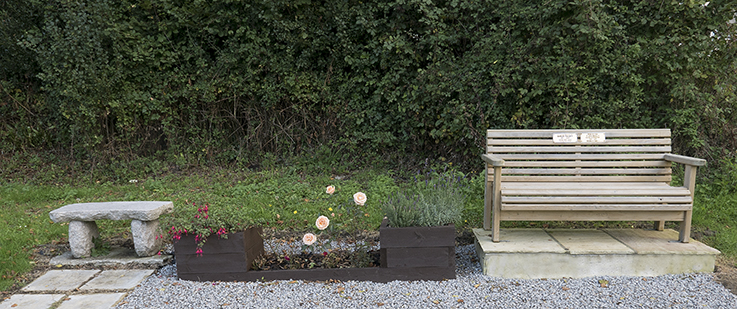 The article ends with a poignant reminder. Andrew says "He hopes his story is a stark reminder that we all have a responsibility to do the right thing. Even if the jab makes you feel unwell for a week, so be it." The full article is published in Truro Voice, May 19, 2021available at all good newspaper outlets.
---
International Day for Biological Diversity

The United Nations has proclaimed May 22 The International Day for Biological Diversity (IDB) to increase understanding and awareness of biodiversity issues.
The Secretariat of the Convention on Biological Diversity is pleased to announce the Biodiversity Day 2021 slogan: "We're part of the solution". The slogan was chosen to be a continuation of the momentum generated last year under the over-arching theme, "Our solutions are in nature", which served as a reminder that biodiversity remains the answer to several sustainable development challenges. From nature-based solutions to climate, health issues, food and water security, and sustainable livelihoods, biodiversity is the foundation upon which we can build back better.
Given the ongoing COVID-19 pandemic, Biodiversity Day 2021 will be commemorated through an online-only campaign. You are in the best position to know what awareness-raising campaigns and calls to action are feasible at your national level.
https://www.facebook.com/UNBiodiversity
---
Daffodil Labyrinth Created in Tresillian Churchyard
A daffodil labyrinth has been created in Tresillian Churchyard by Andrew Nicholson from Random Acts of Wonder. The installation was commissioned by Tresillian and Lamorran with Merther PCC and features more than 2,000 daffodils. The labyrinth is 18 metres in diameter using six different varieties of bulb from Fentongollan and is now in full bloom. A labyrinth, unlike a maze, has no dead ends and features a single meandering path to the centre, designed to take you on a symbolic journey. Labyrinths are common to a number of ancient cultures and have been used in the Christian tradition for prayer and contemplation for many centuries. The most famous example is the labyrinth in the medieval cathedral of Chartres in France.
The aim of this project is to provide a beautiful space where people have time to reflect as they follow the meandering path through the daffodils and journey to the centre. Over Easter, Andrew has added a guided reflection linking the events of Easter with people's experience of living through Lockdown and Covid 19 during the last year.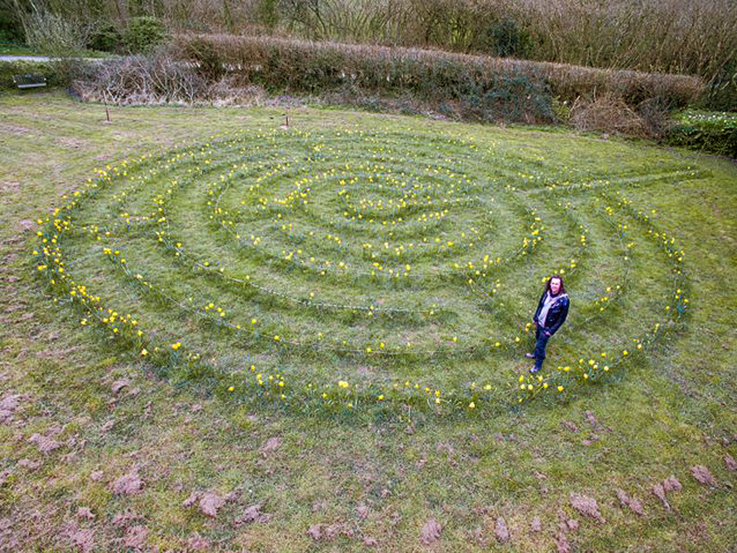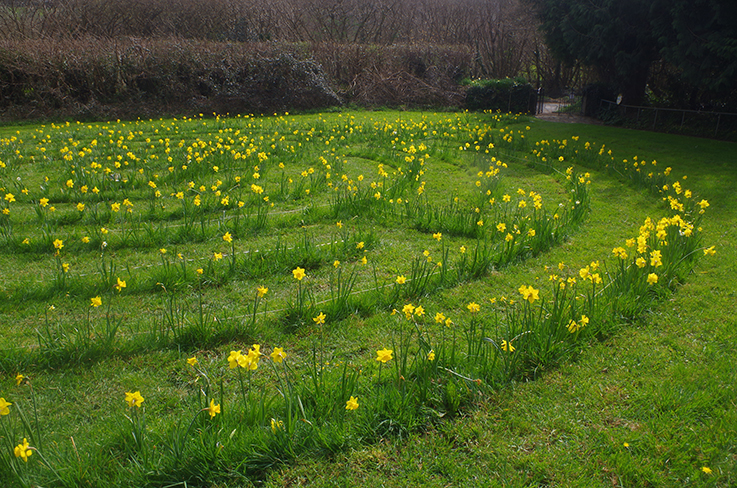 Top Photo: Andrew admiring his work © Sam Herbert from Camel Valley Creative
Bottom Photo: © Andrew Nichoilson
Andrew has been creating labyrinth installations for over ten years, mainly on beaches in Cornwall, which are walked as a means of contemplation. Over 7,000 people have participated in walking these symbolic journeys, with many sharing how valuable they found the experience. He set up Random Acts of Wonder two and a half years ago with the aim of resource churches, schools and the wider community with a dynamic programme of spiritual and well–being based activities and events. This is his first daffodil labyrinth. More of Andrew's labyrinth work can be found on https://www.facebook.com/beachlabyrinth/
Andrew Nicholson: andrewnicholson@resource24.net
RANDOM ACTS OF WONDER!
---
February – Tresillian's Wheel Inn Reopening

UPDATE!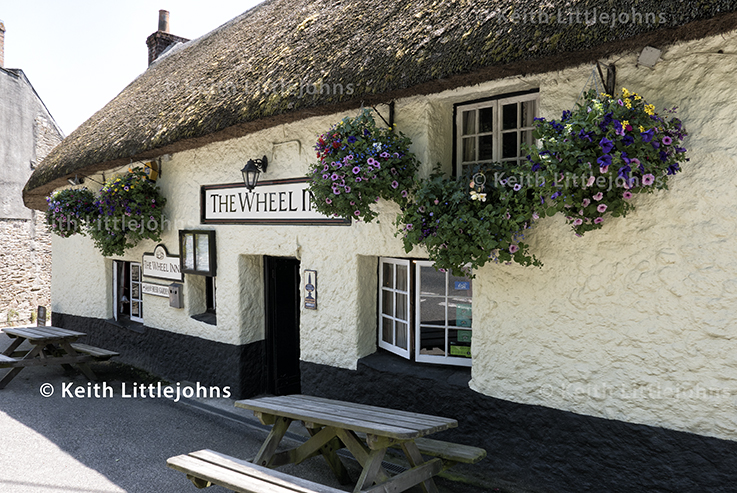 Photo: © Keith Littlejohns.
Sadly, Tresillian's last remaining public house/restaurant, The Wheel Inn will not be reopening as has been expected. It has been reported that failure of the eagerly anticipated reopening is due to acrimonious disagreements and recent comments posted online by prospective new tenants. Tregothnan Estate Director, Darran Goldby has stated that estate agency, Miller Commercial has been appointed to place the business back on the market. The premises as listed on the Miller Commercial website is available by way of a new full repairing and insuring lease at a commencing rental of £20,000 per annum with all other terms to be agreed, subject to an ingoing premium of £10,000 for the Fixtures & Fittings.
---
February – Tresillian's Wheel Inn To Reopen in Spring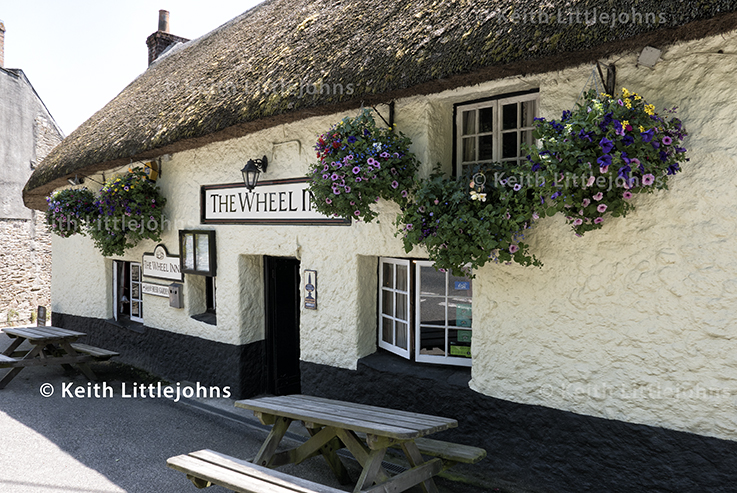 Photo: © Keith Littlejohns.
Tregothnan Estate general manager, Darren Goldby has announced that the intention is, and always was subject to government COVID-19 restrictions to reopen the grade II listed Inn. Discussions are already taking place and it is hoped it will be able to open its door again in the spring.
There is in item about the Wheel Inn's connection with the English civil war in the History section of this website, midway down the History page.
---
February – Tresillian Business Receives Substantial Business Investment
Local Tresillian business, Grinding Solutions has received a £20,000 plus investment from BIG Productivity to help fund the purchase of new equipment. The company runs a lab testing facility at Tresillian Business Park analysing mineral samples for feasibility. They also advise on environmental requirements and energy efficiency. Their client base spans the world and they are also currently working closely with Cornish Lithium.
---
February – Tresillian Village Improvement Group News
The Tresillian Village Improvement Group (TVIG), will be participating in Britain in Bloom South West 2021. Our village currently holds a Silver Pennant Award, and it is hoped we can better that this year. Volunteers are already working on various projects to further enhance the appearance of the village.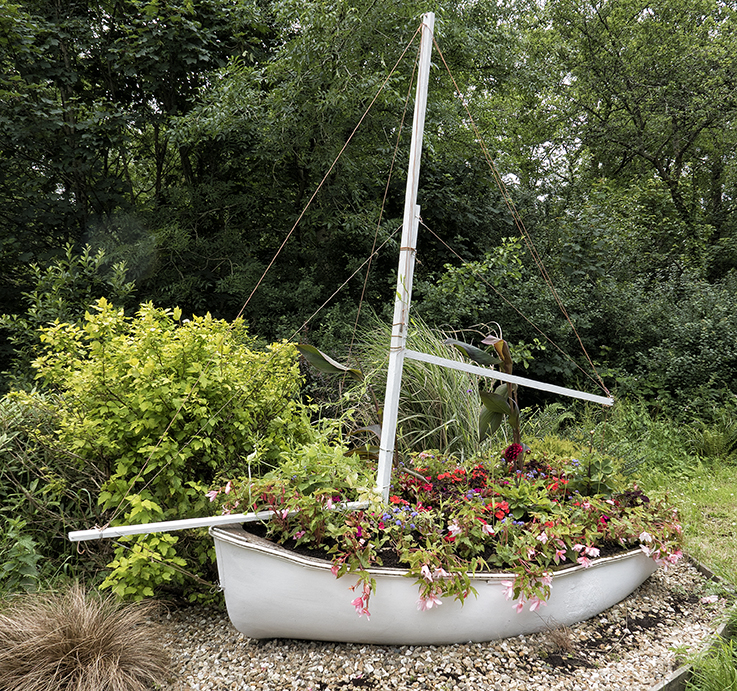 Photo: © Copyright Keith Littlejohns
However, due to the global pandemic finding sufficient funding has been difficult including one of the group's major sources of funds the Wheel Inn Pub Quizzes that have not been available for some time due to lockdowns. Thankfully, the St Clement Parish Council continues to support the group, but more funds are needed to make up the shortfall. If anyone wishes to make a donation towards the group's work, a modest amount such as £10 [little more than two pints of beer] would be helpful, could they please contact Helen Nicholson on 01872 520295.
Volunteers are always welcome to join the group. No pressure! If you are able to lend a hand with a little of your time where you can it would be much appreciated. Social distancing at the moment of course.
---
Tresillian Wildlife Articles (Steady on! Not that kind of wild life) – Various Contributors – Check out latest items added by following the Wildlife & Natural History Page link below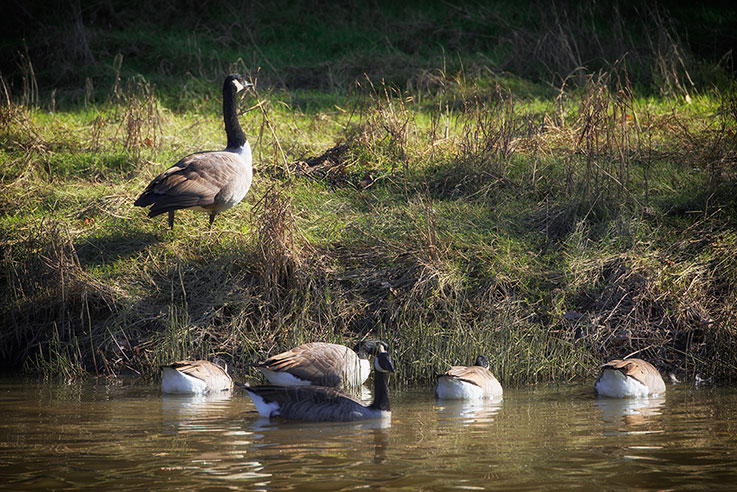 Photo: © Keith Littlejohns
Wildlife articles can be accessed by visiting the Wildlife & Natural History Page and selecting the relevant year link at the bottom of the page. The Tresillian website welcomes any stories or photos of your wildlife/Natural History observations in Tresillian and its close environs. Hedgehog, bird or any other wild animal sighting or naturalised flowers or plants of interest that catch your attention. We would love to hear from you. Just get in contact via our Contact page and we will be back in touch with you about your story/photos.
---
Tresillian Photographic Archive Project – Keith Littlejohns
I am proposing setting up an organised collection of photographic images for our village that, hopefully, will remain as a permanent unified digital archive of life in Tresillian through the decades for future generations to have available.
Building this archive relies heavily on source material being forthcoming. To that end I am asking residents of Tresillian (or known past residents that have moved away but may have some suitable images) to make contact with me regarding the loan of images so that I can make professional scans and return the original prints or negatives to the owner.
This could turn out to be a quite substantial task and as a result I am expecting the building of the archive to be split into phases. For the initial phase I will be concentrating solely on gathering together a collection of older images from very early days up to and including 1979.
If you think you may have some suitable photographs I can be contacted via the village website by emailing me using this website's Contact page. There is no need to go into great detail at first as I will make contact to talk about any images you consider may be of interest. I'm really only looking to archive images that have recorded village life and how it has evolved through time. Eventually, as time allows, I will add more modern images from 1980 onwards to take the story forward.
If possible, it would be very useful if you have information such as dates (roughly will do), names of people or locations or any other details you think may be of interest. If you don't yet use email, please do ask a friend or neighbour to make contact on your behalf as old images are of particular interest for this first phase.
Cllr Keith Littlejohns
---
Tresillian's Missing Milestone – An Ongoing Story
As a person fascinated by local history I could not resist picking up from Chris Clarke's excellent article published in the spring 2017 edition of TRAM Magazine regarding Tresillian's missing milestone. His article stimulated me into taking up the challenge of conducting further research myself.
Using additional information kindly supplied to me by village resident Lewis Mitchell, which he found on an old 1960 edition Ordnance Survey map, a distinct reference point has now been established. The Tresillian milestone's position is marked on the OS map by the usual very small black dot accompanied by the letters MS, albeit slightly masked by a black circular graphic. Using my own copy of the same map, OS SW 84 Truro 1:25,000, I was also able to confirm the exact location.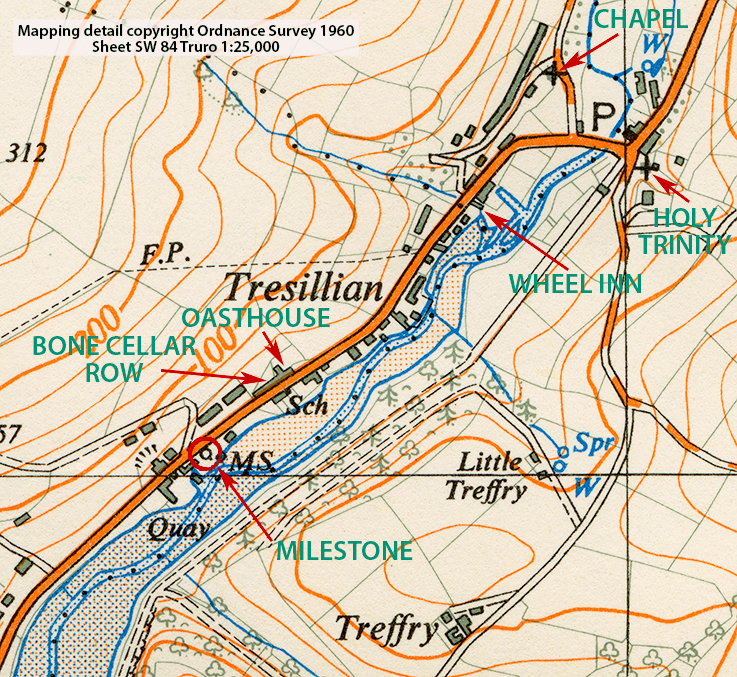 By cross referencing this data with Cornwall Council's excellent online Interactive Map website I was able to double check the exact position where the milestone once stood, or at least close enough given the disruption created by the 1960s A390 road widening/levelling scheme and adjacent change of land-use. Both the 1960 OS map and CC's Interactive Map show the location as being on the south side of the A390 where the current Audi dealership is situated.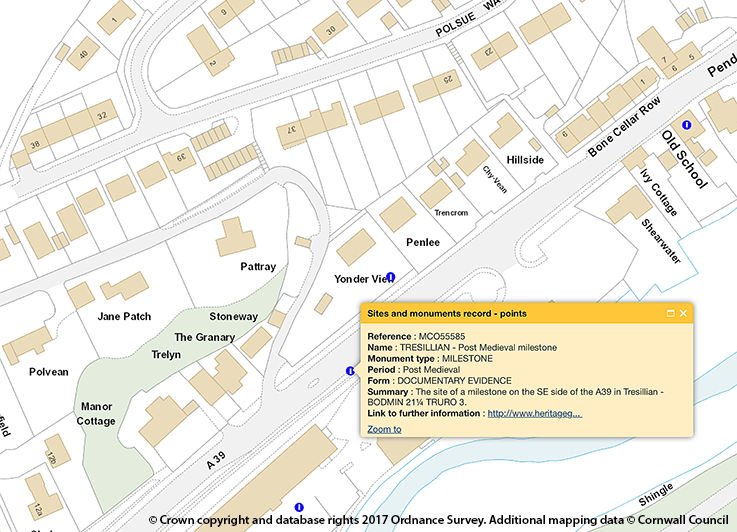 Thanks to information also gleaned from the CC Interactive Map a detailed Cornwall & Scilly Historic Environment Record (HER) reference reads as follows:
HER Number:
MCO55585
Name:
TRESILLIAN – Post Medieval milestone
Summary
The site of a milestone on the SE side of the A39 in Tresillian – BODMIN 21¼ TRURO 3.
Grid Reference:
SW 8635 4604
Parish:
St Clement, Carrick, Cornwall
Protected Status: None recorded
Other Statuses/Codes: none recorded
Monument Types
Milestone (Post Medieval – 1540 AD to 1900 AD)
Full description
A milestone is recored on the SE side of the A39 in Tresillian, on both the 1st Edition 1:2500 OS map, annotated TRURO 3 BODMIN 20, and on the 2nd Edition 1:2500 OS map c1907 annotated BODMIN 21¼ TRURO 3. The milestone is not recorded on the modern OS Mastermap 2010, suggesting it has been lost, possibly due to road alignment alterations in the C20.
Associated Finds: none recorded
Associated Events: none recorded
Related records: none recorded
So, a milestone clearly did exist inside the village at a point along its main highway outside the current Audi dealership. Interestingly, the CC Interactive map has the A390 labeled as A39 at that point (note, must make CC aware of the error).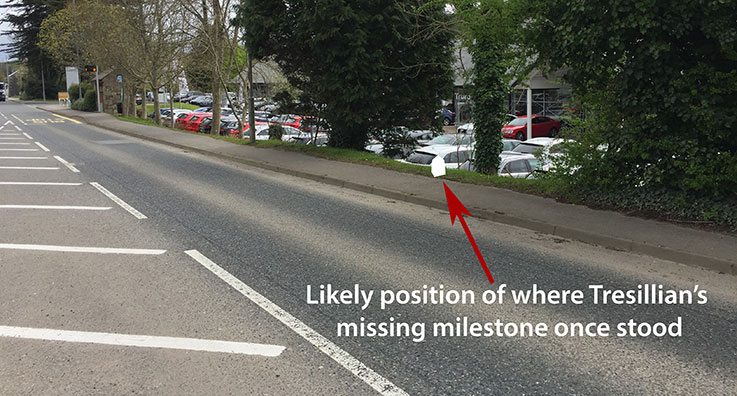 Photo: © Keith Littlejohns
I have recently placed a request with our local parish council asking if, in the light of information now currently available, the possibility of the missing milestone being reinstated could be raised at a parish council meeting and that it could be pursued using the offices of the parish council.
Let's hope that Tresillian's missing milestone can either be found languishing in a council yard somewhere and reinstated, or that a replica can be produced using information recorded by C&S's HER database so that our village's milestone is no longer the only one missing in the chain of 12 historical milestones that run from Truro to Braddon.
If anyone has any more information or knowledge they think would be helpful or interesting regarding the missing milestone then please do contact me using the contact form on this site and I will publish it online as part of this continuing fascinating story. If you wish to receive emailed alerts as soon newsworthy items about village life are published online you can subscribe to the website for free using the box provided at the bottom right of most pages on the site.
Incidentally, most milestones you'll see date from the 1700s or later, when new Turnpike roads were legally required to have milestone markers. It meant passengers and goods carried on the stagecoaches could be charged standardised rates for the distance they travelled. You'll also see plenty of milestones along canals, also used to calculate how much people would be charged for moving their goods by barge.
Further news about the missing milestone will be added as soon as it becomes available.
Keith Littlejohns
---
A Sample of Website Testimonials Received
"What an amazing memory of the afternoon [Cream Tea for The Queen 2016]. Well done to Keith for producing it. Very well put together and excellent music choice."
Aileen Bratton
"Thank you, Keith. Looks very good [swans] on the website along with all the other information you have published – well done!"
Phillip Buddell
"Just seen this new site. Lovely photos of Tresillian and interesting facts. Wish you well with it. Hope you get lots of comments and participation"
Tina Earley
"Website is great – thank you. Just a quick note to say 'Thank You' for getting a Tresillian website up and running well."
Desiree Tillgren
"Thank you for your beautiful pictures and website design for the village."
Ann McCormick
"Great to meet you, and much thanks for including church activities on the village website, it really is the way forward!"
Billa Jeans
"After getting the leaflet delivered by 'Keith' this week and having a quick chat in the garden at time of delivery. I thought I would check the website out. Absolutely fantastic, beautiful photo's and puts the village in the here and now. Well done to you and I really hope the site goes from strength to strength. I am going to give the details to some family members to check it out. Well done and thank you so much for all the effort you have put into it, to make it so professional and enjoyable."
Geraldine Rawbone
"A friend of ours in Sussex, who used to live in the village, is thrilled with the site as it will keep her up to date on what is happening here."
Lesley Dobel
"Fantastic website, well done to all who was involved."
Kirsten Lean
"What a wonderful community website for our village with lots of information and history. Well done and very impressed. Keep up the good work."
Karl Russell, Treglyn, Tresillian
"I've had a look round – its very easy to use!"
Helen Nicholson
"I enjoyed looking at the site and thank you for the lovely photo of the Tresillian road sign for which I designed the emblem of the Roundhead and Cavalier at the invitation of the Highways dept. of course a reference to the civil war battle nearby. I wonder if there are any rusting cannon balls in the river."
Janet Bailey.
………. There are no further news bulletin items at present. Please visit again on a regular basis to check for updates ……….