Riverside Bird Walk – 14th October 2017
Interested in birds?
Join Andrew Nicholson for an informal and informative walk along the Tresillian River. Enjoy good views of a variety of waders and wildfowl, hopefully including a Kingfisher.
Please book on 07939 984 298 Donations for Compassion.
The path is flat, but can be muddy in places, so bring suitable footwear, and binoculars if you have them (few spare pairs available), and don't forget your camera (a telephoto lens is an advantage, but hey the views are also worth a photo or two).
Afterwards, join us for a cream tea/cakes at Tresillian Methodist Chapel, from 4.00 pm.
ALL WELCOME, beginners and veterans alike!
Sorry, but no dogs please as they scare the birds!
---
Annual Tresillian Village Litter Pick – 11th March 2017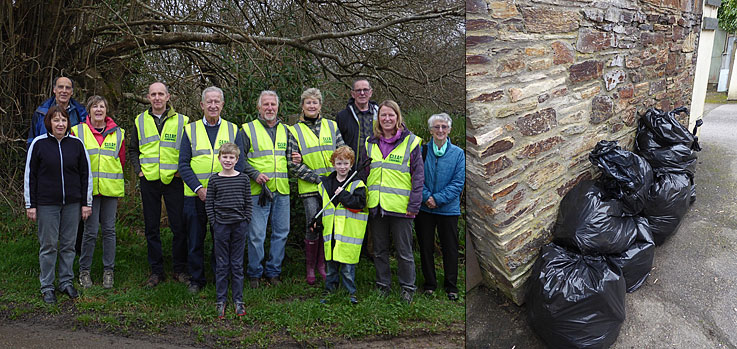 A group of volunteers met at the village playing field on Saturday 11 March for our annual litter pick from one end of the village to the other and this year we collected 9 sacks of rubbish which, although it is a lot, has reduced in quantity each year we've been doing this, so that can be seen as a positive. We then all finished up at the Chapel for very welcome refreshments.
---
The Mystery of the Vanishing Tresillian Post Box – March 2017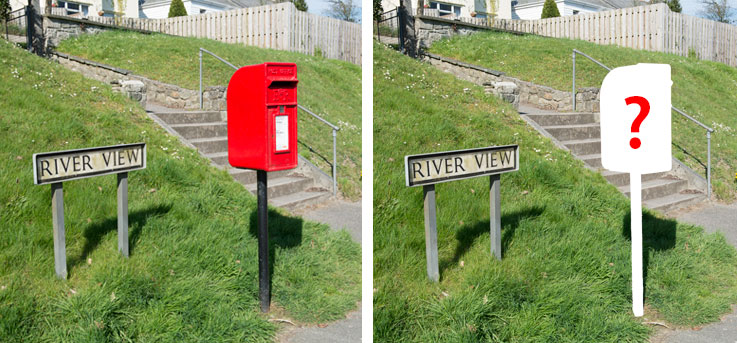 An enquiry has been received from a village resident, Frances Deacon regarding the disappearance of a Post Office post box from its usual location at River View. This was an obvious job for our village website's super-sleuth to investigate.
When mentioning its disappearance to Claire at the recently relocated post office inside the Texaco petrol station, she said that she did not know about it but that she was expecting a visit from a Post Office official later that day, and would get back if there was more information available. After speaking with him about the missing post box she was able to pass on the following explanation.
Apparently, this post box had been subject to 'storm damage' which resulted in its content of mail being damaged. The Post Office subsequently taped up the post box along with a notice to say that it was out of use. However, according to the Post Office official, a person or persons unknown allegedly removed the tape and notice and as a result use of the post box by local residents resumed.
Because of the storm damage and alleged interference the Post Office has removed the post box and so far as anyone knows there is no decision yet as to whether the post box will be reinstated or not.
Keith Littlejohns
All Photos: © Keith Littlejohns
---
St Clement Parish Neighbourhood Plan – Tresillian Open Public Event, 15th March 2017
A highly successful turnout of local residents attended the Tresillian Open Public Event organised by the St Clement Parish Neighbourhood Plan Steering Group held at Truro Audi's Tresillian premises.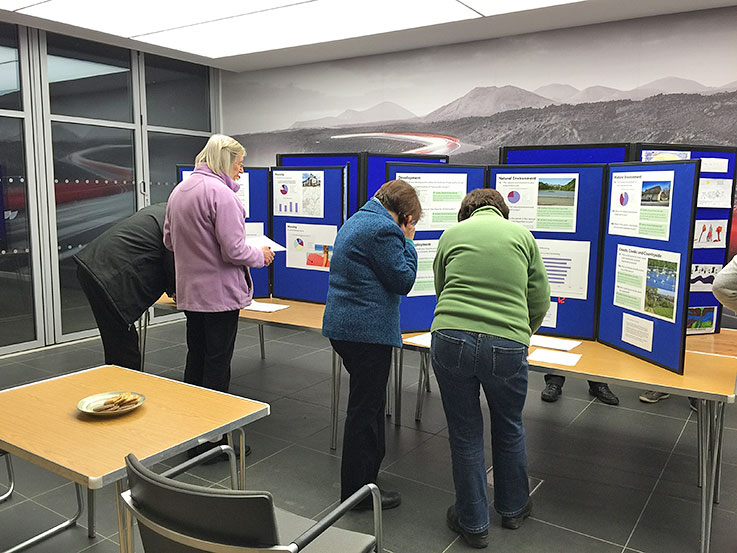 The event, part of a series of three (see earlier news alert item further down this page), had on display in graphic form results of the Neighbourhood Plan questionnaire distributed last autumn to all households in the parish of St Clement. Several Steering Group members were on hand during the evening to answer questions, and supplementary mini-questionnaires were handed out for visitors to fill in relating to a number of original questions that were considered worthy of further comments.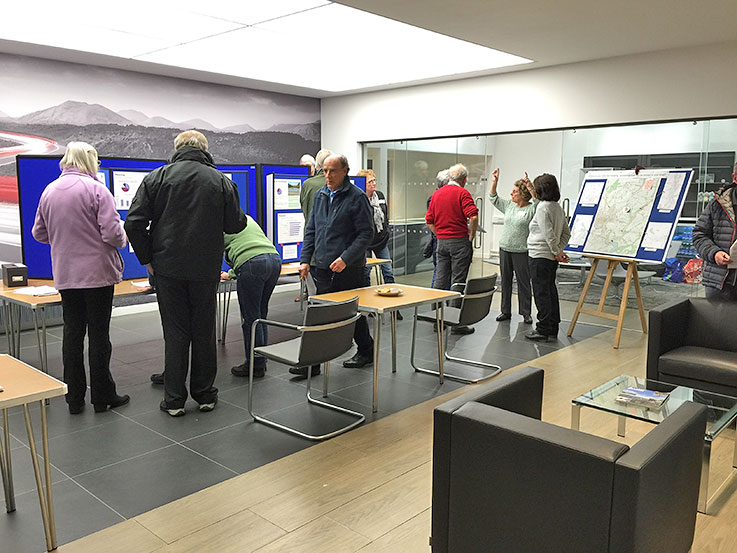 The Neighbourhood Plan project is on track to fulfil its obligations regarding gathering local opinion within the parish. As part of this ongoing process visitors were asked if they wished to play an active part by offering voluntary help with the next phase to build a picture of the character of each area and the parish as a whole under the title of Landscape Character Assessment. Training is required and will be made available to candidate volunteers.
All Photos: © Keith Littlejohns
---
'Mary's Pastys' Café/Shop Opened 8th March 2017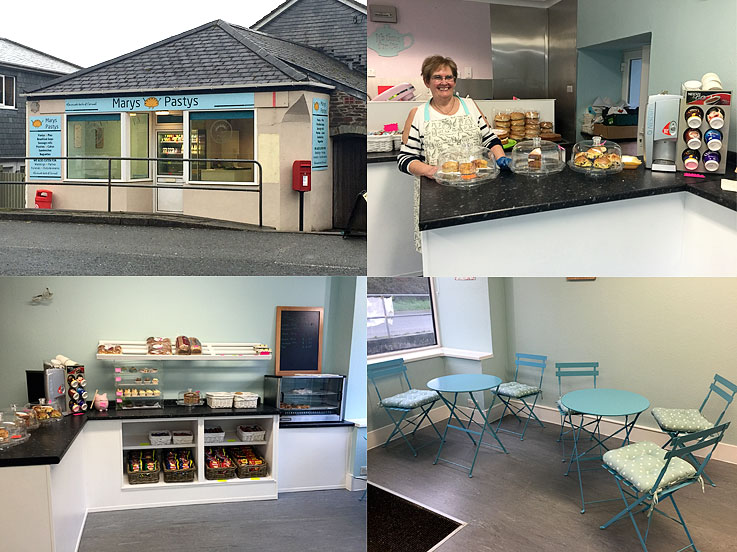 Mary of 'Marys Pastys' has taken over the old Tresillian village shop premises and opened a café/shop.
Mary's husband sadly passed away a couple of years ago and she says that not only was this a truly awful time for her, but that it also affected her enthusiasm for her pasty business venture. However, with renewed enthusiasm and great support from her family she has now taken the bold step of entering the world of retail as an additional element to her regular wholesale pasty sales.
As the photos above show, there is a variety of foods and drinks for sale and consumption inside the shop. Hot pasties (obviously), along with a variety of cakes, snacks and hot and cold drinks. Mary says that more foods will become available if the demand is there.
Since the closure of the garden centre café there has not been a tea/coffee shop open in the village to sit and chat over a cuppa and cake.
Keith Littlejohns
All Photos: © Keith Littlejohns
---
St Clement Parish Neighbourhood Plan – Public Open Events 11th, 15th & 18th March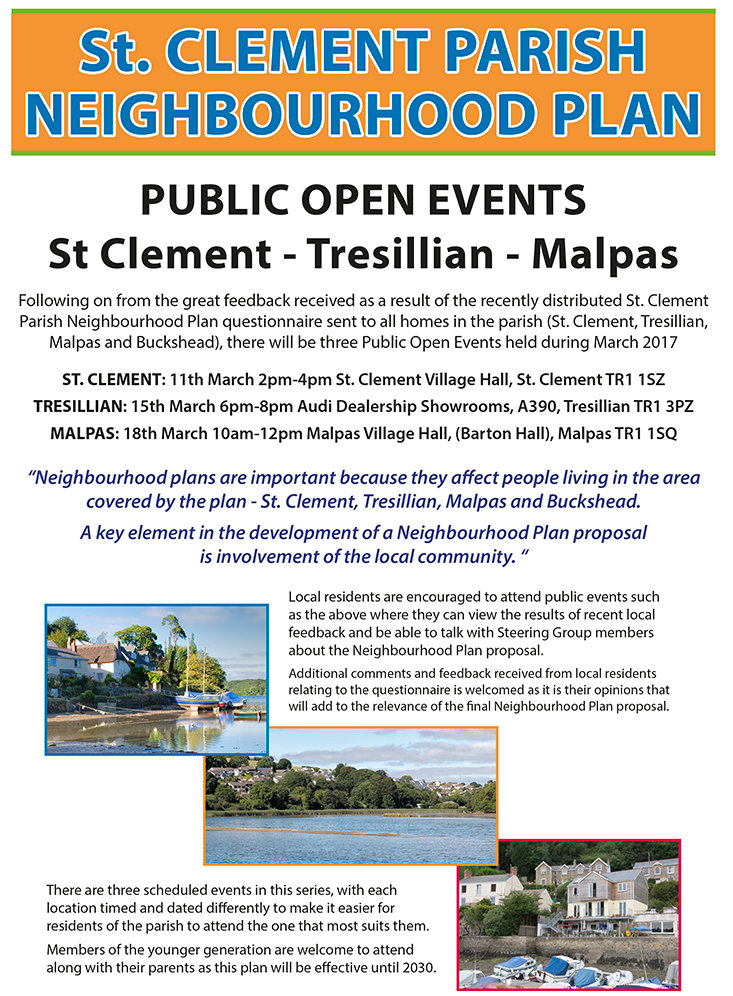 ---
Quiz Night – Wheel Inn, Tresillian – Tuesday 21st February 8.30pm 
On Tuesday 21 February, Alison and Simon hosted a quiz night at the Wheel Inn in aid of Tresillian Village Improvement Group's planting funds. This was very well attended, with the first prize being Sunday lunch at the Wheel for two couples, kindly donated by Alison and Simon.
We also held a raffle with lots of prizes and raised enough money to pay for the boat to be planted by Truro City Council Parks Department this summer. The whole evening was great fun and our thanks to Alison and Simon for their kindness in hosting this event and to Alison for preparing the questions and acting as quizmaster.
We certainly had a good laugh as well as our brains being challenged.
---
Tresillian Post Office Relocating – February 2017 
Tuesday, 7th February was a very sad day for the Village, when the Tresillian Stores village shop closed its door for the very last time. This was due entirely to the business no longer being a viable commercial going concern since Post Office Limited made a decision to move Post Office Counter Services to the nearby Texaco petrol station shop.
Judith and Brian Smitham had been running and investing in their Tresillian Stores business for over year, including Post Office services. Prior to that a Post Office has been operational for many years from the same premises.
Judith and Brian received a huge amount of support from the local community when Post Office Limited controversially announced that they wanted to relocate the village Post Office. Local residents held a meeting at Tresillian village hall where a vote was taken resulting in unanimous support for keeping the status quo. Support also came when local Member of Parliament, Sarah Newton; local Cornwall Councillor, Mike Eathorne-Gibbons and local St Clement Parish Council Chairman, Peter Thomas all took part in a further public meeting, this time held at Tresillian Stores, that also included Post Office Head of Relations, Mr Stuart Taylor representing Post Office Limited.
However, despite substantial support from village residents in favour of leaving the Post Office services where they were at Tresillian Sores the Post Office's decision was final, insisting that the Post Office had to be moved to a new premises.
The relocated Post Office Counter Services opened on Thursday, 9th February at the Texaco Garage. Post Office Counter Services are published as being available from 6am until 10pm every weekday, and also on Saturdays and Sundays.
Update – Village Shop:
It is expected that Mary of the famous 'Mary's Pasties' will re-open the shop very soon, selling her Cornish pasties and other hot snacks, plus milk, cream and possibly newspapers as well.
See new news item: Marys Pastys Café/Shop Opened 8th March 2017