The Tresillian Village Improvement Group (TVIG for short) is a small band of local residents who have teamed up to encourage interest in the general environment of our historic village.
The dedicated team has already initiated and undertaken a number of projects, which along with involvement by additional volunteers has produced some visually attractive assets for villagers and passers-by alike to enjoy.
If you require further information or are interested in supporting the efforts of the group then please contact:
Helen Nicholson Tel: 01872 520 295.
Kind offers of your of time, sponsorship, donations of money or plants are all welcome.
The group are very grateful for the support they have received from St. Clement Parish Council; our local Cornwall Councillor, Cllr Mike Eathorne-Gibbons; The Hoskins family at Fentongollan Farm, the Wheel Inn, Truro Audi and the volunteers who have helped to make this all possible.
Read all about the activities and projects carried out by TVIG volunteers and supporters:
Tresillian Village Improvement Group News Reports
TVIG News Reports 2018 – Updated Month by Month
In early December, our group had a very enjoyable social evening at The Wheel Inn to kick off the Christmas festivities and our thanks go to Simon and Alison for their hospitality.
On 13 February, we held our third quiz night at The Wheel Inn, and had a very successful evening, full of good food, fun and laughter as well as having to do a bit of thinking at the varied and interesting questions posted by our inimitable quiz master, Alison. Alison and Simon very kindly donated the prize of a two-course Sunday lunch for four people at The Wheel Inn and we are very grateful to them for their generous support to our group.
Update April 2018 – Alison and Simon have very kindly agreed to host another quiz event at The Wheel Inn on Tuesday 10 April, this time in aid of the Royal Naval Association St Austell Branch, of which some of our group are members, whilst some of the Association have joined the Tresillian Garden Club and have been stalwart supporters of each of the quizzes we have held. The evening will start with food for those who wish to eat at 6.45 p.m. and then the quiz will start at 8.30 p.m. There will be a raffle as well. Do come along to support this event and have a fun evening.
Update May 2018 – Another Quiz Night to raise funds for TVIG will take place later this year.
Now that spring is on its way, our group has been planning the work needed for tidying up and planting. As recommended by last year's RHS Britain in Bloom judges, one of our members is currently making a couple of planters, one for near Carrs Garage (Audi Dealership) and the other near River View.
Update May 2018 – The two planters have been constructed and are ready to be deployed and planted up. The Audi dealership has very kindly offered a donation of £100 to pay for two seasonal plantings of the planter to be positioned on the grass area to the left of their main entrance.
As soon as the weather warms up, the shrubbery will be pruned and tidied and the verge mowed. The boat will also get the same treatment. The pots in the Memorial Garden will be replanted in June. As soon as the daffodils have finished blooming, then work will begin again on the riverbank clearance. We have had so many compliments about this work as people are loving being able to see the river once more through the trees where the brambles and undergrowth have been cut down.
Update May 2018 – The riverbank undergrowth has been cut back and tamed to make the river view look more pleasant.
A litter pick is to be held on Saturday 3 March at 10 a.m volunteers welcome!
Update March 2018 – Although delayed by one week, due to atrocious weather, the March litter pick was finally successfully carried out.
We are intending to enter the Southwest in Bloom competition again this year, 2018.
Update May 2018 – Having once again applied to take part in RHS Britain in Bloom South West in the Village Pennant category, we hope to improve on last year's Silver award. Judging will take place in July, with results announced later in the year.
Please look out for village improvement events on the village website, tresillianvillage.co.uk (or simply subscribe on the websitesite for News Alerts), as well as the notice board by the Post Office – everyone is welcome – and if you have any ideas for further enhancement of our village, or would like to be involved with our group, then please contact Helen Nicholson : helennicholson@resource24.net or telephone on 01872 520295.
Helen Nicholson and Lesley Dobel
TVIG News Report – October 2017 Tresillian Village Improvement Group Awarded 'Silver Pennant'
The Tresillian Village Improvement Group (TVIG) is pleased to announce that it has recently been awarded 'Silver Pennant' by South West in Bloom with the Royal Horticultural Society in the 2017 Main Competition's 'Village Pennant' class.
Last year the TVIG entered 'Britain in Bloom' at the basic 'It's Your Neighbourhood' level, where an award of Outstanding was given.
Given the higher standard expected at the Village Pennant class, the Silver award is a very good start and it is hoped to improve upon this next year.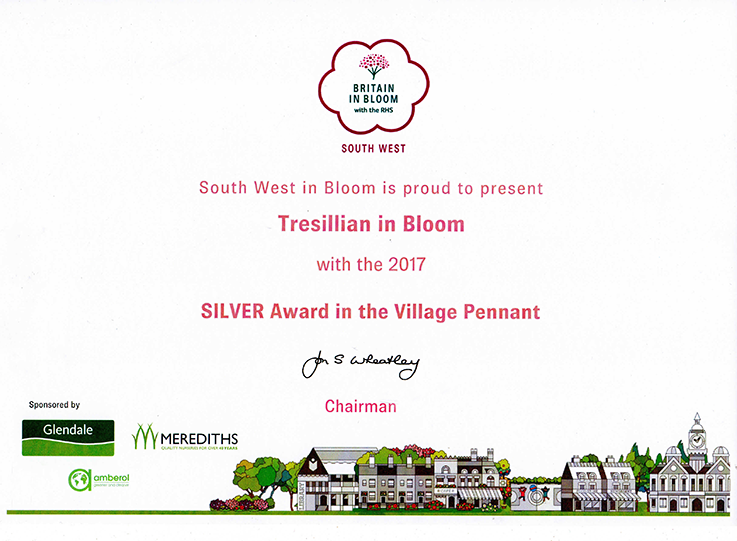 Although judging is dependent on adhering to a strict set of criteria, the judges offer much good advice in their summing up to encourage entrants to build on their achievements, so as to climb to higher levels.
The following is the introductory remarks from the judges mentioned in their Marking and Feedback sheet:
"Tresillian is a very elongated village situated on the busy A390 just 3 miles from the City of Truro. It has a fantastic array of wildlife as a river winds itself through the picturesque village.
It is always great to welcome a first-time entry and considering the massive step-up from entering a local competition they can be very proud of what has been achieved and with just a bit more attention to detail/judging criteria it will see them shooting up through the levels of awards."
Mentoring is also something that is made available, particularly to new entrants, and the TVIG would like to give thanks to experienced Britain in Bloom judge Peter Kessell, of Truro City Council Parks department for his time in giving post-award guidance to assist the group in its preparations for next year's competition.
The Tresillian Village Improvement Group would also like to thank the many volunteers that turn out to help and support the various schemes and events that led to this award being given.
There are several ideas under discussion for next year's village improvement projects. As a result, the TVIG would very much like to hear from individuals and businesses who are able to offer a little of their time or financial support to help keep our village environment looking clean, tidy and attractive for us all to enjoy. Contact details for the TVIG can be found on this link.
Keith Littlejohns
TVIG News Report – October 2016 – Daffodil Planting
More than fourteen volunteers took part in a mass daffodil planting along the village's A390 grass verges over two Sunday's in October, the 23rd and 30th. Some 5,000 daffodil bulbs were planted during the two days, bringing the total planted in recent years by the Tresillian Village Improvement Group to 23,000, which, of course, will naturally multiply over time.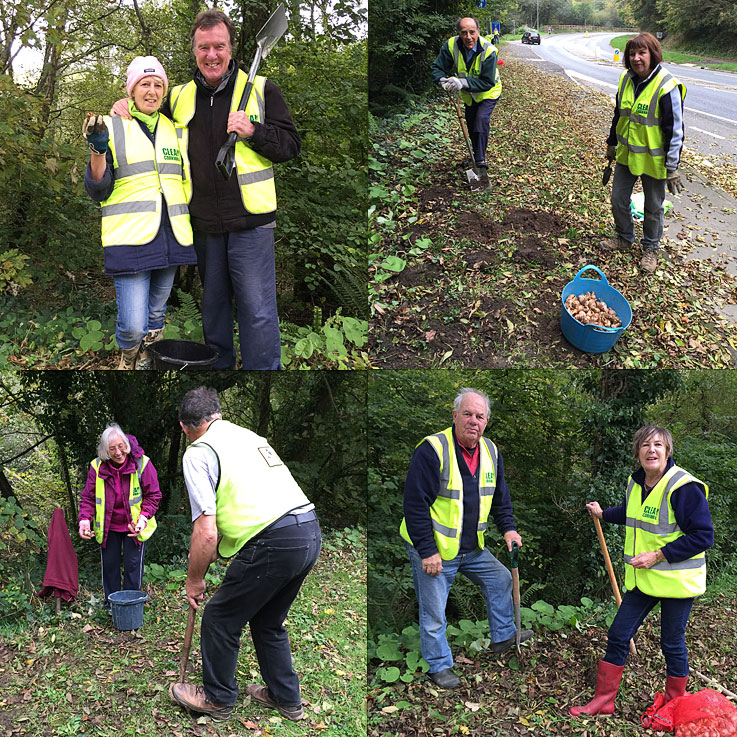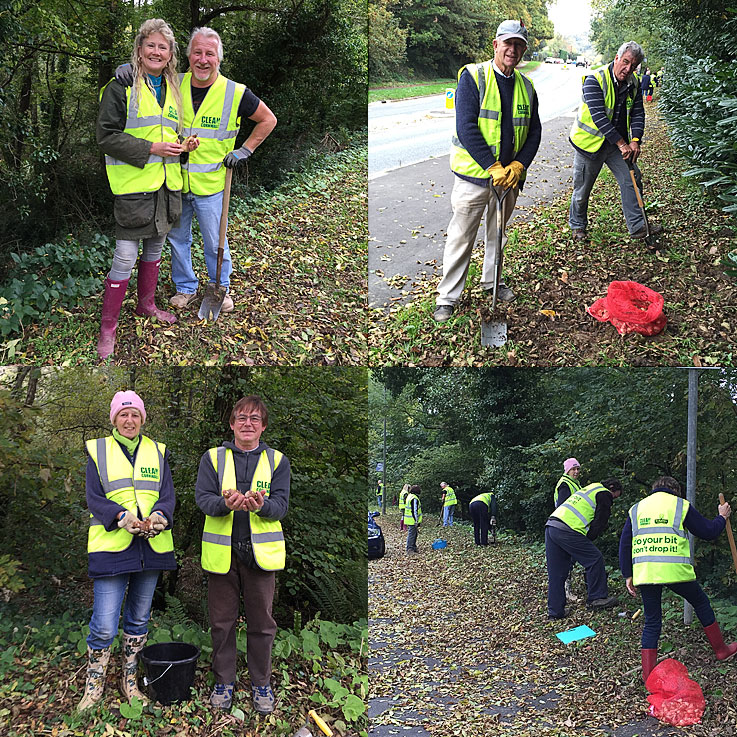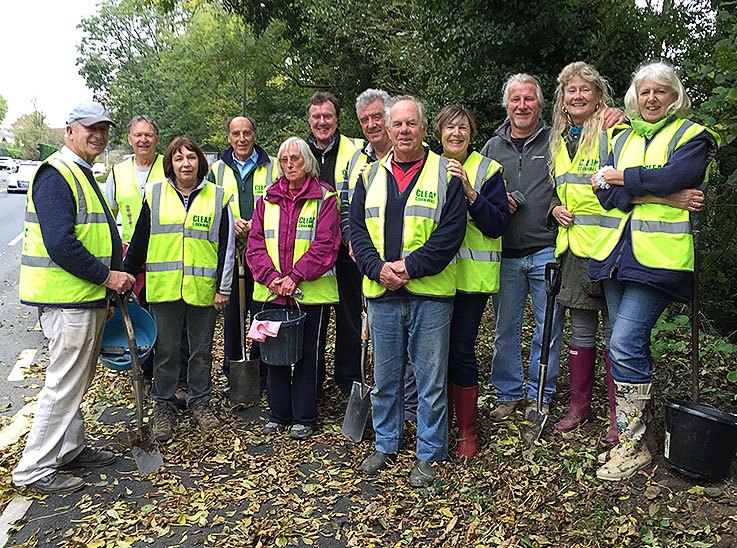 All Photos: © Keith Littlejohns
TVIG News Report – October 2016 – South West in Bloom 2016 'It's Your Neighbourhood Award'
The Tresillian Village Improvement Group has recently been awarded the top level of 'Outstanding' by the Royal Horticultural Society and South West in Bloom at a Britain in Bloom  award ceremony held on 6th October 2016  at The County Cricket Ground, Taunton, Somerset.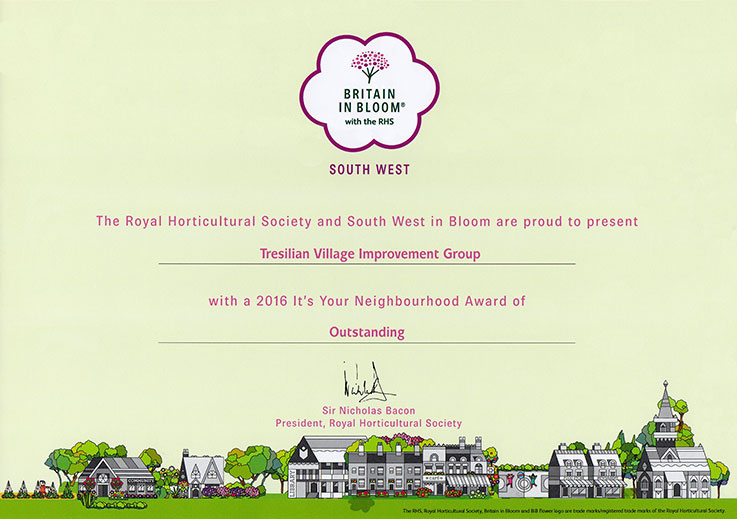 Lorrie Eathorne-Gibbons, wife of local Cornwall Cllr. Mike Eathorne-Gibbons', picked up the award certificate on behalf of the TVIG. Mike complimented the group saying " Very well done to all concerned. I am delighted you have  achieved such a spectacular result."
The South West in Bloom assessor took into consideration schemes such as the planting of many thousands of daffodil bulbs along the A390 grass verge, the village 'Clean for The Queen' litter picking, the Tresillian Village Open Gardens event and our village allotment site.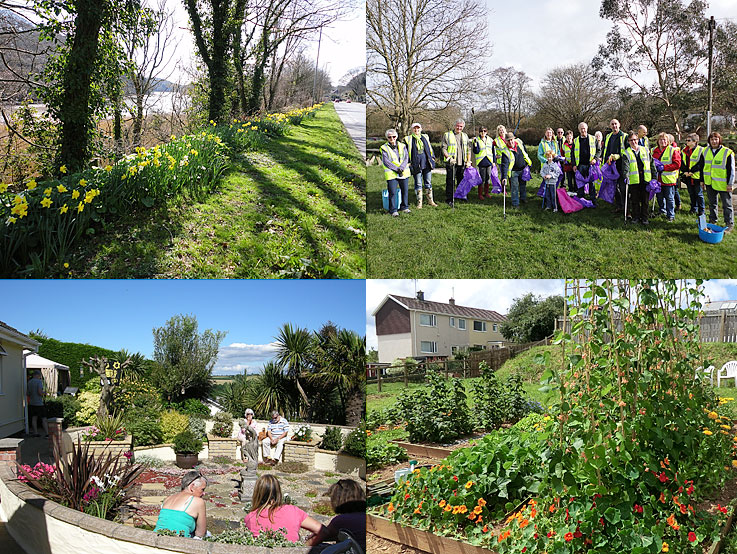 The Royal Horticultural Society's It's Your Neighbourhood campaign is part of the wider Britain in Bloom initiative, providing an opportunity for smaller community groups to get involved.
It's Your Neighbourhood is a unique scheme for volunteered community gardening projects/groups which are focused on cleaning up and greening up their local area, whether that is the estate where they live or the back alley they share or the local community centre's outdoor space. It's Your Neighbourhood is an inclusive, non-competitive scheme which welcomes projects/groups of all kinds.
Following the assessors' visit, certificates of achievement are presented to all participating groups at annual award ceremonies organised by the Regions/ Nations in Bloom.
The RHS It's Your Neighbourhood campaign has five levels of achievement in bands from 0 to 100 points:
Level 1 Establishing 0-35
Level 2 Improving 36-52
Level 3 Developing 53-68
Level 4 Thriving 69-85
Level 5 Outstanding 86-100
The Tresillian Village Improvement Group would like to thank the many volunteers that turn out to help and support the various schemes and events that led to this award being given.
TVIG News Report – August 2016 – Tresillian's Latest Area of Wildflowers is Blooming
Earlier this year wildflower seeds were sown by the Tresillian Village Improvement Group on a section of roadside on the A390 close to the new cycle/walkway bridge at Trevalla Stream.
The area to be sown was carefully prepared by raking over before sowing followed by walking purposefully over the broadcast seeds to ensure close contact wth the soil as an aid to germination. Due to the dry conditions at the time a good soaking was essential followed by similar regular watering for a number of weeks afterwards during a prolonged period of relatively low rainfall.  Happily, the seeds not only germinated exceptionally well but the resulting plants are now fully in bloom and looking healthy. It is hoped that some of the plants will go on to set seed for the following year.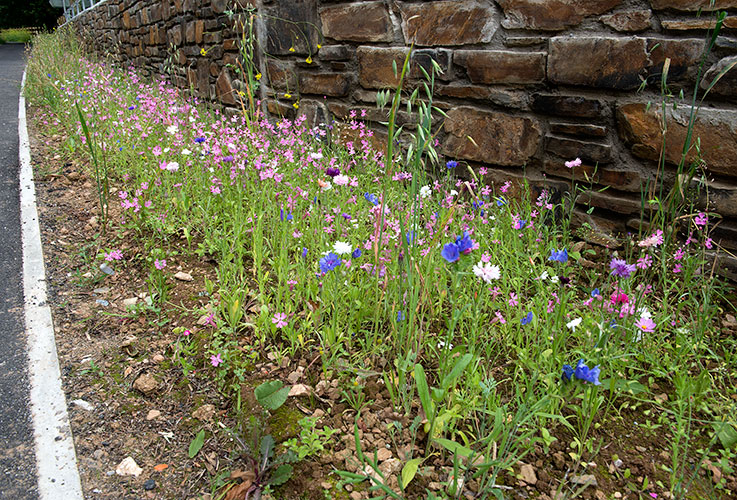 Roadside wildflowers on the A390 close to the new cycle/walkway bridge at Trevalla Stream.  All Photos: © Keith Littlejohns
TVIG News Report – Sunday 12th June 2016 from 3pm to 5pm, A village cream tea party to celebrate Her Majesty Queen Elizabeth II 90th Birthday
Despite dubious looking weather at the start of the day the gloom and clouds eventually dissipated with the sun coming out of hiding just at the right moment, and thankfully staying with us throughout the length outdoor event.
The setting could not have been more appropriate. Situated beside the Tresillian River on a grassy bank behind the thatched Wheel Inn, that is reputed to have its origins as long ago as the 14th century, lent a sense of atmosphere that would be difficult to equal.
It was estimated that over 80 people of all ages attended the celebration during the two hours enjoying delicious cream teas and cakes for sale which were generously made and donated by a number of villagers. The large amount of visitors surprised the organisers, the Tresillian Village Improvement Group, and beat all their expectations.
The highlight of the afternoon took place when two senior lady residents of the village, Margaret Maycock (93 years) and Beryl Vickary (90 years this year) jointly cut the magnificent, towering special 90th birthday celebration cake made by Jackie Goodway. Rev. Canon Linda Barley said grace, led the singing of the national anthem and thanked everyone for attending the event as well as organisers and helpers for making it all happen.
During the proceedings a raffle was held to also raise funds for the various village improvement schemes that brighten up the roadside verges and war memorial. Overall, the total sum of money raised during the afternoon was almost £280, with an expenditure of £45 for jam and cream this then left approximately £235 remaining.
Video slideshow follows:

Tresillian Village celebration for Her Majesty Queen Elizabeth II 90th Birthday. Photos: © Keith Littlejohns. Music: Master of the Feast © Kevin MacLeod. (Last photo in the sequence: Left:  Margaret Maycock (93 years), Right: Beryl Vickary (90 years this year, 2016).
The event was supported by the Tresillian Village Improvement Group, the Wheel Inn and the Tresillian Garden Centre
TVIG News Report – 12th March 2016 Tresillian Village 'Clean For The Queen'
22 volunteers turned out for the 'Clean for the Queen' village tidy-up on Saturday 12 March 2016. The 15 large bags of assorted rubbish collected contained mainly plastic drinks bottles, glass drinks bottles and aluminium drinks cans plus a variety of sweet wrappers and other assorted discarded rubbish. Lesley Dobel has produced a full report that can be downloaded here as an Adobe Acrobat file.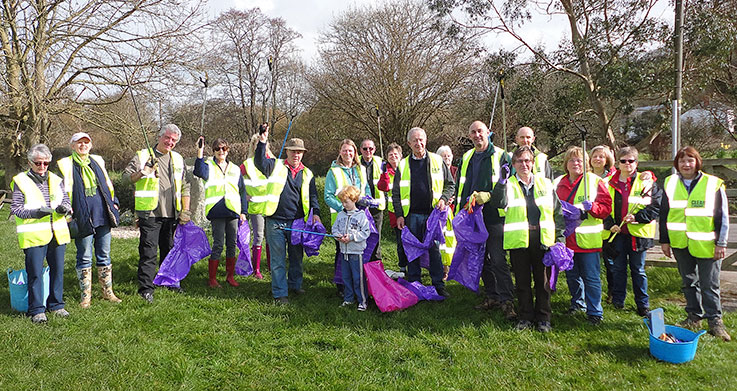 The clean-up crew (less 2 taking photos) assembled ready to start.  Photo: © Malcolm James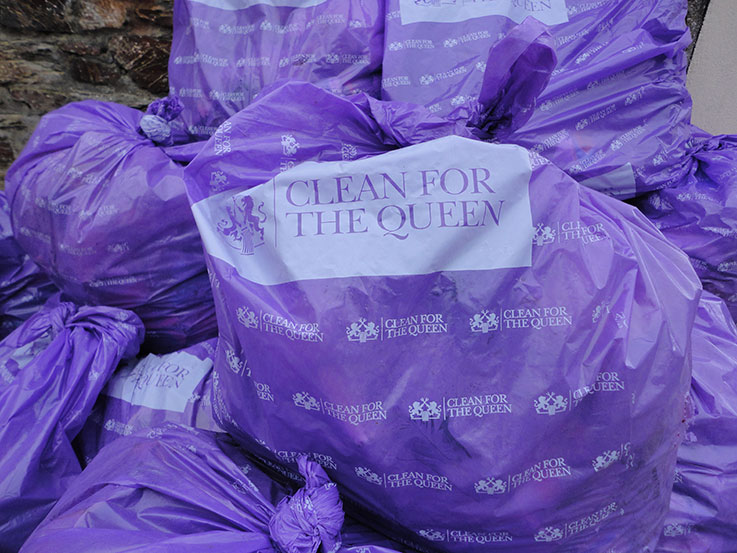 Rubbish bags filled and ready for collection.  Photo: © Malcolm James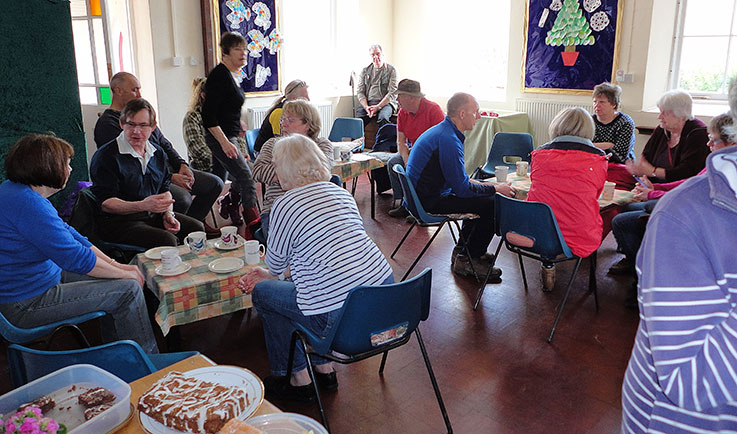 Clean-up crew relaxing after the morning's work at Tresillian Chapel.  Photo: © Malcolm James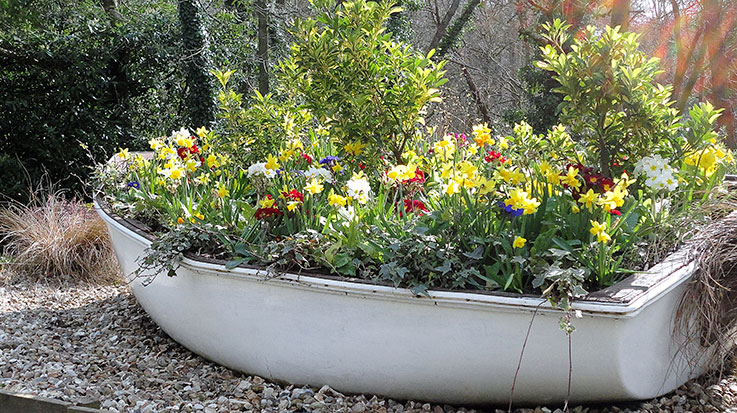 Tresillian's Flower Boat also received the clean-up treatment, and is now looking in 'ship shape and Bristol fashion' pristine condition.  Photo: © Malcolm James
Tresillian Village Improvement Group Projects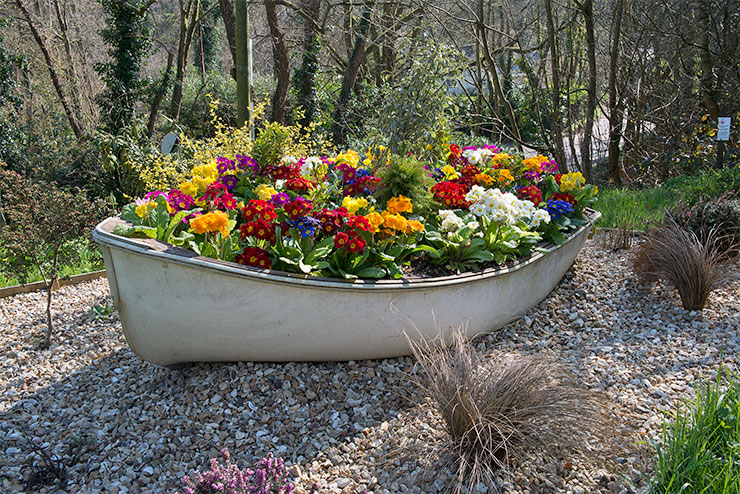 Roadside "Flower Boat" at the western approach to the village.  Photo: © Keith Littlejohns
The boat was donated by the late Hugh Buchanan and the multi-award winning Truro City Parks Department carried out the planting. The various shrubs surrounding the boat were donated by residents of the village.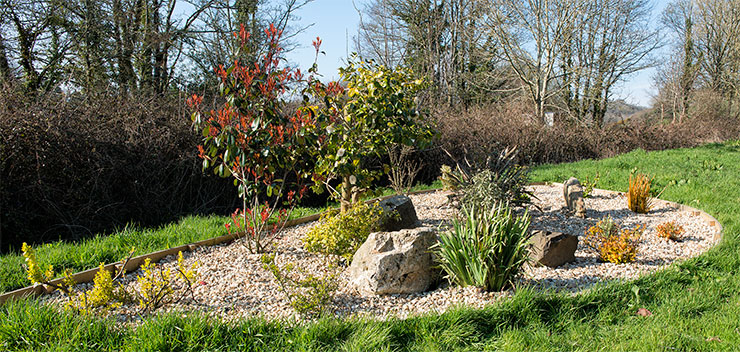 Roadside planting at the eastern approach to the village.  Photo: © Keith Littlejohns
Work has also been undertaken at the eastern approach to the village using an assortment of plants that were purchased and/or donated by residents.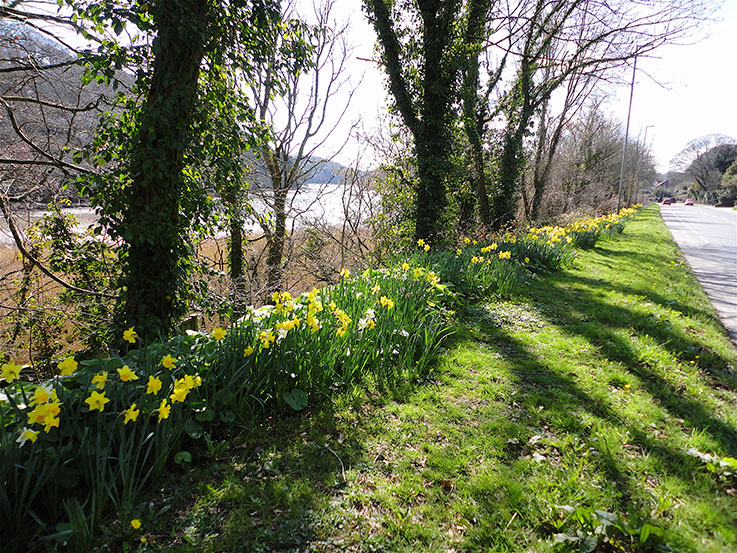 Roadside verge daffodils. Photo: © Malcolm James
23,000 daffodils now adorn the long grass verges in springtime alongside the A390 as it winds its way through the village.